.
Comment > Women In Neighbours: Part Three by Gareth
Women in soap operas are often given a hard time; they either painted as the eternal victim, struggling to find happiness and to overcome the hardships they face, or as the bitch, who is full of complex emotional problems and struggles to find acceptance. These women have many different hardships heaped upon them before, more often than not, meeting an unhappy end. However, Neighbours differs in its approach to representing women, and seems to give the audience strong, capable female role models whom every woman can aspire to be like. Here we take a look at how women have been represented in Neighbours throughout the decades, and whether they have been given a good or a bad deal. Part three looks at the rest of the 1990s.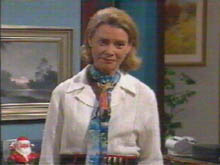 As Neighbours soldiered on into the late nineties, times had changed; and so had its representation of female characters. Where once we had strong, fun-loving, respectable women such as Daphne Clarke, Gail Lewis and Madge Bishop, throughout the late nineties the representations lost their way, and we were introduced a whole stream of young women we shared no history with and who were often gone within a year or so.
Helen Daniels was one of the characters with whom we did share a broad history; the only remaining original character, she was still soldiering on at Number Twenty-Six, yet her character seemed to become background, a bit-part player in everyone else's storylines. She met the love of her life, Reuben White, in 1995, and after a whirlwind romance which culminated in marriage, he passed away, turning Helen into a victim once again, and this continued when she suffered a stroke after returning from a trip to New York. She seemed to give in completely, even going so far as to ask Dr. Karl Kennedy to let her die, which seemed very out of tocuh with the character we knew and love. It seems now that the writers thought Helen had run out of steam, and were going for the shock value with the issue of euthanasia, though it seems that they chickened out at having any of Helen's family, or Karl for that matter, attempt to euthanase her. Instead, we saw Helen endure months of rehabilitation, something that seemed to be a storyline tool to bring a new woman – Ruth Wilkinson – into grandson-in-law Philip's life. From hereon in began the decline of our once great Helen Daniels; her storylines revolved mainly around her declining health, and, in a sudden change of roles, her family's attempts to care for her, while she was determined to prove them all wrong and continue an active lifestyle, something quite at odds with her willingness to die previously.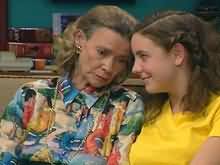 In fact, Helen and Philip fought so much over her determination to lead an active lifestyle that she threatened to move out of Ramsay Street – something else that seemed added shock value. Number Twenty-Six was Helen's home, so surely she could have thrown out Philip and his family? Once more, we were treated to stories of Helen's health, and her time in hospital, as the writers struggled to deal with Anne Haddy's own declining health until, finally, in late 1997 Helen passed away on the sofa at home, surrounded by her family and old friends, the Bishops.
In losing Helen we lost something else; the sense of history we shared with Neighbours. She was everyone's favourite grandmother, the familiar face we loved to see, and she was a hark back to the classic era of the late 1980's we all love to look back upon. Of course, there was no way that Helen could have continued on the show with the way Anne Haddy's health had declined, but all the same I, along with every other viewer I presume, was very sad to see her go. There were only two other older women in Neighbours during the late 90's – Marlene Kratz and Madge Bishop – and while Marlene departed in 1997, not long before Helen, Madge also suffered the cruel fate the writers dealt her – making her a victim.
Since 1992, Madge had been living in Brisbane with daughter Charlene and her family, but she returned to 1996 in a flurry of excitement when former husband Harold – long believe to have drowned at sea – came back from the dead. In a highly contrived, yet forgivable storyline, we learnt that Harold hadn't died all those years ago; he had washed up in Tasmania, suffering from amnesia. He returned to Erinsborough with the help of fate, and old neighbour Helen Daniels soon set about reuniting Madge and Harold, who were later firmly ensconced back on Ramsay Street in their old home.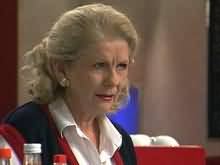 At first it seemed Madge had lost none of her feistiness; she entered into a war with neighbour Debbie Martin over the running of the Coffee Shop, and refused to let French foreign exchange student Clare Girard run rings around her. Yet when Helen died, the writers needed to bestow misery and health problems upon someone, and it seems Madge, being of a certain age, pulled the short straw because of course older woman are constantly ill (exit sarcasm). She suffered an aneurysm which temporarily blinded her and caused her to become caught in a fire.
She regained some of her old self enough to foster both Paul McClain and Tad Reeves, who came to look upon her as a second mother, and she also engaged in petty neighbourhood feuds with the likes of Lou Carpenter, Lyn Scully and Portia Rossi. Yet actress Anne Charleston herself has said that this Madge was a watered-down version of the Madge we had previously seeen, and this would show no signs of letting up as we entered the new millennium.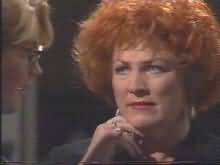 There was also a shortage of women in their forties during the late nineties – only five compared to the twenty younger women we saw during this period. Opinionated and brassy Cheryl Stark was leader of the pack; since 1993, she had filled the role previously inhabited by Madge, yet she was more than just a Madge clone and was an excellent love match for Lou Carpenter. She was a woman with no shortage of storylines, from buying Lassiter's, to dealing with her teenaged children, to becoming an older mother and then being held hostage by drug dealers in Ecuador, she certainly lived a colourful and eventful life, and Neighbours was certainly in need of a character like Cheryl as it moved into the late-nineties.
She certainly was a vibrant, very different character to someone we had ever seen before or have seen since; she was able to re-invent herself after her ordeal in Ecuador, straightening her frizzy hair and wearing dark, subtle clothing, though this was the result of an affair she had had with one of her fellow hostages, rather than because of the trauma of her ordeal. It was this affair that destroyed her relationship with Lou, severing one of Neighbours' greatest ever partnerships, brought about by the then producer's decision to write out Lou. The decision was then taken – rather stupidly – to write out Cheryl by killing her off, albeit ironically just as Lou was heading back to Erinsborough for a reunion. On killing off Cheryl, the writers created one of the most tragic situations we have seen in Neighbours, though I suppose we should be thankful Cheryl went out when she was at the top of her game and hadn't become tired and stale.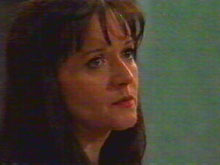 Another classic Neighbours character was born during the mid-nineties when Susan Kennedy arrived in Ramsay Street. I could wax lyrical about Susan, my favourite ever Neighbours character, for ages, but I shall withhold myself. But seriously, Susan is the defining female Neighbours character; she has excellent points about her, and she has bad points, making us love her for one week, then hate her for the decision she has made the next.
When she first arrived, I doubt many could have predicted the phenomenon Susan would create in later years; she was just the mother of the strange new family, and it was only over time and as we got to know her that we took her to our hearts. Her relationship with husband Karl was an enduring factor, as they went through much anguish and heartache – his longing for a new child, her job in Wangaratta, his near-affair with Kate Cornwall and subsequent relationship with Sarah Beaumont. Her work as a teacher, and her interaction with the younger characters, also gave her a strong appeal to younger viewers, as they felt that they could relate to her, that she could be a surrogate mother figure, someone they loved.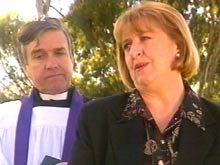 However, it would be when Susan entered the new millennium that she gained almost cult status amongst the Neighbours fans. Other older women of the late nineties included the legendary Angie Rebecchi – who was sadly axed in 1996 for reasons many fans still cannot fathom. Another original, one-off character who livened up Ramsay Street and was big on family, Angie was matriarch of the Rebecchi clan and made great friends with the aforementioned Cheryl Stark, becoming a much-loved and respected neighbour during her time on the street, despite having raised troublesome sons Stonefish and Toadfish. Even though her time in Erinsborough was brief – she lived at Number Thirty-Two for just a year – Angie is still a much-loved neighbour now, and her brief visits always light up the screen. She even left us a lasting legacy in the form of youngest son Toadie, who has gone on to much become a much-loved neighbour in his own right.
The older women weren't all brash and lively in the late nineties; Ruth Wilkinson, while a strong, independent woman, grew a little stale and dull after her marriage to Philip Martin, despite having a colourful past, and she isn't always remembered as fondly as some of the other characters of her era. The most controversial thing about her occurred when she left in 1999 to make way for the Scully family, who brought more lasting female legacies in the form of Lyn and Stephanie.
There were many attractive young women on the street in the late nineties – twenty to be exact – and while some such as Annalise Hartman, Libby Kennedy and Cody Willis are still fondly remembered today, others such as Jen Handley, Ren Gottlieb, Lisa Elliot and Joanna Hartman were there for such little time that it was hard to invest much emotion into them. Herein lies the problem with younger female characters; we need to get to know them, like we do with any character, before we are able to feel sympathy for them, or really care for them. Yet the women introduced into Neighbours in the late nineties were characters we shared little or no emotional history with and who were all much of a muchness; there wasn't much substance or depth to them. Often, it seems like they were placed there as eye candy, and so the viewer finds it hard to feel anything for them.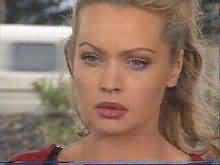 Annalise Hartman was an exception to the rule; more than just a dizzy blonde, she had depth and character, and her on-off relationships, first with Mark Gottlieb, and then later with Sam Kratz, had viewers gripped. She changed occupation more times than she had hot dinners, embarked on disastrous relationships with unsuitable men, and had one of the greatest ever end of season cliffhangers when Mark jilted her at the altar after deciding to join the church. Annalise also had ambition, and often got itchy feet when she stayed in one job for too long; she even became a poet.
Annalise could easily have descended into a bad characterisation of a bimbo, a woman who slept around, yet the writers made so much more of her, giving her a chance to become a much-loved character, one whom the audience really cared for, and when the 2005 20th anniversary celebrations came around, it was Annalise who brought past characters back together. Still much loved today, Annalise Hartman was one of Neighbours' most enduring young women, and we have yet to meet an attractive and flirtatious woman with as much pizzazz as she had.
Other young women of the era gave us little to remember them by, and it wasn't until the new millennium when we would gain a trio of the most popular young female characters, as well as a rebuilding of female characters within the show, resulting in something of a hark back to the golden days… Click here to read the final part of Women In Neighbours.