.


Features > 20 Best Arrivals
There have been many arrivals in the 20 years of Neighbours, some expected and some complete surprises. Here are 20 of our favourite Ramsay Street arrivals...
Daphne
Viewers had very little frame of reference, given that it was the first episode, but Daphne's arrival on Des Clarke's doorstep as the stripper at his bucks' party still came as quite a shock. It wasn't long before she was causing all manner of mayhem as she moved into the street, giving Max Ramsay cause to complain. Although she caused controversy for the first few months of the show, by the end of 1985, Daphne had turned her back on stripping and was running a coffee shop given to her by her grandfather. Despite her surprising beginnings in the show, Daphne went on to become a shoulder to cry on for most of the local youths and a respectable wife and mother, before tragically dying in 1988.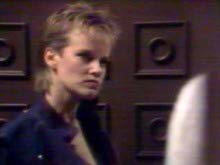 Madge
At the beginning of 1986, Madge Mitchell suddenly turned up on the doorstep of 24 Ramsay Street, home to her brother, Max, and two nephews, Shane and Danny. Although the three boys were happy living together, Madge quickly took over the running of the household. She decided that they required a woman's touch, but it wasn't long before it became clear that she'd turned up because her husband, Fred, had been philandering again and her son, Henry, was in a local prison for robbery. Although she was extremely morally upright during her early time in the show, Madge quickly mellowed as she married Harold Bishop and feuded with Mrs Mangel.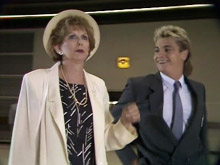 Clive
Max Ramsay was in for another cruel shock when, following the arrival of stripper Daphne the year before, his street then became home to a gorilla. Man of mystery Clive Gibbons turned out to be running an animalgram service and took great delight in annoying Max by parading a troupe of giant chickens and gorillas in and out of the house at all times of the day. The feud between the two men quickly spread to the rest of the street, as Max kept everyone up playing loud music in the hope that it would drive Clive out. Unfortunately, Clive wasn't at home at the time and Max only succeeded in annoying everyone else. Things eventually calmed down after Max suspected he was having a heart attack and Clive helped him, revealing his past as a doctor in the process.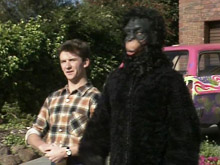 Charlene
She was trouble from the moment Scott Robinson caught her breaking into the Ramsay house, mistook her for a burglar and received a punch in the mouth for his efforts. Charlene and her mother, Madge, found it extremely difficult living under the same roof but when she found out that her father didn't want her back, Charlene was forced to make Ramsay Street her home. It wasn't long before she found love with neighbour Scott Robinson and the relationship calmed her down, though she retained her feisty character until she left Erinsborough for Brisbane.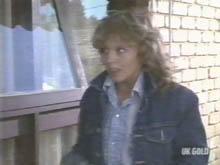 Harold
As Charlene and Madge were attempting to cheer up a depressed Clive, following the departure of Susan and baby Sam, they decided to throw him a dinner party and dress as clowns. The whole plan backfired, but Madge's old flame from high school, Harold Bishop, also turned up. He was quite bemused to find Madge dressed as a clown, and she was equally embarrassed. It turned out that Charlene had tracked Harold down and invited him over, since he'd be in town, in the hope of reviving her mother's love life. Fortunately, the plan worked and Madge and Harold ended up marrying the following year.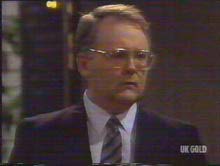 Melanie
She had a laugh that arrived before she did, and her first appearance saw Melanie brought home by Henry to introduce to his mother, Madge. The evening went badly, as Melanie managed to annoy Madge with her chatter, laughter and insistence that she was on a diet and couldn't eat the meal. Things only got worse when Melanie saw Scott and Charlene's wedding album and she got talking to Henry about them getting married and having kids. Fortunately for Madge, the relationship didn't last long, but Melanie made several more brief appearances in the street over the two years that followed, before joining the cast full-time in 1989 after landing the job of Paul's secretary.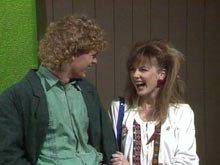 Bronwyn
Kindly nanny Bronwyn Davies hadn't been in Erinsborough long when she spotted a baby that had been left on his own in a supermarket car park. She eventually tracked down the father, Des Clarke, and accused him of all manner of cruelty towards children. Lo and behold, her next job interview then turned out to be with Des, as nanny to little Jamie. Fortunately, they ended up seeing past their earlier misunderstanding and Bronwyn was employed. She was later joined by her troublesome younger sister, Sharon and ended up leaving for New Zealand, where she married Henry Ramsay.

The Alessi twins
In the early part of 1990, Paul Robinson hired a new office manager in the form of the mysterious Linda Giles, hiring out number 22 to her at the same time. It quickly emerged that the newcomer had a couple of secrets under her belt. Nosy neighbour Hilary Robinson suspected there was something untoward happening in her street as she spotted strange men coming and going from Linda's house and the woman herself coming and going at various times, often having changed clothes. It eventually emerged that Linda was in fact a set of twins – Caroline and Christina Alessi – and their secrecy was down to them being sent to Ramsay Street as part of a witness protection scheme.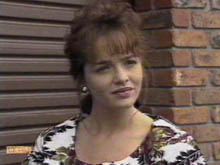 Cheryl
Brassy Cheryl Stark became obsessed with Lou Carpenter when he left his wallet in her bar, The Manhattan, one day. It wasn't long before she was using her money – having won the lottery – to convince an unwilling Lou that they were made for each other. She rented the house next door to his, and even started buying up the cars on his car lot in order to get his attention. In the end, they dated briefly before she realised that he was still hung up on his ex, Madge. Some months later, Cheryl was back, having bought number 22 and this time, she managed to win Lou and fell pregnant with his child. Although they never married, Lou and Cheryl were extremely happy together until the relationship fell apart and she died a few months later.
Brett and Danni
With their mother, Cheryl, having bought a house in Ramsay Street, Erinsborough and settled in, siblings Brett and Danni decided that they'd had enough of the boarding school they'd been sent to when she won lotto. As Danni had already been expelled, they decided to run away and track down their mother, but were in for a shock when they found her enjoying a little romance with Jack Flynn on the lounge. With the embarrassment out of the way, Cheryl eventually decided, on the advice of Lou, to let her kids stick around and watch them grow up.

Marlene
With a family tradition of exciting entrances, it was no surprise that mysterious Marlene Kratz turned out to be the mother of Cheryl Stark. Marlene had bought 24 Ramsay Street and sent her grandson, Sam, down to Erinsborough ahead of her to sort things out. Sam befriended Cheryl, her partner Lou and two children, Brett and Danni, little realising that he was related to the noisy brood. When Marlene finally turned up, she wasted no time in telling Sam the truth, before giving Cheryl the shock of her life. The two women struggled to live alongside each other, and Marlene almost moved away, but they finally learnt to get along and had a couple of years together before Cheryl's death.
The Kennedy family
It had been a while since such a large family had lived on Ramsay Street, so when the Kennedys moved into number 28, the neighbours weren't quite sure what to expect. Father Karl had been the first to arrive and had quickly managed to offend Danni and Cody with his forthright manner, but the rest of the family turned out to be somewhat more pleasant. As they moved in, daughter Libby managed to catch the eye of Brett Stark, whilst his sister, Danni, was more interested in eldest son, Malcolm. It took a while for the Kennedys – with their country ways and family meetings – to settle into Ramsay Street, but once they did, the place would never be the same without them.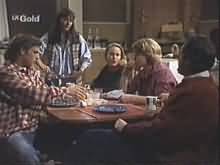 Joanna
As Annalise was about to leave Erinsborough for her dream trip to Europe, the last person she expected to find on her doorstep was a half-sister who she knew nothing about. Joanna Hartman's sudden arrival meant that Annalise had to postpone her trip and get to know her sister and, eventually, her estranged father. There was a natural bond between the sisters and they even went into business together briefly, before Annalise eventually made it out of Australia six months later.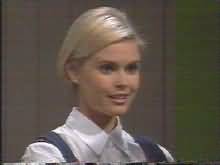 Ben
The behaviour of Ben Atkins raised suspicions from the moment he set foot in Ramsay Street, as he sat outside number 32, watching its residents – the Wilkinson family – come and go. Ruth was unsettled as Ben moved into number 30 and began spending time with her children, Anne and Lance. As Anne developed a crush on Ben, he was finally forced to reveal the truth; that he was Ruth's son. It emerged that Ruth had given him up for adoption as a baby and he'd managed to track her down 21 years later. After a while, mother and son developed a close bond and Ben eventually left to get to know his real father, Geoff, in Sydney.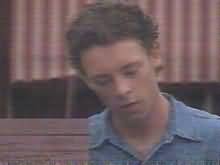 The Scully family
The Scullys arrived on the street just as their predecessors, The Martins, left, which didn't set the best example with the residents, who were upset at the departure of their friends. The girls of the family immediately set their sights on the men of the street - mostly the taken ones, whilst Lyn attempted to make friends with the residents, although committing a few faux pas in the process. In Joe, we saw a character of the ilk Ramsay Street hadn't seen for many years, who immediately took a dislike to Karl.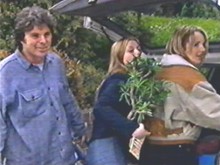 Elly
The troublesome niece of Susan Kennedy wasn't really wanted in Ramsay Street, she'd just been dumped there by her mother, Liz, with very little warning. As if to make matters worse, she then turned up on the doorstep of number 28 with a couple of police officers in tow. Unaware that she was meant to be staying for six months, Elly made very little attempt to settle in, until she finally found out the truth. During six months in Ramsay Street, Elly calmed down a lot, made friends and even bonded with her aunt and uncle, before joining her mother in Sweden.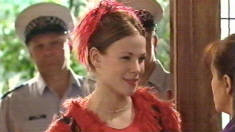 Stuart
The anticipation of Big Brother housemate Blair McDonough moving into Ramsay Street certainly gave Stuart Parker's arrival a certain something. Stuart's first appearance came about when Libby and Drew travelled up to Oakey for the annual rodeo and ran into him, complete with cowboy hat. Before long, he had joined them in their flat in Erinsborough, having walked out on his cheating fiancee, Tracey, and he became a fully fledged member of Ramsay Street as he moved into number 30.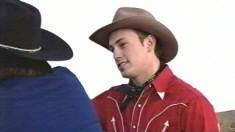 Izzy
She glided into Erinsborough, wowing the local men in the process, in search of her older brother, Max. The arrival of Isabelle Hoyland heralded the beginning of a whole new era in Erinsborough and her first few weeks in town were certainly a sign of things to come. Izzy managed to manipulate Harold into allowing her to buy into the Coffee Shop and quickly turned Summer against her prospective new stepmother, Steph. Within months, Izzy had completely destroyed the Kennedy marriage and was pregnant to the unstable Gus Cleary. From the second that her stilettos stepped out of the taxi and she put on her sunglasses, Izzy proved to be a major headache for the good people of Ramsay Street.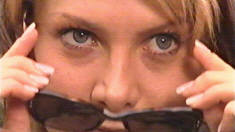 Stingray
Scott 'Stingray' Timmins entered the show as he meant to go on, his first scene involving nudity, the police, and a 'cheeky' sense of humour. He had a court case within days of arriving in the street, and secured himself a reputation as a troublemaker, which proved hard to shake. Viewers had no idea he was Toadie's cousin at first, but the parallels between the boys soon became obvious. Soon, Scott was living with Susan, just as Toadie had done at the same age, and she managed to calm him down a bit, using her magic touch as schoolteacher, disciplinarian and all round Earth Mother. The honour of a piscine nickname was soon bestowed on Scott when Toadie named him 'Stingray'.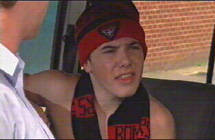 Janelle
Like her son several months before her, Janelle Timmins blew into Erinsborough like a tornado and upset anyone who happened to be in her way. Complete with a neck brace, Janelle managed to swindle free food out of Lou and Harold, before parking her caravan in Ramsay Street. Her interference in her son's life almost led to him ruining his life again by joining her back in Colac, but in the end he decided not to go. After blissful peace for a few months, Janelle was back in town as Lyn's new trainee stylist and this time, she was staying for good.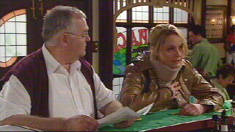 Thanks to Liz, Lucy and Steve