.


Features > 20 Best Departures
Ever since Maria Ramsay left in the back of a taxi, Neighbours has seen characters leave the area on a regular basis. Some left for another country, others just for another suburb. Some left from Ramsay Street, others from the airport. Some left with the whole street saying goodbye, others left alone. But however they went, they were all memorable, and here are 20 of the best…
Maria
It had been a difficult few months for the Ramsay family, with the various members torn apart by the revelation that Max wasn't Danny's real father, and Danny himself being the only one still in the dark. With Max living in a bedsit, Maria met a new man, Richard Morrison and he offered her the chance of a fresh start in Hong Kong. Although she wanted Danny to join her, he wasn't so keen, so she was forced to leave him behind with Max and Shane. On the day of Paul Robinson's wedding to Terry Inglis, Maria said painful goodbyes to her friends and family and became the first regular character to leave Neighbours, quite fittingly, in the back of a taxi.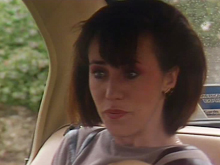 Charlene
She'd been living in Ramsay Street for only two years, but Charlene's forthright ways and her fairytale romance with Scott Robinson, together with the massive popularity of actress Kylie Minogue, meant that she left a huge hole in Erinsborough. When Charlene's grandfather, Dan Ramsay, offered her and Scott the chance to move to Brisbane and move into their own home, the newlyweds were thrilled. However, they came to realise that it would be incredibly difficult for Scott to find work up there, as he'd only just left high school and was barely on the first rung to becoming a journalist. So, Charlene headed off on her own, packing up her car, Willy, and saying farewell to everyone before tearfully driving out of Ramsay Street. A year later, Scott joined her.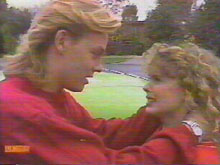 Mrs Mangel
She'd been terrorising the residents of Ramsay Street for two years with her interfering ways and cutting remarks, but it was still a sad occasion when Nell Mangel packed up and left Erinsborough. John Worthington had been romancing her for several weeks, on and off, until she agreed to marry him and take an extended honeymoon to England. She left her home in the capable hands of granddaughter, Jane and son, Joe, as well as her best friend, Bouncer the Labrador. Having feuded with Madge since the moment she moved in, Nell also chose her departure as the moment to put the past behind her, even sharing a hug with her sworn enemy.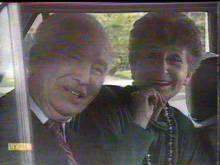 Jane
After agreeing to marry Des, doubts were slowly creeping into Jane's mind as the big day approached. When she then heard that her grandmother, Nell Mangel, had suffered a serious heart attack in England, she had an escape route from the marriage. With all of her good friends around her, Jane said goodbye to Ramsay Street, with everyone believing that she would be back before too long. However, Des was left heartbroken when Jane announced a few months later that she wouldn't be coming back and that the engagement was off.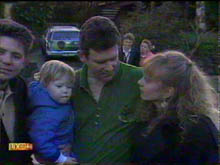 Gail
The death of her father, Rob, seemed to put the final nail in the coffin of Gail's marriage to Paul Robinson. Things hadn't been going well for them for several months, as Gail fell pregnant with triplets, but her husband continued to spend most of his time working, ignoring her feelings. When Paul left Rob's wake early to return to the office, it prompted Gail to make the big decision she'd been considering and leave him. After packing her bags and leaving a note for Paul, Gail quietly exited Ramsay Street, eventually settling with her real father, Ian, in Tasmania.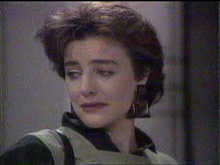 Henry
Local larrakin Henry Ramsay had been causing havoc on Ramsay Street for over two years when he received the offer of his own radio show and what looked like a stable new career. Unfortunately, the job was in New Zealand, leaving almost immediately, and girlfriend Bronwyn was just sorting out her own career back in Erinsborough. She agreed to join him later, and there wasn't a dry eye in the house as Madge and Bronnie said goodbye to Henry at the airport. Because he had so much luggage, he had to leave his beloved guitar with Bronwyn, but it would eventually find him in New Zealand, when Bronnie's sister, Sharon, moved out there to join the couple, just after their wedding.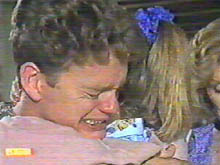 Beverly
Her marriage to Jim had been falling apart for months, as the strain of a failed adoption and two miscarriages took their toll. They'd been living apart for a while, but it still hit Jim hard when Bev announced that she was moving to Perth and that her nephew, Todd, would have to go back to his mother in Adelaide. After finally patching up her differences with Jim, Beverly left Ramsay Street for the final time, although it wasn't long before Todd was back on the street, having run away, realising that he couldn't live without his girlfriend, Cody.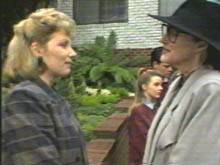 Cody
The following year, it was Cody's turn to bid farewell as she was accepted onto a scholarship programme in America. It proved extremely difficult for her to leave Todd behind, but those around her convinced her that the opportunity might not come up again and she should grab it. Although they'd split up just before Cody planned to leave and had attempted to move on with new people, Todd and Cody were drawn back together for her final day in Erinsborough. They spent the time reminiscing and finally said a painful farewell before Pam drove Cody out of Ramsay Street.
Joe and Melanie
Joe Mangel and Melanie Pearson were two of Neighbours' most memorable and even iconic characters during the late eighties and early nineties, so it was rather fitting (although a big loss) that they left together. The months leading up to their departure saw an endearing love story unfold, but their engagement and the wedding that quickly followed it coincided with the dramatic disappearance and presumed death of Harold Bishop. In other unfortunate circumstances, Mrs Mangel's health problems were the reason for their hasty departure. However, nothing could detract from the novelty of seeing Joe and Melanie together at last, and their goodbye scene at the airport was touching. Notably, this was also the departure of little Sky Mangel, Joe's stepdaughter, who would return 12 years later to become one of Neighbours' best loved teens.
Dorothy
Although her professional and social lives never caused her any problems, Dorothy Burke's love life was something of a disaster. An ex-husband in prison and a string of disastrous relationships left her thinking that she would be alone forever, until school inspector Tom Merrick came into her life. She left with him for a new life in the country, along with Toby Mangel, who she'd been looking after and Bouncer.

Brad and Beth
If there was one couple who seemed meant to be together, it was Brad and Beth. Their first wedding had ended in disaster, as it emerged that Brad had been having an affair with bridesmaid, Lauren. However, they were back together some months later and planning another wedding and a whole new start in Perth. However, pressure from their families led to their decision to marry in a registry office and make a quick getaway without anyone noticing. Luckily, their parents noticed and brought them back to Ramsay Street to get married – for the third time! With family and friends gathered around, Brad and Beth were then driven out of the street, complete with a sign on the back of the car that read 'Just Married – At Last!'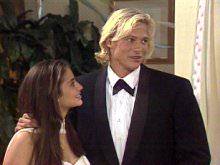 Pam and Doug
The parents of the Willis family had certainly had their ups and downs, including affairs, money worries and charges of euthanasia, since their arrival in 1990. Four years later, though, they were still together and, as financial concerns reared their head once more, they realised that their future might lie away from Erinsborough. Doug was offered a big building contract up in Darwin but, at first, Pam decided to stay behind and look after the sale of the house and their daughter, Cody. But once Cody had found alternative accommodation, Pam had no more excuses and she and Doug packed up and left, but not before a surprise party thrown for them by their neighbours.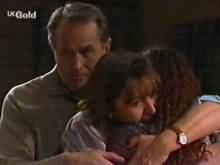 Rick
After working his way up the corporate ladder at Lassiter's, it was only going to be a matter of time before Rick Alessi left Erinsborough behind. As he returned from a romantic weekend away with girlfriend, Cody, Rick was in for a shock when Gaby Willis phoned from the Darwin branch of Lassiter's and announced that she wanted him to join her up there as Assistant Food and Beverages Manager. Rick jumped at the chance to further his career, but it also meant that Cody would have to stay behind to go to medical school. The young couple said a heartbreaking farewell in Ramsay Street before making the best of a long-distance relationship until the inevitable break-up.

Annalise
In the six months leading up to her departure from Ramsay Street, Annalise Hartman had been reunited with her half-sister and estranged father, causing her to give up plans to travel the world. Her relationship with Sam Kratz had also been suffering, causing her to begin an affair with Stonie Rebecchi as she tutored him. Once the affair was found out and Sam had turned his back on her, Annalise decided that she had very little to stick around her and resumed her travel plans. Sam caught up with her at the last minute, at a service station, and tried to convince her to stay, but Annalise's mind was made up. A few months later, Sam joined her in London and it looked like she was over her fear of settling down with him, as the couple later married.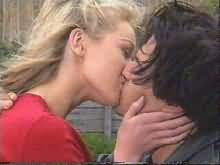 Brett
A trip to Kenya changed Brett Stark's life, as he realised that he no longer wanted to live under his mother's rule and he wanted to see more of life. This new outlook began, rather bizarrely, with an affair with his mother's friend, Judy, before he was made an affair to go sailing around the world. Cheryl found it extremely difficult to let her son go and so Brett decided to make a quiet getaway early in the morning, only telling close friends Libby and Helen, who drove him to the bus station for the teary goodbyes. A devastated Cheryl was left to find out that truth in a letter.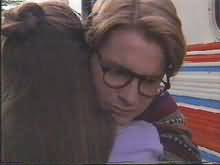 Sarah
There were a few Ramsay Street residents who were delighted to hear the news that Sarah Beaumont was getting married and moving to Amsterdam. Susan Kennedy, whose husband, Karl, had been fighting his attraction to Sarah for well over a year, was certainly one of them. However, she joined the rest of the neighbours at the church to witness Sarah marrying Dr. Peter Hannay, little realising that, after the ceremony, Karl and Sarah had shared one final kiss before she left for her new life.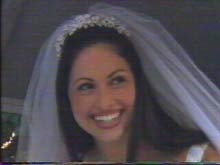 The Martin family
Although only distant relatives of the Robinsons, what with adoptions and re-marriages, by the time they left, the Martin family still kept the spirit of one of Neighbours' original families alive. So it was a sad day in 1999 when Phil Martin accepted a job in Darwin, making plans to leave along with his new wife, Ruth and daughter, Hannah. Hannah was inconsolable as she left the home that had been a part of her life for seven years and held so many memories of her mother, Julie and great-grandmother, Helen. Most of Ramsay Street then turned out to say goodbye and were still hanging around moments later when new family, the Scullys, pulled into the street.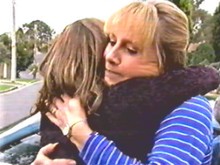 Tess
Tess' relationship with Darcy had never really been the strongest of love affairs, beginning with him cheating on his then girlfriend, Dee, to be with her. As he won Tess back by proposing and the wedding day drew nearer, Tess found herself confused by her own feelings, particularly when Dee tried to talk her out of the marriage. In the end, as Lyn styled Tess' hair and talked of the trust between herself and Joe, Tess decided to phone Darcy's ex-girlfriend, Alice and get some answers. As Darcy waited for his bride-to-be to arrive, Tess was busy packing her bags, having realised that she couldn't trust Dr. Tyler at all. She made up with Dee and they said their goodbyes, as Tess set off for a new life in England.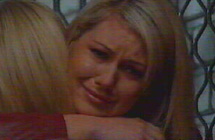 Darcy
He had never been Erinborough's most trustworthy resident, but during his last few months as a regular character, Darcy Tyler turned bad. Not only did he go to great, and devious, lengths to try to win Dee back from Toadie, but he also went so low as to rob his own flesh and blood, the Kennedys, in order to pay off serious gambling debts, even knocking down a pregnant Lyn Scully in the process. After weeks of going unsuspected on both counts and also having a trusting Dee come back to him, viewers were treated to his spectacular demise as one of 2003's best storylines drew to a climax. The drama peaked as Darcy confessed not only to his crimes, but also every detail of his plan to break up Toadie and Dee. His final scene saw him being placed literally behind lock and key, as Darcy's three years on the show ended (while an 18-month sentence began) with the slamming of the prison door.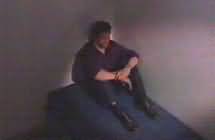 Libby
Libby's world was turned upside down when former boyfriend Darren Stark came back into her life. When he broke her heart for the second time, everyone thought he was out of her life forever. But when he asked Libby to move away with him to Shepparton; however, she jumped at the chance to leave the street and start a new life with him. In one of the most emotional scenes in recent years, Libby was waved off by the whole street, as she and Ben drove off into the unknown, leaving Susan standing mourning her daughter's departure.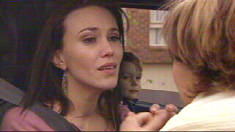 Thanks to Alice, Lucy and Steve