.


Features > 20 Fashion Disasters
It's never really been a strong point for the residents of Ramsay Street, but some of the fashions in Erinsborough over the years have really taken things to a whole new level. Here, we look back at 20 of our favourite Neighbours fashion disasters…

Madge's attempts to upstage Betty Bristow
When her old friend, Betty Bristow, arrived in Erinsborough and started flirting with Harold and showing off her cosmetically enhanced body and swanky clothes, Madge began to feel increasingly dowdy. On the advice of best friend, Helen, she decided to give herself a makeover in time for dinner with Betty the following evening. Unfortunately, she ended up, in the words of Henry and Scott, looking like a reject from Mardi Gras. The next day, she spent the entire afternoon, as well as $200, in the beauty salon, only to get caught in a rainstorm on the way home. Madge walked in the door looking like a drowned rat and took her frustrations out on Betty. Luckily, before Betty returned home to Brisbane, the two women managed to sort out their differences.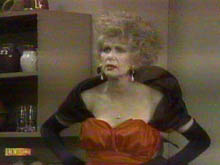 Big Hair
The 80s were a time of distasteful fashion, and the hairstyles that went with it were no better. The Neighbours set in the 80s must have been a fire hazard, with all the hairspray fumes wafting about. The hair in Neighbours didn't move much, held in place by a scaffold of styling products. It wasn't just the female cast that gave us big 80s hair though. Henry Ramsay's hair gave a great performance as a tightly permed mullet, one of the finest examples of dodgy 80s hair.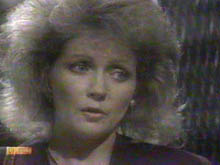 Hilary's hair
Hilary Robinson's hair was certainly a Neighbours icon in the late 80s. The simple and somewhat helmet-like style suited her character down to a tee and she certainly had little trouble getting through the doorways, unlike some of the other female characters. Indeed, Todd even attempted his own version of Hilary's hair at one point, before growing it out and adopting a ponytail, which was apparently quite fashionable at the time.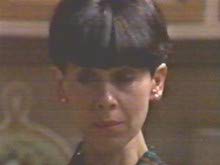 Fake tan traumas #1
When Sharon Davies decided that she wanted a nice healthy tan so that the boys at school would finally notice her, she went a little too far and ended up with sunstroke. As the school dance approached, she was determined to win the affection of one boy, Dwayne, at the school dance and decided to go to any length to get it. After borrowing a dress from her sister, Bronwyn, Sharon applied an entire bottle of fake tan to her skin, much to Hilary's horror. Sharon, however, felt that she was the height of sophistication and set out for the school dance. Unfortunately for Sharon, she was once again a laughing stock when the fake tan began to melt under the disco lights and she ended up returning home early, much the worse for wear, and preparing to face Bronwyn's wrath for ruining her dress.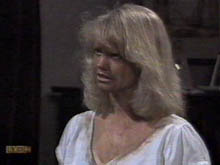 Julie's green anorak
As much a part of Julie as being offensive and whining in a high-pitched voice, was the green anorak. Rarely on a winter's day would she be seen without it, and indeed it may well have been possessed, as its most famous hour came when Julie donned it, stepped outside to the car and reversed into Cheryl Stark, who was pregnant no less.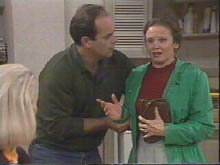 Susan's entire wardrobe pre-2004
In the beginning, it was understandable, as she'd moved from the country and they clearly had no shops, so she made her own clothes. But as time went on, Susan's range of unflattering tent dresses only seemed to grow. Her ability to mismatch every single item in her wardrobe was unrivalled, even after Ruth Wilkinson moved in and gave it a good try herself. Fortunately, once Karl moved out, she had a bit of an overhaul and, since then, she's looked less like a walking jumble sale.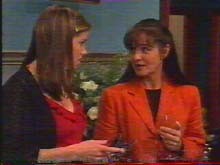 Willis Kennedy
It may have seemed like a good idea at the time, but the spectacle that was Cody Willis dressed as a man simply turned out to be quite frightening. In an attempt to prove to sexist Coach Garfield that she was just as capable as the men on the uni cricket team, Cody, with a little help from Karl, dressed herself up as a man and went along for a trial. Complete with fake facial hair, Cody managed to fool the coach into thinking he'd found his next big star, before humiliating him, along with the viewers, by revealing who she was.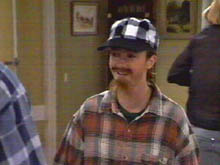 Phil's spacesuit
In another of his attempts to get himself in shape and change his image, Phil Martin went to an extreme and bought himself a sauna suit, in the hope that he would be able to sweat off those extra pounds. Unfortunately, he bought it from Marlene and it turned out that it was actually just a silver tracksuit that she was struggling to sell in her shop. The effect ended up being more of an overweight astronaut and, after relentless mocking from his friends and family, he decided that he'd probably be better off sticking to eating carrots.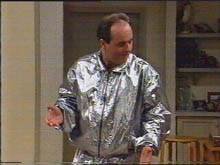 Stonie dresses as Cheryl
With Cheryl away, and desperate to drum up some business at Chez Chez, Lou decided to make a tv ad, and decided that Stonie was just the person to star in it. In what ended up looking like a drag queen impersonating Cher, Stonie put on a dress and a curly wig and played 'crazy' Cheryl in the ads, which went on to cult success in the area, turning Stonie into something of a local celebrity. Indeed, it all started to go to Stonie's head and it wasn't until his girlfriend, Cody, threatened to split up with him that he snapped out of it.
Angie plays dress-ups
As if one Rebecchi dressed as Cheryl wasn't enough… Angie Rebecchi was beginning to feel dowdy so, naturally, she turned to her good friend and Ramsay Street's beacon of fashion, Cheryl Stark. Angie, being Angie, decided that the best way to get some style tips would be to sneak into the back garden of number 22 and check out the clothes hanging on the washing line. When Cheryl's daughter, Danni, caught her, she helped Angie make herself over into a strange hybrid of Cheryl and Dame Edna Everage. When Cheryl caught sight of her apparent doppelganger, she managed to convince Angie to return to her old look and be herself.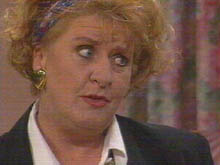 Ruth Wilkinson's entire wardrobe
It didn't quite rival neighbour Susan Kennedy in the poor taste stakes, but Ruth Wilkinson's wardrobe still left a lot to be desired. Indeed, many neighbours had to start wearing sunglasses, as Ruth strode the streets in glorious technicolour trousers and stripy tops in every colour of the rainbow. Luckily, Phil saw past that, and even past the dungarees, and proposed to her.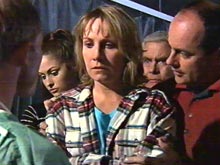 Fake tan traumas #2
Nerdy Lance Wilkinson grew jealous when his tricky girlfriend Amy started spending time around Drew Kirk, a sexy mechanic with a country boy tan. Lance decided the best course of action to attract Amy's attentions was to up the stakes in the tanning department, and marinated himself in a particularly orange shade of fake tan that would have scared even Dale Winton. Tango anyone?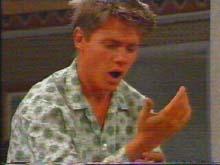 Hannah's post-France hair
She left for France in 1998 looking reasonably normal. She returned six months later following an accident with a lawnmower. Hannah Martin's change of hairstyle became a talking point up and down the country. The trauma proved to be too much for the Martin family, who left Ramsay Street and fled up north in shame, some months later.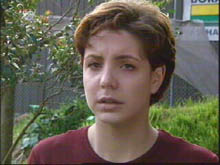 Lyn's leopard prints
When Lyn Scully arrived in Ramsay Street she was a veritable whirlwind of animal print and big hair. My personal favourite garment belonging to Lyn is her slinky leopard print dressing gown, it symbolises everything she aspires to with her clothes, and exudes an air of tackiness, in the best possible way. She references haute couture and brings a touch of Galliano to the streets of suburban Melbourne, dressing like Gwen Stefani's sweet mother. Her clothes aspire to live a life of luxury, pure escapism. Despite looking like an accident on 'Big Cat Safari Week' Lyn brings that touch of 'class' to Neighbours.
Karl in lycra
As part of his mid-life crisis in the late 90s, following a brief liaison with his younger secretary, Sarah, and the purchase of a classic car, Karl Kennedy decided to get himself in shape. Sadly for some, though not all, of the viewers, it involved him spending many episodes riding around on a bike, in a lycra suit.

Nina's green hair
Spiteful Tahnee Coppin would often lie to receive attention from her friends and became jealous when newcomer Nina Tucker developed a close friendship with Michelle Scully. Tahnee's nasty streak reared its head again as she offered to help give Nina a makeover and ended up 'accidentally' dying her hair green.
Afro Harold
Afro Harold was a brief moment in Neighbours history when marketing genius Lori Lee decided that appealing to the student market would boost the Coffee Shop's sales. Cult figure Afro Harold was born, even having his own late night advert on Channel 44. T-shirts followed and soon Afro Harold was a star in his own right. The phenomenon of Afro Harold was mercifully short lived, as despite the growing success of the character, the afro wig turned out to be one of the worst mistakes of the wardrobe department to date.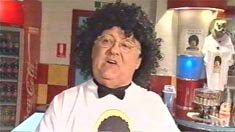 Dylan's boxer shorts
An item of clothing that doesn't have much cause to appear in your average episode of Neighbours is boxer shorts. Much less gaudy silky ones. Despite this, Dylan Timmins has managed to earn a name for himself in the world of tasteless underwear. Dropping his pyjama trousers in the street, or stripping off for a dodgy wrestling storyline, Dylan always displayed his heinous taste in underwear, plus a few other things.
Boyd dressed in Sky's underwear
When Sky and Sindi teamed up to sell lacy lingerie and earn some spare cash it went down a treat with the ladies on the street, but I doubt they thought it would have the same effect on the men. Boyd wasted no time in tarting himself up and prancing around in a silky nightie and cami-knickers, much to the delight of Sky, and the embarrassment of anyone watching with their parents. As if that wasn't enough, Boyd started doing a striptease. Oh dear.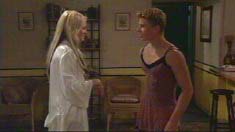 The wrestling costumes
Lyn Scully, who is already a bad fashion icon, is responsible for the wrestling outfits. Regardless of how we may feel about that particular storyline, the costumes were truly hideous. Lyn created a 'vision' in lycra for Toadie, 'The Lawman', complete with leather gimp mask. We were treated to a less than pleasant scene where Toadie requested a little more room for the 'little lawman in his chambers'. When Connor tried his hand at wrestling, he too was outfitted by Lyn Scully, but not before a stint wearing green y-fronts as a mask, a fashion disaster in it's own right. Let's hope we never see the costumes, or the storyline again.
Thanks to Billy, Liz and Steve