.



Features> 20 Tearjerkers by Moe
We count down the top 20 scenes that had us reaching for the tissues...
01. Daphne Dies
After weeks of languishing in a coma while husband Des kept a bedside vigil, Daphne Clarke became the first regular Neighbours character to die. In a heart rendering moment, Des clutched at his wife's lifeless body after she succumbed to a cardiac arrest. A stunned and shocked Des had minutes earlier thought Daphne was going to pull through after she momentarily awoke to speak possibly the most famous line in N history – "I love you too Clarkey.." But it was not to be and poor old Des was never quite the same again.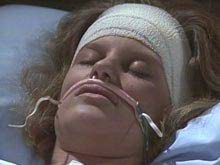 02. Scott and Charlene Marry
It wasn't just Madge who had to reach for the tissues at the wedding of Scott and Charlene in 1987. The popular teen lovers walked up the aisle to the strains of the great rock anthem Suddenly in the most famous soap wedding of all time. No matter how many times people have seen this episode, it never fails to send goosebumps down the spine as Charlene makes her way up the aisle.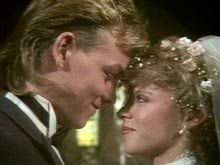 03. Charlene leaves
It was the episode Neighbours fans had been dreading for a long time – Charlene was leaving. With Kylie Minogue off to start her international pop career, the show's most popular couple – Scott and Charlene – had to be separated. The duo had been offered a house in Brisbane by Charlene's granddad but Scott was staying behind in Erinsborough while he waited for a transfer to a paper in Queensland. As well as the heartbreaking goodbye between the Charlene and Scott, practically the whole cast gathered on the street to say goodbye. By the time Charlene had bid goodbye to her old school pals Mike and Jane, brother Henry, mum Madge and Stepdad Harold, not to mention the final kiss goodbye with Scott, viewers across the land were blubbering into their dinners.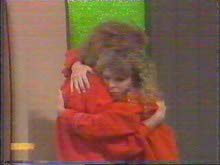 04. Eileen breaks down
Having been jilted at the altar as she was preparing to remarry her husband Malcolm, Eileen Clarke was so upset by the ordeal that she flipped out and took her anger out on the Clarke furniture. Furious with Malcolm for walking out on her again and subjecting her to public ridicule, an angry Eileen knocked over the coffee table and broke down in tears. It was hard not to feel for her as it brought home the fact that despite her interfering ways, deep down she was a very lonely woman.
05. Henry and Bronwyn say goodbye
Lovable joker Henry Ramsay wasn't laughing when he said goodbye to his true love Bronwyn in Melbourne Airport in these poignant scenes screened in 1989. The love affair between Henry and Bronwyn had kept viewers gripped in the years that followed Scott and Charlene, and the sight of them parting company as Henry took a job as a DJ in New Zealand broke fans' hearts. The tears looked very real as Bronwyn watched Henry's plane take off and as In Your Arms played, there were various flashbacks to Henry and Bronwyn's time together on Ramsay Street. Of course, the actors who played the popular couple - Craig McLachlan and Rachel Friend - were real-life lovers too, and with Craig leaving the show to take up residence in Sydney to film Home and Away, the couple were saying goodbye off screen as well as on.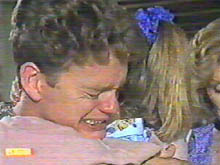 06. Kerry dies
When Joe Mangel accompanied pregnant wife Kerry Bishop to a duck hunting protest, he was terrified that something would go terribly wrong. He was right, and in a scene worthy of the very best in big screen tearjerkers, a sobbing Joe scrambled through the marshes to get to Kerry when he realised she had been shot. As Kerry lay dying in his arms, the agony was written all over Joe's face, as the hopelessness of the situation became apparent to him.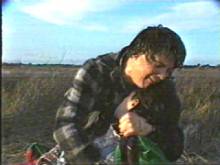 07. Todd's Funeral
Arguably one of the bleakest funerals in the show's 20 years, Todd's send-off was an incredibly sombre affair. Girlfriend Phoebe ran out of the church in tears just as the service was getting underway, Jim Robinson sobbed as he delivered a touching eulogy to his nephew and the gravity of the situation was written all over everyone's faces as Todd's coffin was lowered into the ground. A sad day in Erinsborough.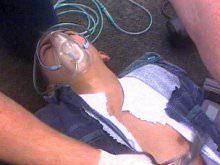 08. Helen and Paul say goodbye
Although he had framed his brother-in-law Philip Martin for fraud and was skipping town to escape a jail sentence, Paul Robinson's final scene on Neighbours in 1993 perfectly captured his devotion to his beloved gran Helen. A confused and visibly upset Helen couldn't understand why Paul was leaving so suddenly and the moment beautifully highlighted the helplessness with which Paul said goodbye to her, and couldn't give her the answer she wanted to hear when she tearfully asked "When will I see you again?"
09. Reuben Dies
Only days after they had become husband and wife, the newfound happiness in the lives of Helen Daniels and Reuben White was cut short when Reuben quietly passed away in the back garden. In a very moving scene, the realisation dawned on Helen that Reuben was dead and she tenderly placed a single pink rose across his chest and hands.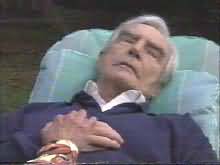 10. Angie's eulogy
The death of Cheryl Stark was a huge blow to the community, but amidst all the grieving that was going on in the Stark family, Cheryl's friend Angie Rebecchi delivered a touching tribute at the graveside. Angie recalled the good times she had spent with her pal and finished with the heartbreaking words "I will miss my friend, but not a day will go by when I won't thank God for having known her."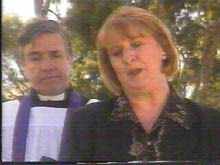 11. Helen dies
The death of the show's longest-serving character was always going to be a sad affair, and there were tears all over Ramsay Street when Helen Daniels passed away on the Robinson sofa in 1997. Great-granddaughter Hannah was the first to realise that rather than being asleep as everyone thought, Helen had died and she clutched her Gran's hand afraid to say anything initially. But when Karl Kennedy called over to check on Helen, Hannah broke down and simply said "she's not asleep." What made the storyline especially sad was the knowledge that Anne Haddy, who had played Helen since the first episode in 1985, was very ill in real life and had returned to film the final scenes after several months out of action. She died two years later in 1999.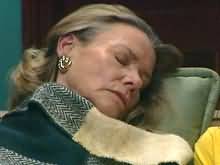 12. Hannah goes to France
Despite initial reluctance from dad Philip, Hannah Martin set off for a 6 month stay in Paris in 1998 amid tearful scenes in the airport. As well as bidding goodbye to boyfriend Paul, Hannah was also called 'button', for the final time, by Philip. It was a coming-of-age moment for Hannah, as here was a character that had come into the series as a cute pig tailed 7-year-old and was now embarking on her first big adventure in the wider world.
13. Anne misses Billy
After seeing her beloved boyfriend Billy Kennedy to the airport to catch his flight to Queensland where he had landed a job, Anne Wilkinson returned home with Billy's best mate Toadie to an empty house and, indeed, an empty heart. Toadie offered to stay for a while and keep her company, but Anne assured him she'd be fine. However, once Toadie had left, Anne broke down in tears as she clutched a teddy Billy had given her in her arms. Of course, she needn't have got herself into such a state because she joined him in Queensland four weeks later.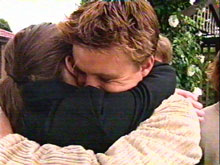 14. Toadie says goodbye to Lance
Toadie Rebecchi is always the joker of the pack but deep down he's a big old softie. Or so we realised when he had to say goodbye to his housemate Lance Wilkinson in 2001. Lance's departure was particularly difficult for Toadie because it represented the last of the old gang of high school friends that was Billy, Anne, Amy, Toadie and Lance, flying the coop and leaving Toadie behind. As Lance drove off for a new life with his girlfriend Allana Truman, Toadie lingered on Ramsay Street for a while with tears in his eyes.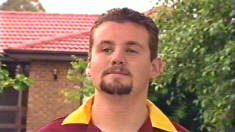 15. Madge dies
As Madge Bishop lay on her deathbed in the Ramsay House, there were tears all round as a steady stream of loved ones and friends passed through to say their goodbyes. Old flame Lou touchingly told Madge that she was "the one that got away"; while foster son Paul told her she had been the best mum in the world to him. But the saddest moment was that of Harold lying by his beloved wife's side and breaking down as he realised she had gasped her last breath.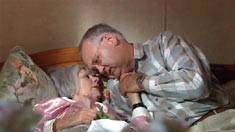 16. Woody goes into witness protection
Steph Scully's reunion with her first love Larry 'Woody' Woodhouse was cut short when he was told he would have to enter the witness protection programme. After an agonosing few days, Steph decided that she would enter the scheme with Woody, but at the last minute she couldn't face leaving her family and had to bid an emotional farewell to Woody on Ramsay Street.
17. Lou says goodbye to Lolly
It came as a huge shock to Lou when he realized that Louise wasn't his real daughter and he would have to fight for custody of her when he real father John Allen came on the scene. After losing the custody battle, Louise had to leave Ramsay Street to live with John and his wife Sandy, and in a poignant scene, little Lolly waved goodbye to her daddy from the back window as Lou desperately tried to put a brave face on things and pretend the situation was all perfectly normal for her benefit.
18. Darren says goodbye to Libby
After returning to Erinsborough to win back his childhood sweetheart Libby Kennedy, everything was going well for Darren until he was accused of stealing from the Scullys building site. What hurt him most was the fact that Libby momentarily doubted his innocence, and unable to cope with the fact that she didn't trust him, Darren left town. But he had second thoughts en route to his new life in Shepparton and stopped to make one final call to Libby from a phone box. However, he was barely able to get the words out despite Libby's heartbreaking plea on the other end of the line for him to come back, and a tearful Darren left the receiver hanging beside the engagement ring he had bought for Libby.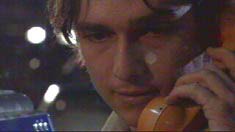 19. Liljana gets the last rites
Liljana Bishop had been in hospitals for days, desperately waiting for a liver donor, but with all family members tested and none compatible, the doctors began to give up hope on any chance of finding a donor for Lil. With the Bishop family by her side, a very weak and ill Liljana was given the last rites by the family priest Fr. Popovich. Luckily, her life was spared by her long lost son Luka at the last moment, who had the same blood type and when Lil asked Karl if the boy was an angel.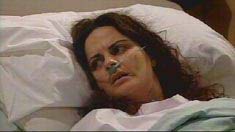 20. Libby leaves
A double whammy. Having blossomed from a studious 15-year-old into a young mum with a wealth of experience behind her, Libby Kennedy left a tearful Ramsay Street behind late last year to be reunited with her true love Darren. But perhaps the most poignant aspect of the farewell was that Libby was leaving mum Susan behind. With sons Mal and Billy living away from home and husband Karl starting a new life with Izzy Hoyland, the symbolic sight of Susan standing alone on Ramsay Street as Libby drove away was enough to melt the heart of any viewer.