Features > A Look To The Future... by Ryan

When Neighbours was a struggling soap dropped by its network, no one could have predicted it would reach its 500th episode. Yet against all the odds, here we are at episode 5000, and the Ramsay Street saga is still going strong. So what might life in Erinsborough be like by the time episode 6000 comes round (which we're sure it will!) We take a fun look to the future with some possible scenarios for the Neighbours of tomorrow…

After Robert Robinson's reign of terror, Paul is a changed man. Having sold Lassiter's and donated the proceeds to charity through the Helen Daniels Trust, he has joined forces with former enemy Harold Bishop, and the two live together at No.22, running No.24 as a hostel for the underprivileged. Meanwhile the new owner of Lassiter's is Bree Timmins, who has written two sequels to The Bogan's Tipped Hair and sold the film rights to the trilogy, becoming Australia's wealthiest and most eligible bachelorette in the process. As episode 6000 dawns, Bree is due to marry the handsome Harley Diamond – but the viewers know all he really wants is her money. Can Bree's one true love, Zeke Kinski, stop the wedding in time?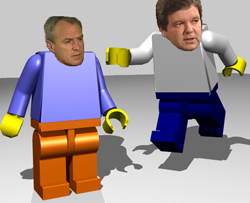 Elle Robinson and Dylan Timmins are due to marry, and with Paul Robinson now richer than ever thanks to his shrewd investment in human cloning, the ceremony promises to be a lavish one. As the speeches are made and the gifts are opened at the reception, Paul tells Elle he has an extra special gift for her – her granddad. The guests are stunned as Paul ushers a clone of Jim Robinson into Lassiter's banqueting suite. While Harold Bishop is delighted to see his old friend, he is also disturbed by the development, as he believes Paul is playing God. Will Paul's offer to recreate Madge, Kerry and David change his mind?
There are wedding bells in the air in episode 6000, as Andrew Robinson prepares to wed Edna 'Eddi' Ramsay, Henry's daughter. Paul and Harold, still feuding, are both dead set against the union and do all they can to stop it. Although bridesmaid Rachel Kinski tries to convince Harold the venue has been changed, and best man Stingray Timmins slashes Paul's car tyres to try and stop him getting there, both Paul and Harold make the church just as the ceremony is starting. However, two surprise guests change everything… as Scott and Charlene walk into the church, they remind everyone of how young love can last; not to mention how a marriage between a Ramsay and a Robinson can work! Paul and Harold realise they can't stand in the way of true love, give the couple their blessing, and reconcile at last.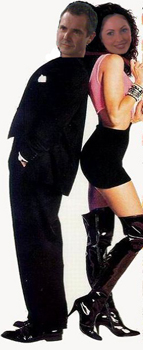 Annalise Hartman returns to Ramsay Street to make a 'Where are they now?' follow-up to her 2005 documentary. Scott and Charlene Robinson appear to discuss the secrets of their blissful marriage, Lance and Amy Wilkinson reveal how the original documentary brought them back together, and Jane Harris provides footage of her nan's 90th birthday party. Other highlights include an introduction to Lucy Robinson's children, James and Helen, Jack Scully and Nina Tucker's wedding, and the shocking revelation that Sarah Beaumont has given up nursing to become a high-class hooker – doctors a speciality…
It's a sad day in Ramsay Street: the funeral of Max Ramsay. After Lou pulls some strings with his council mates, Harold is allowed to fulfil Max's final wish by burying him in the grounds of No.24 – meaning Max can stay on 'his street forever. A host of old faces return for the funeral, including Maria, Shane and Danny, Scott and Charlene, Henry and Bronwyn and Tom and Gemma. After an emotional service and reception, Danny's son Jack tells Harold he's been accepted to Eden Hills University and needs a place to stay for a few weeks. Harold gladly agrees to let Jack move in, and at last there is a Ramsay back in Ramsay Street.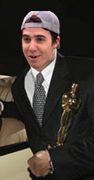 Stingray Timmins is now the toast of the Australian film industry, and as episode 6000 dawns, his latest movie Street Secrets is set for a lavish premiere at Lassister's. The residents of Ramsay Street excitedly dress up to the nines and head to the hotel, but are shocked when the film begins to roll… Characters like Kyle Keating, a philandering doctor with alcohol issues, Harvey Cardinal, a mild-mannered churchgoer driven to attempted murder by the loss of his family, Froggie Repka, an overweight and unlucky in love lawyer whose wife drowned, and Sun Washstand, a sexually confused young artist, infuriate the crowd. The premiere descends into a riot, with several characters arrested. To top it all, the film is critically panned, and a financially ruined Stingray is forced to move back in with his parents, amongst the very people he betrayed.
Images by Billy