.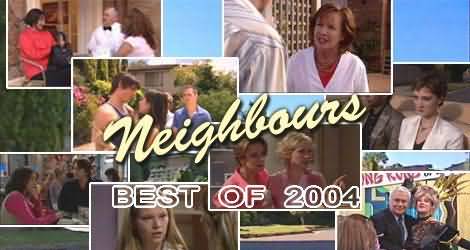 Features > The Best of 2004
It's been a memorable year of Neighbours, which has seen weddings, divorce and more returning characters than you can shake a stick at. In our final feature of 2004, The Perfect Blend team share our thoughts on the past 12 months...

Barry: For me, one character sums up Neighbours in 2004: Susan Kennedy. As an actress, Jackie Woodburne continues to amaze me, and brings so much to Susan which is normally totally independent of the dialogue. As much as I love Izzy and her new relationship with Karl, I canít help feeling that they are peripheral to the central character in all of this, which is Susan. As a fan, I find myself far more intrigued to find out how Susan copes with everything, and hope she can bounce back in 2005!
Most of the other guys on Perfect Blend know Iím passionate about how some of the older characters are portrayed in Neighbours, particularly the older female characters, with a tendancy to show the men as being stronger and more dominant of the pair. Its so refreshing to see Marcella Russo as Liljana, portraying a strong and fiesty woman, not afraid to answer David back or stand up for herself, bringing back memories of the brilliant Gail Robinson and her stormy relationship with Paul. We all know the producers are finally beginning to take more risks in the storylines, and I canít wait to find out what 2005 has in store.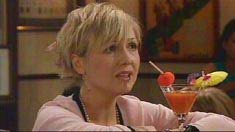 Billy: Amidst the Karl/Susan/Izzy/Tom fiasco, it seemed as though the greatest things to come out of 2004 - Sindi Watts and Stingray Timmins - have been overlooked. With all the seriousness that Karl and Susan's separation injected into the series, it was refreshing to have comedic characters like Sindi and Stingray to fall back onto. Marisa Warrington's portrayal of the dizzy materialistic astrologer has been fantastic. She's given the show such energy and life, and her bright, quirky and fruity nature makes her a joy to watch. She's someone who really blends into the Neighbours mix and represents all what the show stands for.
And Stingray's energy is so infectious - he's really brought Serena out of her shell and livened up the street in a whole host of ways - his relationships with Susan and Toadie were touching and heartfelt, and yet his relationship with David was a hoot. But underneath his zany exterior we found a kind and sensitive character, who can't really help the way he is. His scenes when losing Lori's baby were parrticularly touching and moving. I think both characters will become legends in their own right.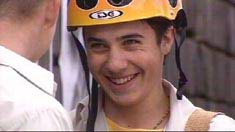 David: 2004 in Ramsay Street has been the most exciting ever as new characters emerged, new storylines dominated, and old favourites returned, all to create one of the best seasons of Neighbours yet. Firstly, for my new favourite character, I'd have to choose the ever hyper, Scott 'Stingray' Timmins. Though not always able to control himself, he's a caring and sensitive young man destined to become a mainstay in the show. If he wasn't cuddling up with Serena, he was "dumpster diving", and that affinity for excitement has drawn me to this character. It also helps that Ben Nicholas is an amazing actor.
Favourite storyline would have to be the Karl/Izzy/Susan drama. All three characters are amazing in their own rights, not to mention the actors/actresses who portray them are able to carry this story and make it believable. I feel Susan's pain, I understand why Izzy is...well...Izzy, and I see that Karl is stuck in the middle. All this has made for some of the best moments and best episodes in 2004, mainly Susan and Karl's tiff out in front of No. 28. Superb. Returns were galore in Neighbours this year, though the one that sticks out in my mind most is Darren Stark's. Coming back to Ramsay Street shook up so many lives, though none so much as Libby's. As they fell back in love and learned that they've both grown up so much since they had last been together, I realised that I had become attached to this old/new couple. As his brief return came to an end and Darren left, I hoped that he and Lib would reunite someday. Let's hope I get my wish.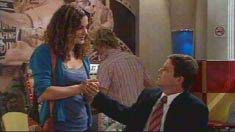 Kate: 2004 brought more drama for my favourite couple, Karl and Susan, as they continued to drift apart. Although I'm one of those who ultimately wants to see them back together, I've thoroughly enjoyed watching them as individuals this year. Karl's relationship with Isabelle Hoyland has provided much of the year's talking points, but it was the Susan and Tom affair that grabbed my attention. Watching Susan struggle with being alone, fumbling through a doomed relationship and then finally coming to the conclusion that being alone isn't so bad after all made for very rewarding viewing.
The Bishop family have continued to impress me this year and I'm particularly fond of Liljana and David. I love that she's fiery and he's bumbling, yet they're both so accepting of these conflicting traits. I especially enjoyed watching the support that David gave to Lil the first time her mother, Svetlanka, reared her head. And, of course, there's sweet Sindi. I've loved watching her character develop over the last few months. She's become one of those rare breeds of Neighbours characters that lights up every scene they're in. I hope 2005 has lots in store for her, and indeed for everyone...
Lucy:2004 has carried on where 2003 left off - producing another fantastic year for Neighbours. The storyline that I've most enjoyed, and I imagine is most people's favourite, is the Susan/Karl/Izzy saga. This storyline brought about the best episode of the year in my opinion, Publish And Be Damned. Who can forget Susan shouting at Karl in the street, whilst most of the neighbours looked on?
Another thing I loved about 2004 was Darren's return. I fully expected Darcy to be the returnee of the year, but Darren coming back and rekindling his romance with Libby was great, and left me wanting to see more of the same. Darren's final episode, Two Necks In The Noose, bought tears to my eyes, and I only hope he returns in the future.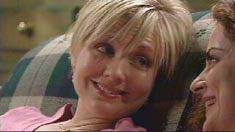 Moe: 2004 on Ramsay Street saw even more drama than the year previous, and it followed the path that had been set for it by Riccardo Pellizzeri when he took over the reigns in late 2002. While the break-up of the Kennedys marriage and all its twists and turns and repercussions for so many characters have kept me gripped, the most enjoyable storyline of the year for me was the Libby/Darren love story. Aside from the fact that Darrenís return was a welcome blast from the past, the reunion of the two former lovers on screen brought a smile to my face in every scene they shared. Within moments of Libby finding Darren repairing the Kennedyís fuse box, it was just like old times and it was clear that the chemistry between Todd MacDonald and the ever excellent Kym Valentine hadnít been lost in the intervening years. A true love story followed, from moments of pure happiness for the couple to the tragic ending of the story as Darren left town thinking Libby would never trust him enough to marry him. In a heartbreaking scene, Darren phoned Libby as he drove out of Erinsborough and for a split second it looked like their relationship could be salvaged. But Darren couldnít get the words out and he left the telephone receiver dangling beside the engagement ring he had bought for Libby.
Also worthy of a mention this year is Sindi Watts. Itís hard not to compare her with another classic zany Neighbours character, Melanie Pearson, although Sindi doesnít come with a seal-like laugh. What she does come with is dozens of Sindi-isms, which is exactly what makes a character special in soap. Whether itís counting the calories on her own plate and the plates of those around her, or speculating on what fate belies her friends in her role as the Erinsborough Newsí astrologist Carla Cosmos, Sindi is quite simply a pleasure to watch and Marisa Warrington looks as though she is truly having a ball playing such a huge bundle of energy. Long may she continue.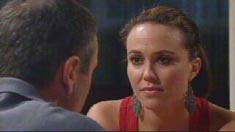 Rhys: The new era of Neighbours was only just beginning to develop during 2003, however, this following year has seen one of the most successful and highly acclaimed seasons of Neighbours' long history. From my perspective, one of the greatest elements has been the seamless mixing of traditional and contemporary, effective in characters, storylines and the overall 'feel' of the programme. Returning mid-way through this year following several months absence was Libby Kennedy. Libby's involvement in Neighbours spans the past ten years, and I believe she remains one of the series' most popular characters due in part to Kym Valentine's continually impressive performances in the role, but also to the character's traits and ambitions which viewers have watched develop ever since the Kennedys arrived in Ramsay Street. Possibly more so than ever this year, Libby's presence has been a symbol of the true emotional obstacles the Kennedys have tackled this past twelve months. Who could ever have imagined that years on from Karl lecturing Libby on the dangers of neglecting her studies that the roles would be reversed and daughter would be found expressing her disgust at her father setting up home with his mistress.
Sadly, episodes towards the end of the 2004 series saw Libby leave Erinsborough for good, however, her final months on-screen nicely tied up parts of the storyline with Darren Stark - not seen since 1997, a move which also served to remind the audience of an era when the Kennedy family were one unit, relatively un-tainted by Sarah Beaumont, lethal milk spillage and Isabelle Hoyland. Having watched her grow from a blonde-haired, fresh faced schoolgirl with communist views and an assertive attitude, I feel almost as a proud parent to see modern-day Libby as a single mother, widowed, yet still carving out a career for herself. Libby's re-appearance and final departure from Neighbours in 2004 marked the end of a long journey for the characters and fans alike, and one which I would relive again and again.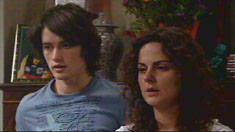 Steve: For one of the most memorable seasons in Neighbours history, there are plenty of highlights. For me, it was nice to have a whole year with a fairly stable cast, with only Stingray and Sindi moving in. There were some great episodes too, such as Max and Steph's wedding. The recent trend of concentrating on only one storyline for special episodes has really paid off, and the additional wedding of Charlie and Valda made it one of the best weddings Neighbours has seen in years. Even the subject matter has moved on light years, with the UK ending the year with a storyline about a teenaged girl coming to terms with her sexuality.
For me, the biggest highlight of the year has been the wonderful integration of the Bishop family into the neighbourhood. Having David and Lil working in the same office was a stroke of genius, and bringing in Lil's twisted mother Svetlanka gave us one of the biggest bitches the show has ever seen. I'm not normally a fan of long-lost children in storylines, but the situation with Luka has been extremely well plotted, and not simply shoe-horned in as an excuse for a new story. I can't wait to see how the situation develops.