.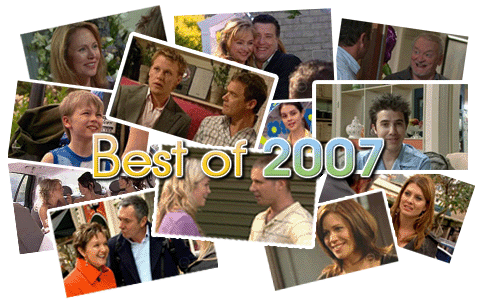 Features > The Best of 2007
2007 was a year of two halves, beginning with bombs, kidnappings and lesbian trysts, but concluding with Neighbours back to its old self, with family and relationship dramas aplenty. Here's our annual look back at some of our highlights...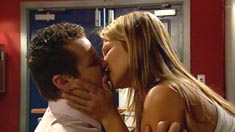 Callum: My highlight of the year has to be the end of the Hoyland marriage and Toadie & Steph finally getting together. Max was like a weed, choking the life out of Steph and the transformation since their break-up has been amazing - she really is Stephanie Scully once again, the writing for the character is brilliant and putting her behind the bar at Charlie's was a masterstroke, it's really cemented her place at the heart of the community. It's also given Toadie something much more interesting to do than sit around in his boxers drinking beer all day and he seems much more like a lawyer at long last. These two characters seemed to be coming to the end of their shelf-lives, but together they have the potential to compete with Madge & Harold and Karl & Susan in the couple stakes and with Carla Bonner and Ryan Moloney keen to stay for as long as possible, thankfully it seems that there is no end in sight. I can't wait to see what's to come for them in 2008!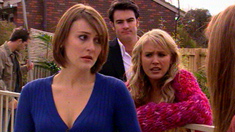 Conor: When 2007 started, I could never have imagined the show could have changed so drastically for the better by year's end and for me there have been many, many highlights. The year began with the arrival of the new No. 30 residents who brought some much-needed freshness to the show. Though Christian Clark left before his character, Will, had the chance to get going, the other three characters have been a delight to watch. Nicky Whelan has improved immeasurably over the course of the year and Pepper, has proven not only to be hilarious but also quite endearing. However I don't think any of us were prepared for Rosie and Frazer. Both Ben and Natalie are terrific actors, sharing immense chemistry and the on-off romance and eventual marriage of their characters has been on of my favourite developments of this year. Stingray's departure silenced any complaints that the writers were unable to do heartfelt drama. His shock death and the aftermath was beautifully handled and has been one of the most upsetting and sad in Neighbours history. I along with many other was also sad to see the wonderful Janelle leave but the writers did not let her down. Janelle received the perfect happy ending, just as she deserved and I don't think the character will be forgotten any time soon.
As one family left, two arrived. The Parkers became instant favourites of mine and hopefully will become the new mainstays of the show, much like the Kennedys before them. I'm really looking forward to seeing Miranda and Steve's relationship explored more in the new year. I also quickly grew to love the Napiers and the dynamic between Declan and Rebecca, which I think is one of the most interesting parent-child relationships in some time. When I heard of so many arrivals in so short a time, I was initially quite worried. However I had no reason to be. All characters concerned have slipped into the show with ease, however for me, there have been two stand-out characters: Bridget and Rebecca. Eloise Mignon has been excellent as tomboy Didge who, for me, is the most interesting teen in years and a firm favourite of mine. And Jane Hall has proven to be one of the best additions the show in so long. Rebecca is a wonderful character, and Jane has proven her talent as not only a capable dramatic actress but also a comedienne and I hope she stays on the show for many years to come. The return to the show's roots has been a joy to behold and I hope the show continues to improve even more in 2008.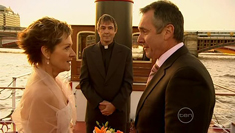 David: 2007 was a bit of a curate's egg for me (and I'm sure many others). I'll start with the bad; the success of the brilliant Rob/Cam saga in 2006 was mimicked with less satisfying results using various random nasty/psycho type characters, and although these stories had some good moments, it was rapidly becoming way too much of the same thing. This coupled with the ever worsening behaviour of evil Paul, which culminated in the awful veg van bomb story, often made difficult viewing.
However, there were plenty of good things going on. Karl and Susan's remarriage in London and a great cameo from Izzy were wonderful. The new residents at no. 30 settled in brilliantly - Rosie and Frazer have become one of the greatest ever Neighbours couples. Although it was sad to see them go, the Timmins got a great send off, and Stingray's death was very moving. The revamp has been done for all the right reasons and so far it's looking great, with interesting new characters, fresh sets and a move away from over the top storylines. I'm especially glad to see Paul has returned to normal and look forward to seeing how his past life alters his future one.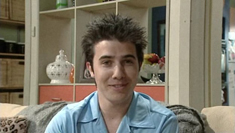 Lucy: Whilst 2007 has been a rocky year for Neighbours; there have been many things that suggest the future is bright for the show. The new arrivals to the street have been a joy. Pepper, Oliver, Rosie and Frazer has breathed new life into a tired No 30. As many others have said, Rosie and Frazer's relationship is the best of recent times, and both characters are endearing.
'Cop Ya' was the episode which marked the turning point for me. The emotion throughout was immense, with outstanding performances from everybody involved, and had me in tears all the way through. The most recent arrivals, especially the Parkers, have fitted in well, and the family feel of the show has returned. I can not wait to see what 2008 has in store.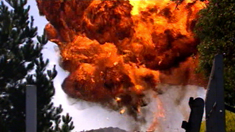 Mike: I'll start logically with the beginning of the year, watching the hostage situation of number 32. Seeing Ramsay Street riddled with guns, explosions, villains, plane crashes, and more explosions, seemed all too much like dramatic Hollywood movies, and I believe I'm correct in saying, many older fans felt perhaps slightly alienated by it all. There were lots of highlights for me however, one of which being Stingray's death, easily the most moving, and memorable, since Madge's. For the past few weeks, we've been treated with 'new' Neighbours. New additions like the Parker family, Rebecca, Mickey, and 'new' Paul are fitting into the Street brilliantly, and the 'back-to-basics' atmosphere means we really can look forward to 2008.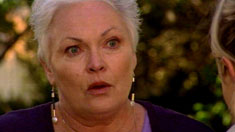 Rhys: That 2007 began for me in the latter half of the year speaks volumes about my dissatisfaction with the state of the show as it welcomed in the new year. The antics of Paul and Elle as crime-fuelled caricatures were as pointless as they were unbelievable and the weekly dose of explosions, madness and split-personalities did not make pleasurable watching, despite the attention they grabbed. The first half of 2007 was a period when I didn't particularly care if my DVD machine failed to record an episode of Neighbours. The six months or so in question did harbour some decent viewing however, with the Scary Mary storyline being a particular favourite of mine because it delved into the history of a new character whom we knew little about. It also introduced some Australian soap royalty to the cast in the form of Rowena Wallace. Whatever one's opinion of her character may have been, as a standalone storyline it fitted quite well within the 'classic' range of Neighbours plots - even if in the context of 2007 it may have seemed like overkill.
The sudden, yet gentle introduction of the Parker family has been great to watch, as have the sterling performances by Eliza Taylor Cotter, Dan O'Connor and Fletcher O'Leary in the Mickey custody storyline. I was not sorry to say goodbye to the Timmins family. The actors concerned always delivered 110%, but a family like that never sat easily with me in terms of their moral outlook nor with regard to their bogan lifestyle in middle class Ramsay Street. I look forward with great excitement to the new 2008 season of Neighbours, largely because of the sound foundations laid towards the end of 2007. We have had an admission of the problems created by gunning for too much drama and a thorough action plan has been implemented. The show is fast looking as it should, both technically and content-wise, in the 21st century. Its focus now should be retaining and building gradually upon its solid cast in order to retain some sense of continuity and viewer identification in the aftermath of great changes.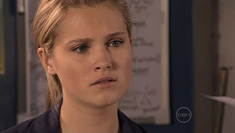 Ryan: No one can say 2007 has been an easy year for either the fans or the producers of Neighbours! After some great drama in the past couple of years, things went to extremes somewhat, and the much-vaunted 'back to basics' revamp was a bold move to rectify this. It certainly hasn't been plain sailing, but there are certainly positives to draw on; most notably the return of Paul's good side. The brain tumour storyline has attracted criticism, but realistically it was the only way to bring Paul back from the brink, and it's been frustrating to hear some of the same fans who slated 'Panto Paul™' now claiming he's become too nice! I for one think we are a long way from the end of the story, and it will be interesting to see how Paul develops in 2008.
A great plus this year has been the success of the twenty-somethings, particularly Rosetta, Pepper and Frazer. When I first saw publicity shots of the No.30 newbies I was worried we would get pretty but bland characters; I'm delighted to have been proven so wrong. But while these characters have grabbed much attention, someone who has quietly become one of the stars of the show for me is Janae. The teen marriage storyline was a disaster for Boyd, but Janae emerged as a mature young woman ready to handle adult life, when she could so easily have remained a somewhat one-dimensional mouthy teen. Eliza Taylor-Cotter deserves much credit for this, and she's continued to prove her worth to the show with some excellent performances during the Ned and Mickey storyline.
Personally, I still feel axing Janelle and Bree was a mistake. Nell Feeney and Sinoa Smit-McPhee are both very talented actresses, and to lose them because of Ben Nicholas and Damien Bodie's departures seems short-sighted when we know there are two other Timmins brothers who could easily have been introduced. That said, it was a delight to see Janelle get a genuinely happy ending in a great final episode. Of their replacements at No.26, Miranda is the one to watch for my money. The character instantly seemed part of the street, and Nikki Coghill is clearly an actress capable of pulling off big storylines. All in all, some very positive signs for 2008 – here's to an even better year ahead!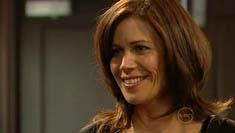 Steve: For me, 2007 will forever be remembered as the year that Jane Hall made her Neighbours debut. The character of Rebecca Napier has brought an air of sophistication and mystery to the show that's been missing for a while, yet she's still down-to-earth enough that you can believe that she'd live in a little suburban cul-de-sac. Her relationships with the characters around her, from the way she's softened Paul, her frustration with Declan's constant sarcasm, and her struggles to bond with Elle to the way she's given the floating character of Oliver a solid base in Ramsay Street, have been a joy, and Jane has quickly proven that not only can she handle the typical Neighbours light-hearted family scenes, but she's also superb when given high drama and emotion to perform. Jane isn't the only highlight of the year - I feel that the current cast is the strongest it's been in years with numerous excellent actors - but I'm hoping to see a lot more of Rebecca in 2008.