.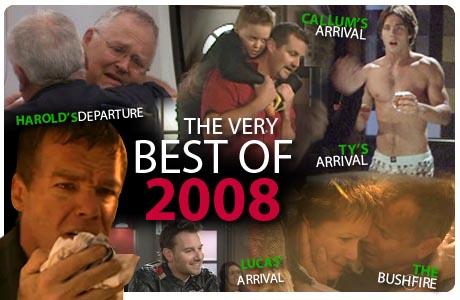 Features > The Best of 2008
2008 saw several departures and new arrivals, not to mention the returns of some old favourites, a bushfire and a couple of court cases. Here's our annual look back at some of our highlights from the past 12 months on UK screens...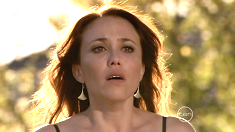 Conor: 2008 has been, in my opinion, another strong season from Neighbours in large part due to new executive producer, Susan Bower. Whilst the year got off to a strong start, things took a turn for the worse and we lost many characters in quick succession and worse still, long-running arcs were dropped in favour of two-week storylines with no forethought - Didge and Ringo, for example. Susan turned the show around and has managed to achieve a strong mix of drama and comedy.
Words still can't express my utter delight at the return of Kym Valentine as Libby Kennedy. Though the possibility of a guest stint crossed my mind in the past few years, I never thought we'd see her as a permanent character again and I'm thrilled to be proved wrong. Her return was timed to perfection with Susan's emotional MS storyline and not only has she slotted perfectly back into the family, but she's given Steph a new lease of life too. Libby and Dan have become one of my favourite pairings and their main plot, involving the appearance of his ex-wife, Sam, has been one of the best storylines in recent years. All three actors were brilliant throughout, but Simone Buchanan has to be commended for her amazing portrayal of Sam.
It's been another big year of arrivals and departures. Rosie and Frazer, in particular, are still missed. However, the main arrivals in the latter half of the year have already made a huge impact. Callum manages to bring lots of humour and is a perfect foil for Toadie. The decision to drop the storyline surrounding the illegal adoption involving Dia, in favour for a more simple approach was definitely in the show's best interests. Donna is hilarious and has easily become my favourite teen, but Margot Robbie is also more than capable of handling dramatic material, so there is lots of potential for her character in the future. Lucas too, has become a favourite. Though he is still very much involved in the triangle with Libby and Dan, he soon begins to make his mark as an individual and I can't wait to see how he develops.
Wishes for next year? Well, lots more Rebecca. As I said last year, Jane Hall is wonderful and brightens up every scene she's involved in. Some relatively angst-free storylines for Libby and Dan. And I want Pippa Black to continue to excel in her role as Elle Robinson. She played second fiddle for too long and it's great to see her take a more prominent role. I hope this continues throughout 2009.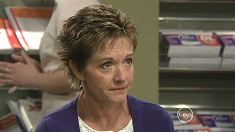 Edd: 2008 for Neighbours should be remembered for the 2 Susan's – Bower and Kennedy. New Executive Producer Susan Bower endured a tough start to her tenure, but as the year draws to a close there are strong signs that the show is really picking up, with new filming techniques, a return of older music and a better (perfect) blend of drama and comedy. Bower's "vision" it seems is suddenly starting to take shape. On screen, Susan Kennedy undoubtedly stole the show with her heartbreaking diagnosis of Multiple Sclerosis providing Neighbours some of the best acting it's ever seen. It pushed Karl back into being a doctor again and it brought about the return of the much loved Libby.
Sadly, 2008 saw the departures of some of my favourite characters. Janae, Harold, Frazer and Rosie all left the famous street and there's no doubt they'll be sorely missed. It had been a joy to watch Janae grow into a superb young actress and after 2 and a half years of trying someone finally managed to get something out of Ned. Frazer and Rosie were one of the best couple's the show's had in a long, long time so it was a shame to see them leave. But perhaps we should be thankful that they left together and gave us an excellent exit storyline with Rosie's pregnancy. Harold's departure was also obviously sad, but I have a feeling it isn't the last we've seen of him.
Libby and Dan's constant will they-won't they, on-off relationship and sultry looks to each other from across the room went on for far too long, but had they jumped into bed at the first opportunity then we'd all be complaining that it was a rushed relationship. It does mean though that things are building up nicely between the two and in 2009 I expect great things. Ty's come along and injected some cheese into the show, which is nice – for the time being anyway, and Oliver was given the shortest exit storyline ever. 7 minutes from when he first announced he was leaving, to when he did actually leave must be some sort of a record.
Also, I can't stop without mentioning the sad death of Marco. Any Neighbours death is sad and Natalie Blair did a great job at playing the grieving widow. I also have to mention the superb Rebecca, who simply lights up every scene she's in. And also…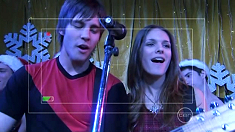 Matt: In my opinion, 2008 has been one of the most 'stylish' years for Neighbours. Having successfully changed the premise of the storylines, the writers are now focusing on things being a bit more realistic and original, and around the everyday lives of the residents of Erinsborough. With the show on a new channel, it now has a much different feel to it, beside the fact that we finally get a weekend omnibus! The year started with the aftermath of the very enjoyable, but intense storyline about the roof collapse, and how it affected so many of Ramsay Street's finest. Poor Ringo, not only was he trying to conquer his eating disorder, but he lost his new girlfriend and school tearaway Jessica Wallace, following her fatal injuries in the roof collapse.
There have been many gripping storylines, such as Bridget Parker in ultimate 'boyfriend confusion' surrounding Josh and Declan, and Paul Robinson finally getting his just desserts, again, for his affair with Kirsten. The man never learns!
Having become enthralled in more love triangles and new arrivals, I have been slightly disappointed though, which is a rarity, as a few too many characters left, such as the lovable 'jelly belly' Harold Bishop, who after such a very long stint, will have left Ramsay Street feeling a bit empty for a while after. But with many departing, there have been many arriving - the best, in my eyes having to be Donna Freedman and Ty Harper - two young, fresh faces to appeal to the younger viewers of the show. Donna's mysteriousness and eagerness to befriend Rachel because of her dress sense only made me realise the much disliked absence of comedy from the storylines, especially now that Harold had gone! Also, I'm sure I wasn't alone in wanting Rachel's teacher/boyfriend Angus Henderson to disappear permanently, so Ty could finally be in with a chance of making a move on Rachel. After all, he helped to bring out the music in her. The addition of music and different bands performing at Charlie's has made me realise that the Aussies make a lot of good music; I finally realised what all the fuss about pop/rock duo The Veronicas was! It has also been a relief to see newcomer Erin McNaught finally have something to do with her character Sienna. Erin might have triumphed as Miss Australia recently, but I felt Neighbours writers had neglected her on set a bit too much. Her recent involvement in Ty's band 'Nothing Doing' has let Erin put her acting and singing skills to good use at last, and give her a break from serving banana muffins at the General Store! Having made her debut on stage with Ty at the Year 10 Formal, singing 'Unforgettable', Rachel was asked by Ty, a while later, for her to be the lead vocalist in his band. However, band member Logan wanted Sienna to take on that role, but was more interested in her than her voice. He only went to kiss her face off at Charlie's recently, leaving Sienna to run off in embarrassment, and the band morale to sink to an all-time low. Shame really, because I would like to have seen both Sienna and Rachel as vocalists. We can't have our cake and eat it though!
So, as the 2008 season comes to an end soon, I can only hope for more of the same next year. More love triangles, more arrivals, more comedy, and more importantly, I hope to see Dan and Libby finally realise that they are right for each other!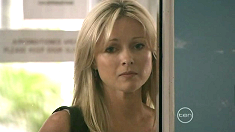 Ryan: The big surprise of 2008 for me, which showed how Neighbours genuinely has gone 'back to basics', was the Dan/Libby/Sam love triangle. Two years ago, Dan's 'mad' secret wife would have been written in the mould of Charlotte Stone or Mary Casey; a kind of latter-day Bertha Rochester. What we got instead was a sensitively written, well-researched storyline that took a serious, unsensationalised look at bipolar disorder, with Sam Fitzgerald sympathetically portrayed rather than being cast as the villain of the piece. There were no winners or losers in this story, and it's a credit to both the writers and Simone Buchannan that viewers could like and empathise with Sam, even when she was up against a character as beloved as Libby. For me, Back to Basics doesn't mean every episode has to be about cake-baking contests; it means a return to well-written, human drama. Exactly like this storyline.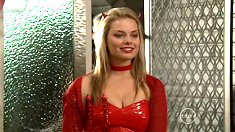 Steve: 2008 had many highlights for me - the introduction of some interesting male characters in Lucas and Callum, to replace the dull Marco and Riley, the dramatic bushfire and Carmella's tragic wedding and the Libby/Sam/Dan love triangle were all great, but the best thing about this year was Donna Freedman. Though the 2007 revamp hugely improved the writing, there was still a lack of comedy until Donna came along. A scatty character in the great Ramsay Street tradition, Donna has filled the shoes of characters like Melanie Pearson, Sindi Watts and Pepper Steiger, with her crazy schemes to help out her friends, and her brilliant one-liners. Thankfully though, she isn't just a one trick pony - we've seen how lonely she was before she was befriended by Ringo, Rachel and the gang, and her parents' divorce has clearly affected her as she craves attention from anyone who'll give it. Here's hope we see plenty more ups and downs for Donna in 2009.