.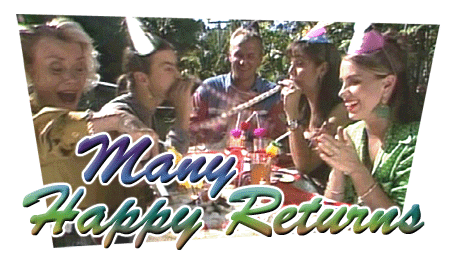 Features > Many Happy Returns by Steve and Moe
As we at Neighbours: The Perfect Blend celebrate a year online, informing the masses of the minutiae of Erinsborough life, we thought it would be an appropriate time to look at some other Neighbours birthdays.
The residents of Ramsay Street rarely celebrate a birthday and even when they do, if the same date comes round the following year, itís even more unlikely that theyíll celebrate two-in-a-row. Indeed, some characters even manage to have a different birth date each year. And you have to feel sorry for poor old Hannah Martin, whose parents hadnít even met when she was born, and then her date of birth seemed to move about, depending on which relative had died that week.

The most memorable birthday in Neighbours was when Helenís big day coincided with the 2000th episode of the show. Helen had been feeling down and lonely, especially since Jimís death, so Pam decided to arrange a surprise party for her at the pub. The entire cast featured in the episode, which saw several long-running storylines come to a conclusion, plus a couple of old faces, Paul and Lucy Robinson, also came back. Another happy occasion was Libbyís 21st birthday. Her older boyfriend, Mike, had recently moved into number 32, so she and her parents were unable to agree over which house to hold the party at. In the end, they all ended up in a conga line across the street from one house to the other. When Paul and Tad both turned 18 around the same time, Flick decided to give them a great party, but little did they realise that the one and only Wiggles would turn up. Though they came to the street to visit poor, sick Emily Hancock, they ended up gate crashing the party at number 24 in what can only be described as a surreal day on Ramsay Street. Another of Tadís birthdays was a slightly more sombre affair, but also a very exciting one for him as it was the first one with his birth mother, Rachel Bailey. She came to the house and told him that sheíd baked him a cake every year on his birthday. Annalise Hartman celebrated her 20th birthday with a pool party at No.24, which doubled as a going away party for her since she left the next day for a trip overseas.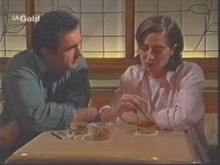 Karl Kennedy demonstrated what a considerate man he was when he invited his terminally ill patient Kate Cornwall to join him for dinner and drinks at Chez Chez on what would be her last birthday rather than sit alone in her hotel room all evening. And Kate was delighted when Karl had Kev prepare a special lighted cake for her accompanied with a chorus of Happy Birthday. Libby was deeply touched when Stuart gave her a ring for her first birthday since the death of Drew. Drew had put the ring on lay-by some months before his death, only telling Stuart about it, and he then decided to pay the remaining amount and give it to Libby as a gift from Drew to comfort her on an otherwise difficult day. Sam Kratz was touched when Annalise read out a poem for him at his birthday party, which she had written especially to declare her love for him. Marlene managed to embarrass Sam at the same party, however, by sticking up baby photos of Sam all over the pub.


Phoebe Bright was thrilled when Stephen threw her a Goth-style party for her 18th birthday, and she was even happier when he rounded off the night by proposing. Libbyís 18th birthday party turned into a real hoot when Karlís eccentric biological father Ronald Davies Smythe showed up at the Kennedy house and took to renaming Dahl and suggesting they eat Cassie the sheep for dinner. Sheena Wilson was thrilled when Toadie organised for Matt Hancock to perform a special Elvis gig for her at the pub. Lori, Stuart and Toadie organised a hurried 20th birthday bash for Connor at No.30, and although he had originally objected to a fuss being made of the day, Connor was soon in full party mood and as word spread around the neighbourhood, everyone began changing their plans to attend the party.


Itís quite rare that a baby is still living in Ramsay Street a year after their birth, and even more rare that their first birthday is remembered, but Libby managed to throw her son Ben a party, while Cheryl went one better and threw a six-month birthday party for Lolly. Louiseís first birthday was then celebrated with a family party by Lassiterís Lake, and Lou organised for the family to leave their handprints in a block of cement to commemorate the special occasion.
In typical Neighbours style, Hannah believed that everyone had forgotten her birthday one year Ė so was thrilled to find her friends and family waiting for her in the park with a surprise party, complete with Karma the pony. Angie Rebecchi spent a miserable birthday alone after Big Kev took to the road and forgot to call to wish her a happy birthday. Luckily, her good friends Lou and Cheryl cracked open a bottle of champagne to celebrate with her and Big Kev finally remembered to call before the day was over. Rick Alessi was another neighbour prone to thinking everyone had forgotten his birthday - and he spent his 18th birthday wallowing in self-pity, especially after his parents - who had recently moved to Sydney - failed to call. However, Lou came to the rescue by throwing an impromptu party for Rick at No.24, and even gave Rick a second hand car from his car lot. And the day was topped off by a call from Benito and Cathy wishing their son a happy birthday. Susan Kennedy was disappointed when the Karl and the kids rushed out the door with minimum fuss on the morning of her birthday, but later that day Susan was shocked when Mal, Libby and Karl jumped out from behind the bushes at Erinsborough High and bundled her off into the car to take her away for a birthday surprise. After they blindfolded Susan, they led her to their destination and took the blindfold off to reveal they were at the harbour where Karl had hired a yacht for the afternoon.
Meanwhile, it wasnít completely unexpected that Anne and Lance shared the same birthday, since they were twins, or that Lolly Carpenter and Zac Willis, born on the same day, shared the same date. However, when Cherylís estranged mother Marlene came to town, it emerged that mother and daughter had the same birthday, something the show never forgot to celebrate each year.

Jane felt awful when she kissed Mike at his 21st birthday party because it mistakenly led him to believe there was a chance for them to get back together, while Boyd ruined his girlfriend Heatherís special birthday dinner at Lassiterís by clowning around and insulting the waiting staff. His behaviour resulted in the group being thrown out, and Heather promptly dumped Boyd. Debbie Martinís 18th birthday was ruined when Craig Slater smashed up the house in a rage, although it later transpired he was suffering from a mental illness. Hannahís fair-weather friend Miranda Starvaggi was terribly upset when Hannah failed to go to her birthday party one year, and she took her anger out on Hannah in a somewhat extreme manner by sending hate mail to the Martin home and making several hoax calls. It later transpired that Hannah had never got an invite to Mirandaís party in the first place, and the pair soon made up and turned their attentions to obsessing over talent-less pop stars. Hannah and birthdays just never seemed to go together. Although she must hold the record for having the most on-screen birthdays in the history of Neighbours, they never seemed to work out for her. Her somewhat unbalanced mum Julie ruined one of her birthday partyís when she examined all Hannahís friendís hair for head lice. Louís ex-wife Linda ruined the special birthday breakfast Lou had prepared for Cheryl in 1995 by showing up at No.22 and inviting herself to join the couple.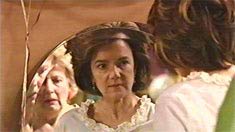 Soon after Madge left in 1992, Lou celebrated his 50th birthday, but, seemingly to highlight the fact that he was now all on his own, the only person he told about this momentous occasion was Bouncer, and the two of them had a drink together. When Brad Willis revealed to the neighbours that he was convinced his birthday was jinxed, everyone laughed off the idea. But it appeared Bradís theory was absolutely right when his birthday in 1993 coincided with the explosion at The Waterhole, which trapped himself, Beth and Stephen under the rubble. Lyn Scully also experienced a shocking birthday when, while watching home videos of her parents, she suddenly made the connection that Valda was her mum.
Flick Scully threw a huge strop when her boyfriend Joel gave her a CD voucher for her 18th birthday and made her sit in at No.30 and watch a diving documentary. But little did she realise Joel had planned a surprise party with her family and she burst into tears when she stormed off on Joel and arrived home to find all her family and friends yelling ďSurpriseĒ at No.26! Libby and Drew went to great lengths to make Stephís birthday a happy one after she was dumped at the altar by Marc in favour of Flick a few weeks beforehand. Steph had a great night at the pub with all her mates and everything went well until Toadie gave her a present from Flick - who Steph still hadnít forgiven for having an affair with Marc.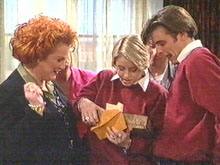 Various Ramsay Street residents were often rather unappreciative of the presents or events family and friends had organised for their birthdays. Joe Scully was disgusted with Lynís gift of Joel Samuels: Personal Trainer one year for his birthday, and then Lyn, in turn, was furious when Joe took her seriously when she said she didnít want anything for her birthday and got nothing for her. Dee wasnít overly keen on Joelís attempts to make his own version of her favourite perfume by looking up the ingredients on the net - especially after it ended up smelling like toilet cleaner. Libby was unimpressed with the not-so-state-of-the-art camera Karl and Susan bought her for her 17th birthday, Billy upset new love Georgia Brown by showing more interest in a gift from his ex Melissa at his 16th birthday party than the footy jersey George had given him, and Toadie was massively disappointed when only Billy, Anne, Hannah, Karl and Susan attended his 17th birthday party. And Danni Stark failed to get excited about the surprise party Cheryl and Angie organised for her 19th birthday because half of Ramsay Street descended upon Danni and Mal at No.22 while they were enjoying a nude spa out the back yard.
Meanwhile, Danni used the occasion of Malís 18th to prove to the ever-sceptical Karl that she and Mal were serious about living together at No.32 and she invited the Kennedy clan over for a special dinner. Marlene cooked a delicious four-course meal and let Danni pass it off as her own, and Karl had to swallow his pride and congratulate Mal and Danni on a lovely evening after the night passed successfully. But just as Danni was breathing a sigh of relief, the make shift table that Mal had erected in the living room collapsed and put a dampener on the end of the night. Jen Handley dreaded her 30th birthday, not because she was leaving her twenties behind, but because she was convinced Philip was going to pop the question. Not wanting to get engaged, Jen spent the entire day trying to avoid Philip, but he had organised a special surprise party at the Robinson house and shocked her when they were alone afterwards by producing a small package. Thinking it was an engagement ring, Jen told Philip she didnít want it - but she really should have waited, it was only a pair of earrings.
Most tragically of all, after the joyous occasion of Helenís birthday in 1993, her birthday wasnít featured again until 1997 - and turned out to be a very sad affair indeed, for it was on that day she passed away peacefully on the Robinson sofa.