.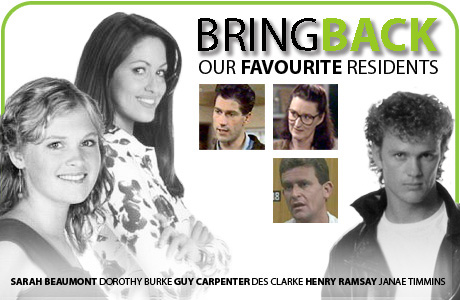 Features > Bring Back... by David, Edd, Ryan and Steve
Little gets Neighbours fans in a frenzy like the idea of a past character returning to Ramsay Street. Here at Perfect Blend, we thought about the characters we'd most like to see return, why we want them back, and a plausible way in which they could come back to Ramsay Street…

Sarah Beaumont


Who? Ex-model Sarah was one of a long line of gorgeous young women to make Ramsay Street her home in the nineties, but this gorgeous woman stood out as she became involved with her married boss, Dr Karl Kennedy. It was a story that shocked many viewers, more used to the kitchen sink drama of Neighbours, and despite the fact that they only kissed once and had an ambiguous night in a motel. Nevertheless, the story made the Kennedys into the first family of Erinsborough, a position they hold to this day, while Sarah went on to find herself the victim of a stalker, then married to another doctor, Peter Hannay, and heading off to live in Amsterdam. A few years later, word came back to Ramsay Street that she'd given birth to a daughter, Antigone, and not long after, her marriage to Peter had ended.

Why? With Izzy and Nicola gone, Ramsay Street needs a vixen in its midst, Karl needs a pretty young woman to agonise over, and Susan and Libby need someone to make catty remarks about. Sarah would tick every box – as her video message in the 20th anniversary video showed, she hasn't forgotten about Karl, and the odd catty remark about him is certainly not beneath her.

How? With their relationship finally on track, Libby and Dan's wedding day is approaching, and Lucas convinces his brother to join him for one final big night out in the city before married life begins. Egged on by Lucas, Dan ends up having one too many drinks, and when his brother then abandons him for an attractive blonde, he ends up chatting to a woman named Sarah… then wakes up the next morning in her apartment. Worried that he's cheated on Libby without even realising it, he panics and rushes off, leaving his wallet behind, which Sarah then finds and notices the address. Having lost her daughter in a custody battle with Peter, Sarah is enjoying the single life and decides to head back to Ramsay Street and catch up with everyone and, before long, she finds herself caught up in a brand new Kennedy love triangle.

Dorothy Burke


Who? Erinsborough High's firm but fair headmistress, with a soft heart beneath her stern exterior. While Dorothy might have looked like a typical schoolmarm, her world travels and impressive life experience had given her a far from typical outlook on life, and could offer wise, insightful advice to her students and friends alike. Having hidden the secret that her 'late' husband Colin was actually in prison, Dorothy finally found love again with school inspector Tom Merrick, whom she left Ramsay Street with to work at a country school.

Why? Don't get us wrong; we love the current crop of Ramsay Street women. Supermum Susan, compassionate Rebecca and well-meaning meddler Miranda all have special places in our hearts. But isn't it all a bit… 'nice'? What Neighbours needs is a no-nonsense woman who's not afraid to ruffle a few feathers; someone who doesn't steam in all guns blazing like Madge or Janelle, but still knows how to make her presence felt. Dorothy was also one of the very few older women in the show's history without children, which would give her character a different angle to the rest of the female cast.

How? When inspectors give Erinsborough High a damning report, the school board decides it's time to appoint a 'super-head'. Remembering Dorothy's successful previous tenure, the chairman attempts in vain to coax her out of retirement; however, when Tom dies suddenly, a distraught Dorothy decides to throw herself back into work and takes the job. The board are delighted – but when Dorothy makes sweeping changes, new colleagues Libby and Dan are less impressed…

Guy Carpenter


Who? Lou Carpenter's only son, sporty Guy spent a year living on Ramsay Street in the early nineties. Relations between father and son were never good, and a remark from Lou a few years ago seemed to indicate that things had only got worse, with the two of them barely making any contact in recent times.

Why? Lou needs some family around him. It's nice to see him part of the Parker family unit, but they're not blood relatives, and it always feels like he's just the lodger. A return for Guy would give him a son, and more than likely a daughter-in-law and grandchildren, to interact with – look how much that revitalised Harold when David and co arrived in 2003. Guy may not have been the most memorable character, but that could actually work in our advantage here; 18 years later, the character could easily be recast.

How? When interviews take place for a new PE teacher at Erinsborough High, Libby grudgingly agrees to sit in on them with principal Andrew Simpson. When Libby recognises the name Guy Carpenter, she casually mentions it to Lou, who admits that he's heard nothing from his son in over five years and wasn't even sure where he was living now. When Libby explains that Guy has been called back for a second interview, Lou waits outside the school and approaches his son, who says that he and his wife and kids have been living in Melbourne for a couple of years now – the job in Erinsborough was just a coincidence. Having taken the job at the school, Guy and Lou slowly start to see more of each other, and Lou finally meets his grandchildren, 11-year-old Shelley and 14-year-old Liam. When 24 Ramsay Street then goes on the market, Guy's wife Amanda convinces him that it might be his last chance to build bridges with his dad…

Des Clarke


Who? Erinsborough's bumbling bank manager with a heart of gold, poor Des was jilted in the show's very first episode. Viewers desperately rooted for him to find love with his tenant, Daphne Lawrence, but it took nearly 300 episodes, a kidnapping, a long-lost 'son' and engagements to other people before we got the wedding we longed for. Tragically, Des had barely had time to get used to marriage and fatherhood when Daphne was killed in a car crash. Months of grief, a love triangle with his boss and another broken engagement followed, before Des found love again with fellow lone parent Fiona. But even this happy ending didn't last; years later, Des's son Jamie returned and revealed the marriage had failed and Des had suffered a breakdown.

Why? Soapland needs its loveable losers! Just look how popular the likes of Eastenders' Billy Mitchell and Nigel Bates or Coronation Street's Curly Watts have proved over the years. We feel for them when things go wrong; we're thrilled for them on the rare occasions things go right. It wouldn't just be viewers who'd be pleased to see Des back either – he was great mates with Paul, and Harold and the Kennedys played a big part in reuniting him with estranged son Jamie.

How? With memories of Marco too painful, Carmella puts the General Store on the market. When Jamie Clarke spots what was once his mum's coffee shop up for sale, he decides it's the perfect way to invest his share certificate money and snaps it up, convincing Des they should run it together. The newly named Daphne's General Store is a big success, and Des happily settles back into life in Erinsborough. He makes many new friends, but forms a special bond with Steph over their experiences of single parenthood, and when she confides in him about ex-husband Max's breakdown, the two grow closer. Des soon realises his feelings are more than platonic, but believes Steph will never be interested – until she causally mentions Max was much older than her... But is Des heading for heartbreak again?

Henry Ramsay


Who? Madge's first born and Ramsay Street's original larger than life larrikin. Henry was, like Dylan Timmins and Declan Napier, a bad-boy turned good, but with a wild comedy side that rivalled Toadie at his daftest. Having done time in prison, Henry buckled down and became a hard working gardener and later a DJ. He and girlfriend Bronwyn ended up living in New Zealand where they later married.

Why? Well, the reasons are five fold: Firstly; we're getting on for 8 years since Madge died, so it's time the Ramsays returned to their ancestral home. Second; no. 24 hasn't felt this unstable since Marlene Kratz owned it, so it's the perfect time for the family that built it to come back. Thirdly; with legendary Harold becoming a grey nomad amidst other multiple cast changes in recent months, Neighbours badly needs a familiar face back in the fold, and an '80s icon would also help fill the Bishop shaped gap. Fourth; with critics complaining of a lack of laughs at the moment, Henry would be a guaranteed giggle. Fifth and finally; Paul Robinson is currently the loneliest man in Erinsborough - isn't it time someone who remembers his good side came back to be a mate?

How? When wife Bronwyn dies after being bitten by a rabid echidna, Henry and his two kids decide to leave New Zealand. Hearing about the tragedy, Harold offers to sell his home to the Ramsays; Henry snaps it up and quickly gets a job at Erinsborough Radio. Declan moves in with Bridget and Carmella is happy to lodge with Steph, but Rebecca has nowhere to live. Henry offers to rent his spare room out to Ms. Napier, and a love triangle with her and Paul is thus created...

Janae Timmins


Who? She wasn't everyone's favourite when she first arrived; crass, loud and a bit of a man-eater, but over the following years we saw Janae's maturity shine through as she became one of our favourites. A failed marriage to Boyd and embarking on a serious relationship with Ned, with his son Mickey in tow, meant Janae had to grow up fast. She filled the role of Mickey's 'mother' perfectly, but in the end it was not to be with Ned. Interfering Kirsten stuck her oar in and it seemed Janae couldn't do anything right, so she made the agonizing decision to leave Ramsay Street for a fresh start.

Why? At the risk of sounding like Germaine Greer, Janae really did epitomise the independent young woman. Compassionate, loving and above all, not afraid to speak her mind - Janae wasn't one to be messed with. Her childhood and the death of her brother, Stingray, may have hardened her shell but it was still such a shame that in the end, meddling Kirsten proved to be the one to get under her skin as Janae escaped to the safety of her family in Cairns. We'd seen her grow from a gutsy teenager into a mature young woman and personally I'd love to see what the next chapter of Janae's life would bring.

How? On a visit to Ramsay Street to help Mickey celebrate his 10th birthday, Janae is disappointed to discover Ned and Kirsten have failed to turn up to the celebrations due to still being stuck in Perth. Having some fun with Mickey, Miranda points out to Janae that she hasn't seen Mickey this happy in ages, particularly after Lou's recent health scare. A quick chat with Toadie and dinner with the Parkers reminds Janae of her memories on Ramsay Street. Keen for Janae to stay a bit longer, Mickey decides to take matters into his own hands and persuades Lucas to try and tempt Janae into taking a job at the short-staffed, recession-hit garage. Initially, Janae only agrees to help out for a while before she would return to Cairns, but she instantly strikes up a friendly relationship with Lucas and realises just how much she's missed the folks of Ramsay Street, so decides to stay.