.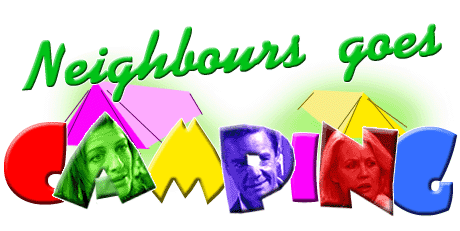 Features > Neighbours Goes Camping by Ryan
It might not have the high drama of Dallas or the glamour of Dynasty, but there's one thing our favourite Aussie soap does have in common with those legendary shows – a healthy dose of the fun and frivolity of camp. Join us as we celebrate all that's tragically comic and comically tragic about Neighbours, with our rundown of its Top Ten Camp Icons.

10. Boyd Hoyland


He's had girlfriend after girlfriend, and as his 'wife' recently discovered, one at a time isn't enough. On the face of it, you couldn't meet a straighter bloke; yet somehow, whenever we see Boyd Hoyland, we want to burst into a rendition of YMCA. Those carefully gym-honed muscles, the hours prancing about topless, the trying-too-hard-to-be-butch buzz cut, and of course that never-ending collection of tight pink polo shirts… it all adds up to one giant Boyd-shaped ball of camp. He even dated a borderline bisexual for good measure. Neighbours scriptwriters have obviously spotted Boyd's camp icon potential too – remember when he became a big hit with the Icelandic gay community thanks to Janae's blog? Not to mention the scenes in which he's sported women's underwear and a leopardskin loincloth…

9. Faye Hudson


A big-haired, brightly coloured explosion of bad taste, Doug Willis' little sister was one of the campest creations ever to set foot on Ramsay Street. As free of tact as she was of fashion sense, what made Faye Hudson so great was her utter and total obliviousness to her faults. She never doubted for a moment that her gaudy prints and chandelier earrings were the height of chic; she genuinely believed her horrendously bitchy fashion 'hints' to sister-in-law Pam were helpful. But Faye's finest camp moment came with her wedding – a dress that looked like the offspring of an ostrich and a Smurf, and some fabulous over-acting from Lorraine Bayly when Faye's fiancé wisely decided to jilt her. Faye only stayed on Ramsay Street for six months, but she left, quite literally, in a blaze of over-the-top glory, accidentally burning her niece's boutique to the ground before doing a moonlight flit to Paris.

8. Stingray Timmins


Some teenage boys like to spend their days playing football. Others like to hole themselves up in their bedrooms listening to depressing music. Then there are those who like to run about in frocks and wigs, or put make-up on and dress as a zombie. Yes, from the moment he streaked his way onto our screens in 2003, Stinger was larger than life and camper than Christmas. He tried to convince people Go-Go Riley 'forced' him into wearing a pink leotard – we're not so sure. Stingray even invented his own Polari-esque language, introducing the world to words such as 'spigging' and 'caketaker'. Stingray's camp icon rating almost took a massive leap in 2006, when it was rumoured he would be the first permanent male character to be involved in a gay storyline. It never happened, but the scriptwriters made up for it by killing Stingray off in tragic style a year later - what better exit could a camp icon ask for?

7. Valda Sheergold


Big hair, bright prints and a 'British' accent Dick van Dyke would have been ashamed of - Valda Sheergold was many things, but bland certainly wasn't one of them. Right down to her stupendous surname, Valda had all the ingredients of classic camp icon. A bitter break-up with a foreign toyboy and mistaking Harold and Lou for a gay couple are just two of her finest moments. Then of course there was the obligatory dark secret behind the laughter; the revelation that Lyn Scully was not her niece, but her daughter. Indeed, giving leopard-printed Lyn to the world could be enough to secure Valda's camp icon status on its own. In her relatively short time on Neighbours, Ms Sheergold simply commanded attention, even stealing the show at Lou's wedding with her characteristically vocal objection. But what ultimately sealed Valda's position in our chart was her gift to Lyn of a lurid technicolour portrait, ensuring that even after leaving Ramsay Street, there was no way she could ever be forgotten.

6. Rosemary Daniels


Back in the decade of dodgy perms and round-collared blouses, one woman remained a beacon of chic - international businesswoman Rosemary Daniels. From her designer clothes and platinum hair, to the way she'd breeze in from New York at a moment's notice bringing all manner of drama with her, Rosemary oozed glamour in an unglamorous world. Even Joan Collins would have been impressed when she bagged toyboy Joel in 1994. However, like any true camp icon, Rosemary had her difficult times, and most of these were down to her love life. At a time when women were told they could have it all, Rosemary found a career and domestic bliss didn't mix. She lost Joel to the bag of rags that was Debbie Martin (prompting a sadly unseen nervous breakdown), while an earlier boyfriend preferred her mother, Helen. It's enough to make a girl weep into her Hermes scarf... After the Martin family left down in 1999, viewers were deprived of the divine Ms D for six years, but in 2005 she made an all too brief comeback with the now-classic line, 'Do I look like a nurse?' No Rosemary, you look like a high priestess of camp - and we salute you.

5. Paul Robinson


Considering he was an air steward back in the early days of Neighbours, Paul Robinson was never particularly camp; indeed, there's rarely been a more aggressively heterosexual man on Ramsay Street. But it seems that during those years on the run in Brazil, Paul was infected with the carnival spirit, because since his comeback in 2004, there's been a distinctively 'row of tents' feel to his character. Maybe it's the high drama of his storylines - you'll never catch Paul in a pancake-tossing contest when he could be getting shot or trapped down a mineshaft. Maybe it's his penchant for calling for champagne at the slightest hint of good news. But mostly it's down to Stefan Dennis, who seems to relish playing Mr Robinson as a pantomime villain, maniacally grinning to camera as his latest evil scheme comes to fruition. At times we almost expect him to grab Pepper and tie her to a train track, twirling a handlebar moustache as she silently cries for help… While some of Paul's more extreme behaviour has divided fans, love him or hate him, one thing you can't do is ignore him – now that's the mark of a true diva.

4. Mishka Schneiderova


When Neighbours fans learned Lou was going to 'buy' a Russian bride, the collective groan almost registered on the Richter scale. Yet before Mishka Scheindrova's first scene was over, any concerns had all but disappeared, for it was clear that here was an icon in the making. Deborah Kennedy's gloriously OTT accent and elongated vowels ('eez good, yeees?') brought Mishka to life vividly and instantly, but what really made the character was a selection of hilarious one-liners and malapropisms that have already become legendary. 'What you know of fashion? You dress like zookeeper!' is possibly the greatest insult in Neighbours history, while only Mishka could have advised a pregnant Sky to 'embrace her womb'. As if Mishka wasn't camp enough already, the show's scriptwriters then turned her into the world's oldest trolley dolly - a stroke of genius if ever we saw one. Sadly, an ill-advised attempt at bribery has left Mishka grounded in Moscow for now, but hopefully she'll back on our screens, 'mullet dressed as lamb', sooner rather than later.

3. Gail Robinson


Strong but sensitive, independent yet loving, both bright and attractive - when they drew the camp icon blueprint, they used Gail Robinson as the model. Gail in some ways epitomised the power-dressing businesswoman of the eighties, but brought a softer quality to the role than her boss, Rosemary Daniels. If Paul Robinson was the Blake Carrington of Neighbours, Gail was his Krystle; a calming Yin to his Yang, but never afraid to stick up for herself. And if you had any doubts about Gail's full-on fabulousness, remember six little words: 'Fiona Corke's wardrobe provided by Kamizole'. Yes, while the rest of the women of Ramsay Street had to make do with the outfits Oxfam turned down, Gail had her own exclusive selection of designer togs - the only character ever to receive this honour. It didn't matter that we'd never heard of Kamizole; what counted was the sheer decadence of it. Gail somehow made the fashion disasters of the eighties look chic. Who else could carry off purple lipstick? Gail's 2006 return only enhanced her icon status. Not only had she barely aged a day, but at last Krystle had an Alexis in the form of Izzy Hoyland. If only Lassiter's had a lily pond…

2. Cheryl Stark


An irresistible combination of glitz and guts, Cheryl Stark had everything a classic camp icon needs; drama, comedy, and an unshakable strength of character in even the toughest times. Big-haired and buxom with a dazzling array of gilt-buttoned suits, Cheryl certainly had a commanding physical presence, but it was her mental presence that made people really take notice. This was a woman who fought for what she wanted, and didn't understand the meaning of the word failure. When she set her cap at Lou Carpenter, buying him a beer wasn't enough; Cheryl simply dipped into her Lotto winnings and bought his entire fleet of used cars. Cheryl also showed a steely determination when it came to her kids. Whether battling her daughter's abusive ex-boyfriend or risking life and limb in South America to save her son from drug dealers, Cheryl's resolve never wavered. Something else that never wavered was the affection of many Neighbours fans – we loved her when she was filthy rich and covered in bling, and we still loved her without the make-up and the money in her post-kidnap days. With a rollercoaster life to rival Judy Garland's, Cheryl deserved to go out with a bang, not in a taxi; and while her death upset many fans, the nature of it – sacrificing herself to save her daughter – was perfect for one of soap's strongest women.

1. Izzy Hoyland


Neighbours doesn't really do bitchiness. Neighbours doesn't really do glamour. Or at least it didn't until one day in 2003, when a taxi pulled up outside Lou's Place and a certain Ms Hoyland emerged. As soon as we saw those long legs, that blonde mane and those infamous oversized shades, we knew Ramsay Street was in for something special. Within weeks, Erinsborough had morphed from a sweet little suburb to a hotbed of backstabbing, manipulation and intrigue. Suddenly Neighbours had an Alexis Colby for the 21st Century - a woman whose behaviour both appalled and enthralled viewers, and who managed to bitch, scheme and bed-hop her way through town without so much as smudging her lipstick. Even as she broke up the show's favourite couple, fans always loved to hate Izzy. The classic moments of high camp drama and full-on fabulousness in Izzy's troubled life are too numerous to list here (although putting Darcy in a coma and her tranquiliser addiction spring to mind), but special mention must go to her spats with Gail in 2006 – an unmissable meeting of two of the show's finest camp icons. While Izzy's departure soon afterwards was a big loss to Neighbours, it ensured the character never became stale or watered down. And there was one last treat in store when she briefly returned for the England episodes, crammed with the kind of D-list celebrity cameos that make camp telly gold. What more fitting swansong could there be for HRH Isabelle, Queen of Camp?