.
Features > The A Country Practice Connection by Steve
Debuting on Australian screens in 1981, A Country Practice was the tale of the residents in the small town of Wandin Valley, New South Wales. The vast majority of episodes would be based around one of the three main locations; the vet's practice, the pub or the hospital, the latter being the basis for the name of the show.

Because of the show's strong medical links, a lot of time was spent getting the facts right and educating the Australian public about issues such as heart disease and cancer. The show was enormously popular, running on the Seven Network until 1993 and receiving 29 Logies during this time. After 12 years, the show was finally axed, but in an unusual move (and one that fans of Neighbours will recognise) it was picked up by TEN, who shook up the format slightly and even moved the location of Wandin Valley from New South Wales to Victoria. Despite their best efforts, the new look failed to take off, and the show was axed again during its first season.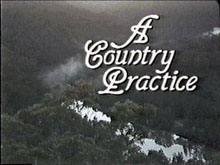 The show never shied away from strong issues, using the hospital to look at conditions including anorexia, schizophrenia, cancer and HIV. One of the most popular characters in the early years, Molly Jones, was killed off after a heartbreaking battle with leukemia. They also dealt, with varying degrees of success, with issues such as abortion, drug abuse, rape and child abuse.
The main characters in the original series included hospital matron Maggie Sloan (Joan Sydney), who was replaced as matron by Rosemary Prior (Maureen Edwards). There was also Dr Terence Elliott (Shane Porteous), who survived the entire run of the series, as did local busybody EsmeWatson (Joyce Jacobs) and police sergeant Frank Gilroy (Brian Wenzel). Other major characters included Vicky Dean (Penny Cook), Dr Alex Fraser (Diane Smith), Shirley Gilroy (Lorrae Desmond), Cookie (Syd Heylen) and Bob (Gordon Piper). Here's a look at some of the actors who appeared in both Wandin Valley and Erinsborough…

From Wandin Valley to Ramsay Street...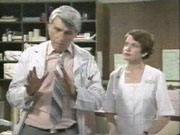 Shane Porteous: Terence Elliott – Patrick Kratz…... Terence Elliott was one of the few characters to remain in A Country Practice for its entire run. He was the senior doctor at Wandin Valley Nursing Hospital, and he spent most of his time wandering from one disaster to another. He had three children, but one died before the show even started, and his daughter, Sophie, died from a drugs overdose after contracting AIDS. His love-life was no less hazardous, as he left his first marriage to move to Wandin Valley. After several relationships, his next marriage came a few years later, to fellow doctor Alex Fraser. However, this also ended badly when their baby, Laura, died after being born prematurely. His third marriage was to Matron Rosemary Prior. The couple skirted around the issue of commitment for quite a while, but when the town fell victim to a major bush fire, they agreed to marry, if they managed to get out alive. Fortunately they did, and they finally got married as the show came to an end. Shane wrote several episodes of A Country Practice under the pen name of John Hanlon, which he still uses to write for Neighbours. He also guest-starred in the series in 1995, as Cheryl's brother and Sam's father, Patrick Kratz.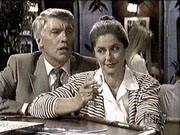 Maureen Edwards: Rosemary Prior – Marcia Taylor/Ruby Dwyer…... Maureen Edwards guest-starred in Neighbours within the first few weeks in 1985, as Erinsborough High teacher, Marcia Taylor. Marcia suffered many problems at the hands of her daughter, Kim, before moving away from the area. She then joined the cast of A Country Practice in early 1991 as the new director of nursing at the hospital, Rosemary Prior. Rosemary had been in Africa, where her first husband had died, and she had two children, one of whom, Robert, suffered from schizophrenia and regularly paid his mother a visit to cause her problems. Rosemary had troulbe building friendships, as she tended to alienate people with her gruff exterior, but after a while, people came to love her, especially Dr Terence Elliott. Rosemary and Terence began a romance, which they were determined to keep a secret from everyone, and when local hippy Bernice began to develop an interest in Terence, it caused Rosemary all manner of problems. The pair were eventually married, despite Rosemary's reservations, when they survived a bush fire which destroyed the town. In 2002, Maureen Edwards returned to Neighbours in the extended guest role of Ruby Dywer, who developed a relationship with Harold, but also hid a gambling addiction. In the end, Harold's fussing over her led her to walk out of his life for good the following year.
Joan Sydney: Maggie Sloan – Valda Sheergold…... The formidable Matron Sloan arrived in Wandin Valley in 1983, a couple of years after A Country Practice began. Maggie Sloan had emigrated to Australia from England, and was very old-fashioned in her views on nursing. The entire staff of the hospital, as well as most of the locals, knew not to cross her. Maggie rarely allowed people to get close to her, but developed a close friendship with local Bob, and eventually left the series after 7 years to travel the world with her new man, Lachlan Morrison. In 2002, Joan Sydney joined the cast of Neighbours in the recurring role of Valda Sheergold, Lyn Scully's scatty aunt who was revealed the following year to infact be her mother. Valda continues to make regular appearances in the street to this day.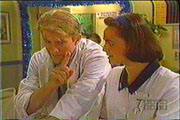 Andrew Blackman: Harry Morrison – Mike Healey…... Harry Morrison arrived in Wandin Valley in 1991 to work as a locum at the hospital. Although he'd never planned to stay long, the charm of the town won him over and he ended up staying for good. From almost the word go, he developed an on-off relationship with Kate Bryant, a nurse at the hospital, who was determined to keep him at arm's length. However, after Kate was injured after a fall in the bush, they realised that they were meant to be together. After many months, they finally got married when she was offered a job in China, but disaster struck as they were leaving town, and they were involved in a car accident. They both survived intact, but their passenger Jules was left paralyzed, causing Harry to believe he was in love with her, out of guilt. They were finally reunited, but when the series was revamped for TEN, Harry was working in the new Wandin Valley alone, and Kate broke up with him by sending him a letter. In 1998, Andrew Blackman joined Neighbours in the short-term, but regular, role of Libby's professor at university, Mike Healey, with whom she had an ongoing affair. It ultimately ended when it was revealed that Mike was still seeing his ex-wife, Victoria, and had gotten her pregnant.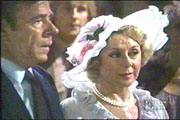 Brian Wenzel: Frank Gilroy – Gordon Orchard…... Frank Gilroy was another character who remained in Wandin Valley for the show's entire run on the Seven Network. The year after the series began, Frank was still trying to move on from the death of his first wife, Alma, and began dating Shirley. The couple were married soon after, and made quite an interesting duo, with him being very straight-laced, compared to the madcap Shirley. The couple made it through many ups and downs in the ten years that followed, and Frank was devastated when Shirley was killed in a plane crash in 1992. He had one or two brief romances after this, but never really recovered from his loss. In 1995, Brian Wenzel guest-starred in one of Neighbours' more bizarre plots, when Joanna Hartman took pity on his character, the down-on-his-luck TV clown, Flakey, alias Gordon Orchard.

Also...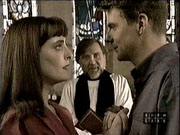 A soap opera veteran of Home and Away and E Street, Josephine Mitchell began her soap career playing Jo Loveday on A Country Practice. Young Jo caused controversy by dating, and later marrying, older man Michael Langley, and then leaving town. In 1994, Josephine joined Neighbours in the brief role of wheelchair user Katerina Torelli, who almost managed to come between Mark and Annalise. Around the same time, someone else who almost came between Mark and Annalise was her publisher, Elliot Patterson. Elliot was played by Jon Concannon, another familiar face on Australian screens, as he had portrayed police sergeant Tom Newman in A Country Practice for the final year of the show. Many familiar Neighbours also made small guest appearances on A Country Practice, including Janet Andrewartha (Lyn Scully), Maggie Dence (Dorothy Burke), Delta Goodrem (Nina Tucker) and Lisa Armytage (Beverly Robinson).
Many familiar Neighbours writers worked on both Neighbours and A Country Practice. These included Judith Colquhoun and Hugh Stuckey. Many directors also moved between the series, including Chris Adshead, Brendan Maher, Gary Conway and Helen Gaynor.
Of course, the biggest similarities that the shows seem to share is the fact that both were axed by the Seven Network, only to be picked up by TEN. However, whilst Neighbours only lasted a year on Seven before the move making it the huge success it is now, A Country Practice managed twelve years on Seven and only one on TEN.