.
Features > The E Street Connection by Steve
E Street ran on Network Ten in Australia from 1989 to 1993. It centred on the lives of the locals in the sunny Sydney suburb of Westside, and was named after Eden Street, where many of them lived and worked.

Although it started off as quite a laid-back show, the ratings weren't great, so the show began to change its focus. Characters became trendier and pop music was used a lot more in scenes. But the biggest change was to the plots – suddenly, characters were being murdered left, right and centre. The show features two major serial killers, Sonny and Mr. Bad, both of whom had viewers gripped. It seemed that they weren't even unafraid to kill off major characters, so you never knew who the next victims would be.
The main characters in the show included GP Elly Fielding (Penny Cook, later Diane Craig), local Reverend Bob Brown (Tony Martin), publican Ernie Patchett (Vic Rooney), police sergeant George Sullivan (Les Dayman) and his partner, social worker Martha O'Dare (Cecily Polson). These characters remained with the show for the entire run (though Rev Bob was killed off close to the end) and were surrounded by younger, hipper characters who came and went on a regular basis.
The show was axed suddenly in 1993, after four years of fluctuating fortunes in the ratings. Despite its huge, dramatic storylines, the ever-changing cast made it quite difficult to get involved over long periods of time and the periods between serial killers often seemed very dull in comparison. Several popular actors from the early 90s appeared in both Neighbours and E Street – here we look at who they were and the roles they played…

From Erinsborough to Westside...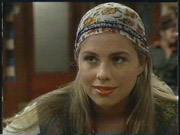 Melissa Bell: Lucy Robinson - Janine/Bonnie Tate... Melissa played the guest role of school bitch Janine on E Street, before joining Neighbours in 1991 in the regular role of Lucy Robinson. Janine was a friend of Nikki, who managed to get her into all sorts of trouble and was last seen being arrested after a shoplifting escapade. After spending more than a year portraying Lucy, Melissa left Neighbours – to return to E Street! This time, she would be portraying Bonnie Tate -–a spoilt young girl with a strong interest in the environment. Bonnie found herself in several scrapes – including when she padlocked herself to a tree in the park to avoid it being cut down for development. As the show drew to a conclusion, Bonnie had been developing a close relationship with cop Max, but then he ran her over. She spent a while in hospital, then recovering at Martha's place and she seemed to be on the mend. Her relationship with Max was blossoming, but then she suffered a black out and fell into a coma. In the final episode, Max proposed to Bonnie in her hospital bed, with all the Westside residents gathered round. She miraculously woke up and said yes, bringing the entire series to a close. After E Street ended, Melissa returned to Neighbours briefly for the episode 2000 celebrations and then again for a six-month stint in 1995.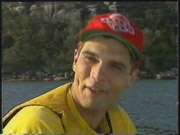 Bruce Samazan: Mark Gottlieb - Max Simmons... Bruce was with E Street for most of its run, playing the likeable young cop, Max Simmons. Max had a bit of a soft spot for a hard luck story and would often get a little bit too involved in his cases. He was also one of the first victims of psycho Sonny Bennett, though luckily he was only shot in the arm and he survived to see another day. Another incident came when Max tried to help out heroin addict Laurel, but ended up being stabbed with a syringe full of blood. After a tense wait, it emerged that Max had not been infected with any diseases. Max's love life was much less exciting. However, his life changed when he met Bonnie Tate. He'd been assigned to watch over her while her rich father was away and the two had a love-hate relationship from the start. Things went terribly wrong when Max ran Bonnie over and she was ill for months. Fortunately, she didn't hold a grudge against him and the pair ended up getting together. After Bonnie fell into a coma, Max came up with a plan to get her to wake up. He gathered all the residents (the entire cast of the show) and together they read a poem about togetherness, before Max begged Bonnie to wake up and he proposed. After E Street finished, Bruce went straight into another full-time role – that of chef Mark Gottlieb in Neighbours, where he remained for more than two years.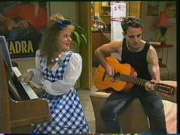 Richard Huggett: Glen Donnelly - Sonny Bennett... Richard played the evil Sonny Bennett, the first character to truly bring fear to the residents of Westside. As the drug addict brother of the show's heroine Lisa, he brought many problems when he was released from prison back in to the community. After a few months of petty thefts and drug- taking, he became obsessed with journalist Kim and ended up holding her hostage before shooting Max in the arm. He was arrested and put in prison, awaiting trial. When his trial came around, he was sentenced to prison time, but managed to stab the guard and escape, though not without getting badly wounded himself. Losing blood fast, he knew he wasn't going to last a lot longer, so he planned on destroying as many lives in Westside as he could – with his main targets being George, who had arrested him twice before and Rev Bob. However, his first victim was Kim, who he shot dead on the night of her engagement party. He then planted a bomb beneath the Rev's car. As the day progressed, almost every resident sat in the car at one time or another, before blowing up with Abbey, Chris and Megan inside – all of Ernie's family gone at once. Sonny then threw himself off a building to his death. Then, just as everyone was getting over these shocks, Elly and Bob went to get in her car and he offered to drive, but as she opened her door, a shot rang out. Sonny had set up a booby trap and Elly was left paralysed. Sonny's presence lingered over town for many months, while Richard went on to play the considerably nicer character of Glen Donnelly, Jim's long-lost son, on Neighbours from the end of 1990 to early 1992.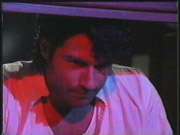 Andrew Williams: Guy Carpenter - Jack Brown... After spending less than a year playing Lou Carpenter's son, Guy, on Neighbours, Andrew Williams moved on to a slightly more meaty role on E Street. He portrayed Rev Bob's younger brother, Jack, who arrived in Westside with several shady dealings going on. Jack was a very mysterious character, whose presence changed the feeling of the entire show and ultimately brought about the death of the Rev only weeks before the show finished for good. Romance came for Jack when Elly's sister-in-law, Laura, arrived. Posing as a photographer, she was actually a hit-woman, hired to kill Jack. But, in typical soap opera style, they ended up falling in love and he saved her life when a fire destroyed the pub in the final episodes. It was thought that Andrew might try and launch a music career off the back of his appearances in E Street, though this never came to anything.

Also...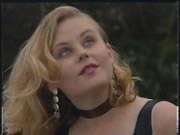 As Amanda Harris in Neighbours, Briony Behets was a classic soap bitch. Mother to Jane Harris and daughter of Mrs Mangel, Amanda rarely did anything without thinking of herself first. Soon after, Briony joined the cast of E Street as Margaret Bennett, mother of Lisa and the infamous Sonny. After realising that her boyfriend, Sam, was abusing her daughter, she ended up murdering him with a poisoned cake and went to prison for her crime.
After playing Matron Sloan in A Country Practice for seven years, Joan Sydney went on to play Mary, the British cousin of Ernie, on E Street. Mary arrived to run the pub and quickly showed that she had her cousin's flair with the customers. Mary didn't hang around long and Joan can now be see popping up in Ramsay Street regularly as Lyn's mum, Valda Sheergold.
A soap opera regular in the 80s and 90s, Josephine Mitchell acted in A Country Practice and Home and Away before joining the E Street cast as designer and single mum, Penny O'Brien. When E Street ended, Josephine guest starred in Neighbours as wheelchair-bound Katerina Torelli, who came close to romance with Mark, played by Jo's former E Street co-star, Bruce Samazan!
In the first few episodes of Neighbours, Antoinette Byron played Lorraine Kingham, the woman who dumped Des Clarke just before their wedding. In E Street's final year, she joined as Laura Fielding, sister-in-law of Elly and the woman hired to kill Jack Brown. In the end, Jack rescued her from a fire, but she was left blinded by the incident. Antoinette went on to star in Melrose Place and Home and Away.

A huge thanks goes to Donna at The E Street Tribute Page, who, as well as providing us with most of the images for this article, can also provide you with a great deal more information on E Street, such as detailed character profiles and episode guides.