.
Features > The Home And Away Connection by Moe
The people at Channel 7 were rightly miffed in and around 1987 when a little cul-de-sac in Melbourne inhabited by a gravel-voiced barmaid, a nosey pensioner, and a teen couple called Scott and Charlene began to take the world by storm. For that cul-de-sac was Ramsay Street, the show was Neighbours and the channel behind it was Network Ten. Not Channel 7. But it could have been Channel 7. In fact, it was Channel 7. Right up until they unceremoniously axed the series after only 171 episodes. That was 1985, and in 1986, their rivals at Ten picked the series up, dusted it off and repackaged it with one or two adjustments (most notably, Kylie Minogue and Jason Donovan). What followed was a phenomenon. The Channel 7 people looked on with a mixture of fury and desperation – and realised they needed to do something to redress the imbalance.

And so Home and Away was born. Set in the idyllic coastal town of Summer Bay, the series began kin Australia in 1987 as Tom Fletcher (Roger Oakley) and his wife Pippa (Vanessa Downing, later Debra Lawrance) arrived in town to take over the local caravan park. With them, they brought their five foster kids, ranging in age from 18 to 5 – Frank Morgan (Alex Papps), Carly Morris (Sharyn Hodgson), Steven Matheson (Adam Willits), Lynn Davenport (Helena Bozich) and little Sally Keating (Kate Ritchie). Also part of the original line-up were local stalwart Alf Stewart (Ray Meagher), his spoilt and bitchy daughter Roo (Justine Clark), Alf's soon-to-be wife Ailsa (Judy Nunn), cantankerous principal Donald Fisher (Norman Coburn), village idiots Lance Smart (Peter Vroom) and Martin Dibble (Craig Thomson), the town gossip Celia (Fiona Spence) and teen rebel Bobby Simpson (Nicolle Dickson) who was soon taken under the wing of the Fletcher family and became their sixth foster child.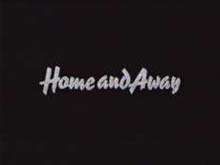 Within weeks of it arriving on air, it became quite clear that Home and Away was raising the game in terms of content. It received both acclaim and criticism in the press for its use of hot topics such as rape, drug use and teenage pregnancy. And it used its younger cast in a way that even Neighbours hadn't done before. The adults were more background characters in Home and Away from very early on, and as teen characters grew up, got married or moved out of town, newer ones took their place. Tom and Pippa's house was filled with one foster kid after another through the years, and even after Tom died in a car crash within the first few years, Pippa (complete with a new face) kept taking the waifs and strays of Summer Bay in. Later, she was joined by a second husband Michael (Dennis Coard) for a few years. But he too died, and she was on her own again. As Bobby, Frank, Carly, Roo et al grew up, equally troubled teens like Viv, Emma, Sophie, Blake, Finlay, Shane, Angel, Selina, Jack, Shannon, Curtis, Will, Gypsy, Noah, Hayley, Ric, Cassie, Matilda, Geoff, Annie and Ruby filled their shoes.
As the show has progressed over the years, it has often turned to sensational, shock plots to keep the viewers watching. Despite it being completely implausible, Summer Bay has encountered nearly every possible kind of natural disaster over the past 22 years, including an earthquake, floods, bush fires, mudslides and a freak storm, and has had a staggeringly high number of stalkers. It's also even seen two characters come back from the dead. Yet throughout all these upheavals, young Sally managed to grow up relatively unscathed, eventually marring local doctor Flynn, becoming a mother to little Pippa and opening up the Fletcher home to a new generation of foster children. Actress Kate Ritchie literally grew up on screen, playing Sally from the first episode in 1988 right up until her departure in 2008. She even earned a place in the Guinness Book of Records alongside her co-star Ray Meagher, for being the longest serving actor in an Australian series.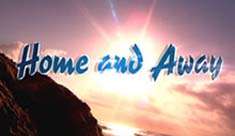 Although the cast – like Neighbours – has changed quite dramatically over the years, with the Nash family and then the Sutherland family taking over the caravan park in the years since Pippa left, and the school having all sorts of principals since Fisher retired last year, the basic premise has never changed. Home and Away is a show about young teens that are taken in by caring, loving families. Sure, the family set-ups aren't typical of your average nuclear family, but they always work and look set to continue to do so for the foreseeable future.
With Neighbours and Home and Away both running for such a long time, it was inevitable that some of the same faces were going to crop up in both shows from time to time. Here, we take a look at 'The Home and Away Connection'…

From Ramsay Street to Summer Bay...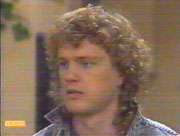 Craig McLachlan: Henry Ramsay - Grant Mitchell... In one of the most sensational defections in soap, Craig McLachlan – Neighbours' biggest asset after the departures of Kylie Minogue and Jason Donovan – was snatched by Home and Away producers in 1989. Craig had become a household name as lovable prankster Henry Ramsay on Neighbours, but after 3 years in the role, Home and Away offered him big bucks to move from Melbourne to Sydney for a part specially written for him. Before a bald Eastend hardman made the name even more famous on this side of the world, Grant Mitchell arrived in Summer Bay as an unorthodox teacher, hugely respected by his students for his relaxed and laid-back attitude towards the job. He even allowed students call him 'Mitch'. During his time in the Bay, Grant had a rocky relationship with copper Jane Holland, played by Josephine Mitchell, who later guested on Neighbours as Katernia Torelli in 1994, and shared a lot of screen time with Dannii Minogue, younger sister of Craig's former Neighbours' sister Kylie. But to all intents and purposes, Grant was just Henry – only without Bronwyn, his lawnmower and his ever present pair of dungarees. After a year and a half in the role, Craig left to pursue his music career, and the character of Grant has since long been forgotten.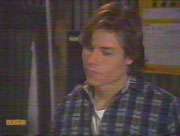 Guy Pearce: Mike Young - Guy Pearce... Long before he became a Hollywood star of such hit movies as LA Confidential, Memento and Priscilla: Queen of the Desert, Guy was already a star of the small screen thanks to his four-year stint as Mike Young on Neighbours. Having stuck around longer than his fellow 'original teen gang' members – Kylie, Jason and Annie Jones – and steered Mike from teen traumas to adulthood, Guy finally rode out of Erinsborough on his motorbike in 1990. After a taster of things to come by starring as the feature film Heaven Tonight, Guy returned to his Aussie soap roots to take on the six-week role of David Croft in Home and Away. It was a high profile signing for the show at the time, and his storyline was an explosive one. Nephew of Donald Fisher, David embarked on a tempestuous relationship with 16-year-old Sophie Simpson, the then major teen star of the show played by Rebekah Elmaloglou. Defying all the odds, the couple fell helplessly in love with each other but tragedy struck when David was killed in a horrific car crash caused by Sophie's best friend Karen Dean. Of course, Guy left quite a legacy; for what followed after his stint had ended turned into one of the biggest soap storylines of the day – Sophie discovered that she was pregnant with David's child and became Aussie soap's first teen mum when she gave birth to Baby Tamara. 12 years later, the legacy continued when Sophie – long since departed – returned to the series, with all grown up Tamara in tow.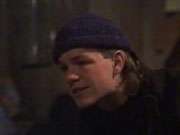 Mat Stevenson: Skinner - Adam Cameron... After a memorable stint on Neighbours as bad boy Skinner, who led Todd Landers off the rails and stole Sharon Davies from her boyfriend Nick Page, Mat landed the role of Adam Cameron on Home and Away in 1989. Adam was a hugely popular character on the series – romancing such characters as Carly Morris and MariLyn Chambers before being driven out of town for causing (albeit accidentally) the death of one of Summer Bay's most popular residents, Bobby Simpson. After a five-year break from the show, Mat reprised the role of Adam in 1999 and stuck around for a few months, managing to redeem himself in the eyes of locals before making a fresh start elsewhere.
Richard Norton: Ryan McLachlan - Simon Fitzgerald... Although not quite as significant, Richard Norton was the second Neighbours star to be deliberately poached by Home and Away. Having played Dorothy Burke's nephew Ryan McLachlan in Neighbours from 1990-1991, Richard earned himself legions of female admirers and looked set to become the show's next big pin-up. But Home and Away spotted this and lured him down to Sydney to take on the role of schoolboy come surfer Simon Fitzgerald. But the character never really took off, and within a year, Richard quit to try his luck at being a TV presenter in England with the Saturday morning kids TV show, Parallel 9. That hit a stumbling block when Richard had visa problems (like Kristian Schmid before him on Going Live! and was forced to hand over the presenting chores to his former Neighbours co-star Lucinda Cowden. After marrying his English girlfriend, Hayley, no such problems presented itself for Richard when it came to taking on the role of, ironically, an Aussie soap star in Brookside. Since then, Richard has been relegated to showing up on dodgy ITV tribute shows to Anne Charleston, who seemed to have difficulty recalling who Richard actually was when he popped up. It's a long way from Summer Bay..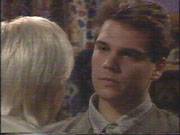 Bruce Samazan: Mark Gottlieb - Brad Cooper... Something of a veteran of Aussie soaps, Bruce first came to prominence starring as Constable Max Simmons in E Street. In 1993 after that show folded, he joined the cast of Neighbours just as the soap celebrated its 2000th episode, as chef Mark Gottlieb. In the space of two years, Mark went from being a ladies man to a would-be Catholic priest turned religious zealot, before returning to his original career as a chef and leaving for Sydney. Bruce departed for Sydney off-screen too, landing a guest role on Home and Away as the rather psychotic Brad Cooper, who raped Chloe Richards.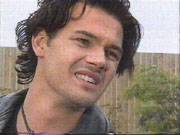 Richard Grieve: Sam Kratz - Lachlan Fraser... After two years as biker Sam Kratz on Neighbours, Richard quit to take a role in the stage production of Grease. But when that fell through, he was snapped up by Home and Away producers instead to play Dr. Lachlan Fraser. The role represented a total change for Richard – famous in Neighbours for his jet black grungy hair, leather Jacket and ripped jeans, Lachie was a silver-haired, smartly-dressed GP. Lachie had several ups and downs during his time in Summer Bay. While he found love with Chloe Richards, he had to contend with the disapproval of his snooty mother Diana and eventually ended up in a wheelchair suffering from motor neurone disease. Richard left the series at this point, and the character later died off screen, paving the way for Chloe to keep it in the family by marrying Lachie's brother, James.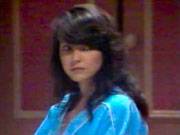 Antoinette Byron: Lorraine Kingham - Natalie Nash... Part of the original Neighbours line-up in 1985 as Des Clarke's fiancée Lorraine Kingham, Antoinette showed up in all sorts of TV shows in the years that followed, including Melrose Place, E Street, All My Children and Baywatch. When Angelica La Bozetta suddenly quit her role as Natalie Nash after only a year in 1998, Antoinette – recently returned to Australia – was drafted in by the producers to take over the role. She duly obliged and enjoyed a steamy plot where mother of two Natalie embarked on a torrid affair with twentysomething Jesse McGregor. After husband Joel found out, he did the only thing he could have – took Jesse's five-year-old daughter Rachel in and gave her a home after Jesse wound up in prison. In 2000, Natalie, Joel and Rachel left Summer Bay for a fresh start in the Brisbane of Home and Away – 'the city'.
Jane Hall: Rebecca Napier – Rebecca Fisher… Currently wowing Neighbours viewers as high drama magnet Rebecca Napier, Jane Hall was a familiar face on Australian TV screens since she was a little girl. Having played Regina in The Henderson Kids, Jane guest starred on Home and Away in its' first year as another Rebecca – teenage daughter of Summer Bay's principal Donald Fisher. The role of Rebecca would be played by no less than 4 actresses over the course of the next ten years in Home and Away, with the late Belinda Emmett making the role her own in the 1990s. But during her stint in Summer Bay, Jane's Rebecca (the first) caused plenty of drama during her stay in town when she started seeing Steven Matheson, much to the disdain of her over-protective father Don.
Bernard Curry: Luke Handley - Hugo Austin... Bernard Curry spent a few years in Erinsborough in the mid 1990s as Luke Handley, who bravely battled cancer before entering the police force. In Summer Bay, Bernard played an altogether different character for Hugo had a shadowy past when he arrived in town in early 2009. A year-long mystery followed as Hugo divided the bay and it was only in the season finale that viewers were to find out the truth - Hugo was a people trafficker and had been responsible for the deaths of some Indonesian refugees he had been smuggling through Summer Bay. A far cry from his more peaceful days in Ramsay Street.

And Then There Were...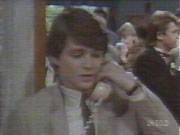 Alex Papps, one of the original Fletcher foster kids in Home and Away as Frank, had a brief, but memorable appearance in Neighbours prior to the arrival of Home and Away. He played Greg Davis, the guy who set Charlene's caravan on fire.
Over 20 years later, one of Alex's fellow original co-stars, Roger Oakley, who played his foster father Tom, showed up in Ramsay Street as Jim Parker, dad to the Parker boys. Jessica Noad played the recurring role of Edna Ramsay, kindly mother to the fiery Madge in the early years of Neighbours. And in 1988, she made her first appearance in the opposition as Coral King, kindly mum to Pippa. Like Edna, Coral popped in and out of the series from time to time, before the character died off screen in the mid 1990s.
The original Scott Robinson, Darius Perkins, made a television comeback in the early years of Home and Away as the rather unhinged Gary Samuels. Carly falsely believed he was the guy who raped her, and it all culminated in Gary falling to his death off a cliff.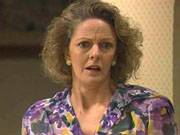 Before he became known as builder Doug Willis on Neighbours, Terence Donovan – already a veteran of Australian stage and screen and father to Jason – played the thoroughly rotten Al Simpson on Home and Away in 1989. Al was the adopted father of the legendary Bobby, and the natural father of Sophie. He was abusive, vile and even turned out to be a murderer. It was a far cry from selling dodgy home brew in Erinsborough.
Suzanne Dudley, who as bitchy Fiona Hartman achieved iconic status amongst Neighbours fans as the woman who stood by and let series patriarch Jim Robinson die on his kitchen floor surrounded by oranges in 1993, has twice popped up in Summer Bay. In 1997, she made a few appearances as Janet Briggs, the (surprise, surprise) bitchy wife of school inspector Mr Briggs. And more recently, she appeared as the (yes, you guessed it) bitchy Avril Webb.
Stonefish Rebecchi began his time in Neighbours as a hard-nosed bully, before turning to poetry and softening up completely by the time he left for 'up North' in 1996. Anthony Engelman happily returned to his bad boy roots in 1997 when he guest starred in Home and Away as Shaun Graham, the abusive ex-husband of Laura-look alike Jenna Evans, who was played by Claudia Buttazonni – previously seen in Neighbours as Libby's friend Manuela de Ferrera.
As well as Richard Grieve, the other members of the Kratz family passed through Summer Bay at one stage or another. Moya O'Sullivan, who played Sam's gran Marlene for three years on Neighbours, guest starred in Home and Away as Gladys Adams in 2001 and again in 2003, in a poignant storyline that dealt with the subject of Alzheimer's. And Shane Porteous – previously seen in Ramsay Street as Marlene's son Patrick – popped up in Summer Bay as Jim Tyler in 2001. As with Neighbours, Shane has also worked on Home and Away as a scriptwriter, although under the pen name of John Hanlon.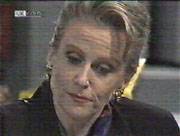 Rona McLeod, who played the recurring part of bitchy local councillor Felicity Brent in Neighbours during the early 1990s, guest starred in Home and Away in 1996 as Barbara, the ex-wife of Donald Fisher and sister of Alf. Barbara had previously been seen in the early years of Home and Away, but played by actress Barbara Stephens. By the time she reappeared played by Rona in 1996, she had undergone more than a facial transformation. Whereas the original Barbara was a kindly, considerate Pippa-style character, Rona's version was a total cow, more reminiscent of her sister Morag. She even went so far as to try and murder Donald, before being declared insane and carted off to 'the city' never to be heard from again.
The character of Meg Bowman was a firm favourite of Home and Away fans in 1992. Meg and Blake's love story was the programme's first great Scott and Charlene-style romance, only with a massive amount of heartbreak thrown in. Meg came to the Bay to die – she had leukaemia and against her mother's wishes, became involved with Blake. In one of the most poignant scenes ever seen on the series, Meg passed away peacefully in Blake's arms as they watched the sunset together on the beach. It catapulted Cathy Godbold, the actress who played Meg, onto the cover of every magazine at the time and there was even talk of the Home and Away producers somehow bringing her back into the series, such was her popularity. They didn't, and it was the late 90s before we saw Cathy on an Aussie soap again. This time it was Neighbours, where she played the scheming Sondra Pike, who tried to break up Libby and Darren.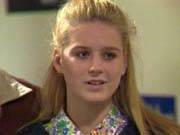 And there have been many more Neighbours/Home and Away connections. Carole Skinner, Helen's sister Laura in the early days of Neighbours, did a lot more than sit in a picture frame on the Robinsons' sideboard for years. She's twice popped up in Home and Away – most recently as Peta's grandmother Mary. Danielle Carter, who played Jenny Owens, the wheelchair bound girlfriend of Mike Young in 1989, was the second of four actresses to play Donald Fisher's daughter Rebecca on Home and Away. Simone Robertson, the Neighbours version of Sophie, Phoebe Bright, played lesbian Desiree Upton on Home and Away in 2001 and a few years before John Orcsik became a Neighbours semi-regular playing Drew Kirk's dad Ron, he had appeared on Home and Away as Les Bagley, the long lost father of Blake and Karen Dean. Another Neighbours dad, Ivar Kants, who played hippy Dave Gottlieb in 1994, played Barry Hyde, who succeeded Fisher as Summer Bay High principal.

Fresh from causing murder and mayhem in Erinsborough as fake doc Charlotte Stone, Rachel Gordon quickly turned up in Summer Bay as the equally evil Jazz Curtis. Original Neighbours cast member Elaine Smith, who was a major star in the show's peak as the ill-fated Daphne Clarke, took viewers by surprise last year when she popped up in a one scene guest spot on Home and Away as Grace Carter, estranged mother of troubled teen Tara. Summer Bay was also home that same year to bent cop Ash Nader, played by an all-grown-up Ben Geurens, who was better known to Neighbours viewers as a child when he played Toby Mangel. Daniel Colloppy, who, as Sean Edwards, had the prestige of being the first of Flick Scully's many boyfriends on Neighbours, starred as nice guy turned bad Josh West on Home and Away for four years until he was killed off in 2006. Rowena Wallace, who inflicted all sorts of cruelty on lovable Pepper Steiger on Neighbours in 2007 as Mad Mary Casey, played the recurring role of June Reynolds on Home and Away for a time before eventually luring original character Donald Fisher away for a new life in 2003. Scott Majors had a bit part in Home and Away as Murray, a troublesome teen, in the 1990s before arriving in Ramsay Street as Darren Stark - Mark 1 and later making the cul-de-sac his more permanent home in the role of Lucas Fitzgerald.

Home and Away has also many Neighbours connections behind the scenes too. The show's former director Paul Maloney is married to Plane Jane Superbrain herself, Annie Jones. Former Neighbours Executive Producer Riccardo Pellizzeri directed the pilot of Home and Away, as well as many of the early episodes. Judy Nunn, who played Summer Bay stalwart Ailsa Stewart for 12 years, wrote scripts for the early Neighbours episodes on Channel 7. And of course, many Neighbours writers have also penned episodes of Home and Away, including Ray Kolle (who also worked as script supervisor on both shows), Barbara Angell, Ray Harding, Luke Devenish, Jason Herbison, Greg Millin, Lyn Ogilvy, Katrina Foster and Jeff Truman, who also had two minor roles on Home and Away, as the violent Samuel Barlow in 1988 and Sarah Thompson's father Matthew in 1994.

Home and Away even gave a nod in Neighbours' direction in an episode from the mid 1990s when Isla Fisher's character Shannon was on the telephone to a journalist from England and was heard telling him: "No, I will not tell you what's happening in Neighbours!"