.
Features > The Sons and Daughters Connection by Steve
Running from 1981 until 1987, Sons and Daughters was an Australian soap opera made by Grundy. It was an ambitious affair from the beginning, with two different families, one based in Melbourne and one in Sydney. The series was extremely popular in both Australia and the United Kingdom, as well as in other parts of Europe. The ratings began to decline after six years and almost 1000 episodes, and the Seven Network ultimately decided to axe it.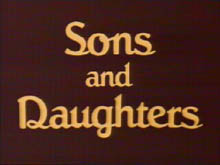 Sons and Daughters was very much about families with a small cast of characters who were generally related or linked in some way. The original premise was of a set of twins, separated at birth, one living in Sydney and one in Melbourne. Reunited in Sydney, without realising they were siblings, they fell in love and thus began a series of convoluted stories of love, family and friendship. Several European countries picked up on this opening story and used it for their own drama series, including Germany's long-running Verbotene Liebe. Storylines in Sons and Daughters included the soap's number one bitch, Patricia 'Pat the Rat' Hamilton receiving plastic surgery, when actress Rowena Wallace decided to leave but the producers didn't want to lose the character, and more long-lost children and life-threatening cliffhangers than you could shake a stick at.
Only four actors survived the show's entire run – Leila Hayes (Beryl Palmer), Pat McDonald (Fiona Thompson), Brian Blain (Gordon Hamilton) and Ian Rawlings (Wayne Hamilton) - but for every character that left, a new addition would quickly come along. As the show progressed, things became more and more improbable with the final end-of-season cliffhangers featuring characters facing life-threatening situations involving sharks, snakes and horses. It wasn't just actors that were shared between Sons and Daughters and Neighbours. Both series were created by Reg Watson, with veteran Neighbours writer Ray Kolle featuring in the creation of the early scripts. Many writers and directors, including Peter Andrikidis, Philip East, Don Battye, Ysabelle Dean and Lyn Ogilvy, worked on both series too.
Here's a look at some of the actors who appeared in both Neighbours and Sons and Daughters…

From Sons and Daughters to Neighbours...
Ian Rawlings – Wayne Hamilton – Marcus Stone/Philip Martin... After playing baddie Wayne Hamilton for the series' entire run, Ian Rawlings moved to Erinsborough in the early 90s, firstly for the brief guest role of Marcus Stone, then in 1992, in the regular role of nice guy Philip Martin. Family man Phil couldn't have been more different to Wayne, who'd spent six years cheating on women, conning his own family and generally being as nasty as possible. Wayne's plotting and scheming made him very popular with the viewers and, as the series ended, he had finally come unstuck and murdered his wife, Susan. It was a great testament to Ian Rawlings' acting ability that he could go from spending most of the 80s playing nasty Wayne to most of the 90s playing friendly Phil and prove popular and convincing in both roles.

Brian Blain – Gordon Hamilton – Michael Daniels...
Another of only four actors to stay with Sons and Daughters for its entire run, Brian Blain played Wayne's father, Gordon Hamilton. Unlike his son and ex-wife, Pat the Rat, Gordon was essentially a decent person. Like most of the characters in the series, Gordon went through several marriages, but never committed bigamy, unlike his Neighbours character, Michael Daniels. Michael romanced and married Helen Daniels, but it was only after the wedding that her family found out that Michael's other wife, Louise, was still alive and living in a home, suffering from Alzheimer's disease. Brian sadly passed away in 1994.

Ally Fowler – Angela Hamilton – Zoe Davis...
Ally Fowler had an important part in the history of Sons and Daughters as her character, Angela, was the female twin in the show's opening storyline. Only a couple of years after leaving Sons and Daughters, Ally joined the cast of Neighbours in the role of Zoe Davis, a part that would be far less successful than Angela and see her written out after only six months. During only a couple of years in Sons and Daughters, Angela found out that she couldn't have children, before falling pregnant and then suffering a miscarriage. In the end, she left with husband Rob Keegan, who was played by Noel Hodda, who would join Neighbours in the recurring role of Derek Morris in the late 80s. In another connection, flashbacks at the beginning of the series saw Angela's mother, Patricia, portrayed by Jackie Woodburne, who would join Neighbours in 1994 as Susan Kennedy.

Anne Haddy – Rosie Andrews – Helen Daniels...
Rosie Andrews was the housekeeper at Woombai, home to the Hamilton family. She soon married into the Palmer family and was in and out of everyone's business at one stage or another. Anne Haddy only spent a couple of years playing Rosie, leaving in 1984, before joining Neighbours the following year. She then spent 12 years in the role of Helen Daniels, Ramsay Street's favourite gran and confidante to a horde of youngsters who would pass through the street through the years. The roles changed somewhat when Brian Blain joined the Neighbours cast as Michael Daniels, who married Helen before being revealed as a bigamist. Only 9 years earlier, Anne had been playing his housekeeper. Anne sadly passed away in 1999.

Alyce Platt – Amanda Morrell – Jen Handley...
The intricate connections between Neighbours and Sons and Daughters continued when Alyce Platt joined the Neighbours cast in 1995 as Jen Handley and was paired up with Ian Rawlings in his role as Philip. In the mid-80s, Alyce spent a couple of years playing Amanda Morrell, who was also linked up with Ian Rawlings, this time as Wayne. Although Philip and Jen's relationship hit the skids fairly quickly, Amanda and Wayne ended up married, although it was simply part of another of Wayne's money-making plots.

Abigail – Caroline Morrell – Betty Bristow...
A popular Australian sex symbol in the 70s and 80s, Abigail was brought in to Sons and Daughters as another in a series of bitches, in the hope of recreating some more 'Pat the Rat' magic. Her character, Caroline 'the cat' Morrell, caused all manner of mayhem as she worked her way through various husbands. In 1989, two years after Sons and Daughters came to an end, Abigail joined Neighbours for a four-episode run as Betty Bristow, old school-friend of Madge and Harold Bishop. Betty managed to give Madge an inferiority complex with her string of husbands and bags of money, but things were quickly patched up between the friends before Betty headed back to Brisbane.

Also...
Andrew Clarke – Terry Hansen – Alex Kinski
Syd Conabere – Doug Palmer – Dan Ramsay
James Condon – Sean O'Donnell – Douglas Blake/Reuben White
Shane Connor – Angel Jones – Phil Hoffman/Joe Scully
Paul Dawber – Todd Buckley – Mr Denning/Kim Howard
Terence Donovan – Tom Chaplin – Doug Willis
Regina Gaigalas – Cheri Nolan – Andrea Townsend/Linda Carpenter
Noel Hodda – Rob Keegan – Derek Morris
Annie Jones – Jess Campbell – Jane Harris
Genevieve Lemon – Jennifer Hickson – Brenda Riley
Andrew McKaige – Bill Todd – Geoff Burke
Tom Oliver – Andrew Brooks – Lou Carpenter
Moya O'Sullivan – Aileen Keegan – Marlene Kratz
Sean Scully – Jim O'Brien – Bernie Samuels
Carole Skinner – Doris Hudson – Laura Dennison
Mary Ward – Dee Morrell – Mrs Granger
Jodie Yemm – Jennifer Healy – Kelly Morgan
Thanks to Chris at Sons and Daughters Mania