.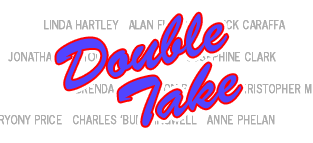 Features > Double Take by Steve and Paul
Neighbours has never been afraid of using the same actor in more than one role. So it was no surprise this week when Linda Hartley – Harold's daughter Kerry from 1989 to 1990 – cropped us as new General Store employee Gabrielle Walker. What was surprising was that, for once, people recognised the face. In every other case, the actor has simply entered the show without any reference to their previous role. This feature looks at some of the cases when one role simply wasn't enough…
Currently residing in Erinsborough as Dr. Karl Kennedy, Alan Fletcher had a previous Neighbours incarnation as mechanic Greg Cooper back in 1987. Although the role only lasted a few weeks, he worked closely with Kylie Minogue and returned six years later with the regular role as the head of the new family, the Kennedys. In over a decade as Karl, Alan has certainly made up for the lack of action he saw as Greg, growing to become one of the show's most popular characters.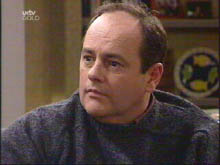 Alan Fletcher wasn't the only Ramsay Street father who'd set foot in Erinsborough before. Back in the early nineties, both Ian Rawlings and Shane Connor had guest starring roles alongside the Alessi twins. While Ian appeared as Marcus Stone, Shane appeared as Phil Hoffman, the criminal who terrorised them. It was eight more years before he returned to the regular cast as brash Joe Scully. Only a few months after his guest appearance, Ian returned as Philip Martin, son-in-law to Jim Robinson. This second role lasted seven years and he wasn't the first person to play Philip. The character appeared briefly in 1985, played by Christopher Milne, who himself had another role in the series in 1998 as the lecherous Declan Hewitt. The returning actor syndrome also spread to Philip's children, as his son Michael was played by Troy Beckwith, who had guest-starred a couple of years earlier as Darren Wood. And Katrina McEwan, who had briefly played Michael's sister, Debbie, in 1985, returned in 1993 in the recurring role of school bitch Louise Barker. Back in 1985, Philip's first wife, Loretta, was played by Lyn Semler, who would later return to Ramsay Street in the role of the unhinged Jill Weir.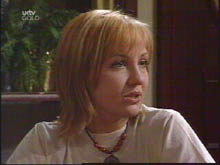 Of course, there are some actors for whom two roles aren't quite enough. After appearing in 1997 as Wendy Scott, a young woman who tried to chat up blind man Rohan Kendrick, Marisa Warrington returned a couple of years later, with a few more lines, as Libby Kennedy's old school friend, Robyn Dawson. However, it wasn't until 2002 that she took on the role that would see her drafted in as a regular in 2004 – Sindi Watts. Similarly, Nick Carrafa had the role of Tim Duncan, appearing in flashbacks in 1985 as the man who had a fling with Maria Ramsay, leaving her pregnant with Danny. A couple of years later he was around more permanently for a year as Tony Romeo. His third role came in 1999, when he played Peter Hannay, the doctor who swept Sarah Beaumont off her feet and ended up marrying her.
Plenty of other Ramsay Street regulars made guest appearances before joining the cast as full-time characters. Before joining the cast in 1986 as single mother Susan Cole, Gloria Ajenstat appeared briefly as a nurse in 1985. In 1986, Sue Jones made a brief appearance as MS expert Peggy O'Hara, before returning in 1990 as main character Pam Willis. Linda Hartley appeared in 1985 as Gloria Slater, girlfriend to Paul Robinson, before returning in 1989 as regular Kerry Bishop. Her recent appearances as Gabrielle mark her third role on the show. Simone Robertson appeared as an unnamed schoolgirl before landing the regular role of Phoebe Bright and Jacinta Stapleton had a couple of guest appearances as Vicki in 1993, before joining the cast between 1997 and 2000 as Amy Greenwood. Meanwhile, Anne Scott-Pendlebury, who played Hilary Robinson in the late 80s, made a return appearance, in voice only, as Leslie Cornwall, mother of Kate, the terminally ill woman Karl had a brief relationship with late in 1995.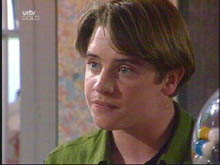 Benjamin Mitchell managed to play his own cousin, as he appeared briefly as Cody's brother, Brad Willis, before coming back as the Willis cousin, Cameron Hudson. Anthony Engelman had a couple of appearances as school bullies before joining the regular cast as Stonefish Rebecchi, whilst the actor behind his younger brother, Toadie, also made a brief appearance as a bad lad. Jonathon Dutton obviously impressed in the role of Kenny Hyland, a scout who suffered an accident in the care of Harold, as he returned before 1998 was out to play Tad Reeves. Recent arrivals the Timmins family are hardly strangers to Ramsay Street. Nell Feeney played the role of Joanne Blair in 2003 before joining as Janelle, Eliza Taylor-Cotter terrorised Summer as Jacinta Martin before playing Janae while Damien Bodie was cancer patient Charlie Moyes in 1996 and schoolboy Liam Rigby in 1999 before returning as Dylan. And it seems to be a strong family trait, as Timmins father, Kim, is played by Brett Swain, who previously guest-starred back in 1990 as the duck hunter who shot Kerry and again in 1992 as criminal Buzz Wade.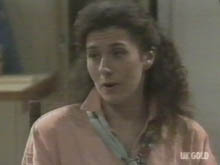 Not all of the guest actors return in regular roles, however. Most of Clive Gibbons' extended family made return appearances after their extended guest run in 1986. Peter Harvey-Wright, who had played Clive's brother, Graham, returned as the voice of a newsreader in 1993. Jenny Seedsman – Graham's wife, Kate, returned in the recurring role of bank manager Dorothy Stevens in 1997. Their daughter, Vicki, was played by Charmaine Gorman, who had already played Josie Brown in 1985 and would return in 1997 as Toadie's girlfriend, Rebecca Knotts. Diana Greentree liked to play a parental role as she turned up in 1985 as Emily Slater, mother to Gloria, in 1987 as Barbara Young, mother to Mike and again in 1998, as Rose Kirk, mother to Drew. One of her roles – that of Barbara Young – had previously been played in 1986 by Rona McLeod, who would later return as waspish councillor Felicity Brent.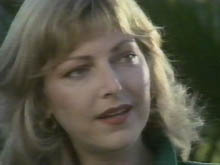 Gina Gaigalas caused turmoil for Des Clarke in 1986 when she turned up on his doorstep in the role of Andrea Townsend, and the actress was back in 1995 to turn Lou's life upside down as his ex-wife, Linda. Bryony Price made a couple of appearances, both as schoolgirls, when she played Ally Slater in 1993 and then returned as Shona Munro in 1996. Her screen mother, Wendy Slater, was played by Jennifer Jarman-Walker, who had already appeared briefly in 1985 and 1989 as separate characters. Anne Phelan took on the role of Claudia Harvey in 1997 and returned just last year as Doreen Cassidy. Charles 'Bud' Tingwell made appearances in 1992 as Bert Willis, Doug's cantankerous father, and returned in 2000 as Lyn Scully's less cantankerous father, Henry O'Rourke. Also in 2000, Josephine Clark joined the cast in the extended guest role of Lance Wilkinson's girlfriend, Allana Truman. Josephine has previously played runaway Jamie Lee Duggan in 1997.
And then there are some guests who just can't stop coming back. Androo Allen has had eleven different guest roles, including coffee shop customers, a vet and several police officers. Eric McPhan has also had eleven different roles, all as police sergeants, while James Patrick's eleven roles have included detectives and Peter Lenten, the man who persuaded Sam Kratz to strip for the Stefano Gold campaign. But Brad Lindsay takes the record with twelve different roles, mostly as thugs and pub customers, but mostly recently as a delivery man.