.


Interactive > The Perfect Blend DVD Campaign
Over a year after the release of Neighbours: Defining Moments, a DVD and video release containing some of the best births, deaths and marriages from Neighbours, there is no sign of a sequel. Having contacted Rajon, who made the first DVD, we have learnt that there are currently no plans for a second release, but we feel that there would be a market for it. So, we have decided to begin a campaign to get Neighbours: More Defining Moments released.
The first step in our campaign was to find out which episodes the fans would like to see on this DVD, so that we can offer some idea to those making it. Throughout the month of February, we asked if all of you readers could email us a list of the episodes - be they weddings, births, deaths, arrivals, departures or any other milestones - that you would like to see included. Having found out the thirty most-requested episodes, we then asked you to vote again to narrow them down to fifteen. We received an overwhelming response, and the fifteen most popular episodes will now form the episode line-up which we will be campaigning for. Obviously, if Rajon want to release a whole different set of episodes, we're hardly going to complain, but we'd like them to be aware of what the fans want from this DVD. So here's a rundown of the 15 episodes that you selected from your voting, along with a mock-up, thanks to Rhys, of the cover for More Defining Moments!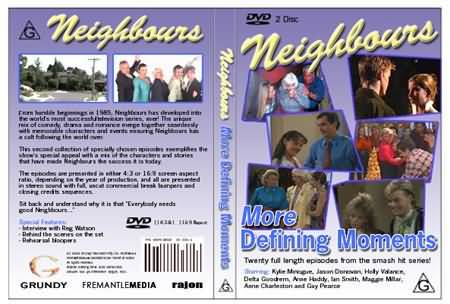 Episode 1:
The very first episode of Neighbours, which introduced us to such classic characters as Jim Robinson, Helen Daniels and Daphne Clarke.



Episode 777:
The departure of one of the most famous characters from early Neighbours - Charlene.



Episodes 1285 and 1286:
Joe Mangel's life is torn apart when his pregnant wife, Kerry, is accidentally shot while protesting a duck hunt...



Episode 1521:
Madge is distraught when Harold goes missing after standing on some rocks looking out to sea. A search and rescue team heads out, but it looks like Harold may be gone for good...



Episodes 1950 and 1951:
After a gas leak, the Waterhole explodes, leaving several lives hanging in the balance and destroying the future for the Gottlieb family..



Episode 2000:
A huge milestone for the show, which saw Helen celebrate her birthday, along with a couple of surprise returns.



Episode 2240:
The residents attend a murder mystery weekend, but the last thing they're expecting is for one of them to actually end up dead...



Episode 2251:
The arrival of one of the street's most enduring families - the Kennedys.



Episode 2571:
When a police stake-out to catch drug dealers goes badly wrong on Ramsay Street, Cody Willis finds herself the victim...



Episode 2710:
Just as her life is getting back on track, Cheryl Stark is tragically killed trying to pull her daughter out of the path of an oncoming car...



Episode 2733:
More than 5 years after vanishing, Harold Bishop is back in Erinsborough. But when Marlene meets him in a charity shop, he's going by the name of Ted...



Episode 2995:
The finale to the 1997 season of the show saw two illicit kisses, a marriage proposal and a huge car crash...



Episode 3419:
The arrival of the Scully family, who quickly managed to lower the tone of the entire neighbourhood...



Episode 3445:
The finale to the 1999 season, as the residents celebrated the dawn of a new Millennium and a fire threatened to overshadow the party.



Episodes 4292 and 4293:
The happiest day of Dee and Toadie's lives turns into a nightmare when their car crashes into the ocean as they drive off on their honeymoon...


Your Say...
In order to get this DVD released, we need to let Rajon know how we feel. Please send all of your comments to us through the following form and we will regularly pass them on to Rajon to let them know of the fans' interest. You can include your age and location in the Comments field, though this isn't strictly necessary.
The nature of a campaign such as this means that there may be long periods where we have nothing to report back. You will be kept informed of any developments via Perfect Blend's news page, so please do not contact us asking for development updates.