.
Features > My Life As An Extra by Leon Fleming

I had wanted to get into acting my whole life. I was a very active and outgoing child and certainly was not shy. I had joined an agency when I was in primary school as a fellow studentís mother ran the agency and advertised it through the school newsletter. Years went by with the odd audition here and there but nothing really happened. It wasnít until the year 2000 when I eventually got my foot in the door, with a small role in the film, Queen of the Damned. In February 2001, I began doing extra work on Neighbours. In episodes 3772, 3774 and 3775, I appeared as an extra at Erinsborough High. This is a diary of my recent work on the show, explaining what it entails to be a Neighbours extraÖ

Wednesday 6th October

My agent leaves a message on my home phone message bank asking me if I would like to be a client in a hair salon on Tuesday 12th October at 3:30 pm and goes on to say what episodes they are and that they may wet my hair. I then send her a text message to her mobile phone confirming that I would love to do it. Neighbours wardrobe then contacts me on Friday 8th and leaves the details of what to wear on the following Tuesday in my mobile phone message bank.
Monday 11th October

I go to a clothing outlet store to get some new clothes to wear. This of course is not normally the case that I buy new clothes before some extra work on Neighbours but there is only a limited amount of clothes I have that donít have logos on them that I can wear on Neighbours. I wanted some new clothes to wear that didnít have overly visible logoís that would be picked up on camera. You canít wear any clothing with visible logos on them which makes the process hard because you cant bring in your normal everyday clothes.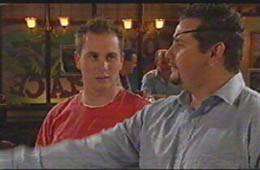 Tuesday 12th October

I leave my house at about 2:30pm and make my way towards Global Television in Nunawading. Since the location is about 40 kilometres away from my house I like to leave at a reasonable time and it can also be very busy going there. Once I arrive to the location, itís straight to the car park, grab my clothes out of my car then walk up to the security point. Once Iím at the security point I tell the guard who I am and why Iím there, to which I get my name ticked of on a piece of paper then itís off into the studios. Once you walk into the studio you follow the blue arrows and at about halfway to the extrasí green room you check in at Neighbours wardrobe. I then see a wardrobe lady and I tell her who I am to which she ticks my name off and I show her what I have brought to wear. They decide what you wear and what you change into for your second change etc and write down what youíre wearing so they can keep check on everyoneís clothing. If you need some clothes, they lend you some, and let me tell you Neighbours wardrobe is one mighty big place. You then leave the wardrobe and make you way of to the extrasí green room. Once inside, I usually recognise a majority of the extras from other times I have done work on the show. You then sign your pay in sheet which verifies you came in and list all the details of what you are doing and what episodes you are on. You then wait in the extrasí green room, which consists of a television with a very bad aerial (unfortunately you donít get the live feeds from the camera that the old extras green room had) and also has some magazines to read. I normally chit chat with the other extras and at some point in time the second assistant director will come in and say ď15 minutes guys, weíre running a bit behindĒ or whatever the scenario may be on that day.
He will then return and get the extras when needed and we follow the second assistant director into the studio. Iíve done it so many times that Iím used to it but itís all very different to what you see on the television. It mainly consists of extras miming and just following the directions of the Second Assistant Director. When itís on the television it comes up a treat it looks bigger and it looks like it always does on the TV but in real life the sets are nothing overly exciting. Also with post production they add in all the music and the background noise. The crew is setting up the scene. This one is being shot in a hair-dressing salon. Then the Second Assistant Director comes over and explains the scene to us. If you hear anything unusual react to it, so of course it will be like a real life place were background people are equally as shocked as real life people would be. We are then each individually given directions as to what to do and when to do it. They run through a few rehearsals, some more changes are made, and they're ready to shoot the scene. When the time comes for another scene depending on whether or not it is in the same episode you may or may not be told to have a wardrobe change. Itís very funny the amount of times extras have to go about their business, and it can become somewhat repetitive, for example if an actor makes a mistake with his line and you have to reset and do your stuff all over again. When finished, you get told itís a wrap then itís back to the extras green room to grab your property then off home.
With being an extra the time can vary hugely. It can be just 45 minutes or it can be hours. It can also be at 7:15am or it could be at 3:30pm. I have also had the enjoyment of chatting to many of the cast members who are very nice people. Iíve appeared in many Neighbours episodes - my tally is now up to 69. Some of the most memorable ones were playing Zacís mate #2, being in the Coffee Shop while the ďAfro HaroldĒ television commercial was made, but by far the best of the bunch being in the Virginia Weidler fan club when Sky introduces Serena to her friends. Myself being one of them, I was given the identity of ďAaronĒ and got introduced to Serena by Sky. Sky went on to inform Serena that I was the one who introduced her to the whole Virginia Weidler fan club.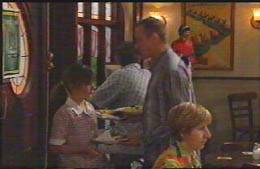 Itís amazing how thingís work out sometimes, I remember once watching the live feeds in the extrasí green room and seeing an actress playing the piano in Harold Bishopís home. I was thinking ďwhatís this silly scene with this girl playing on the piano?Ē. Little did I know that the person I was watching was Delta Goodrem and she would be one of the most successful people to come out of Neighbours. Incidentally I once talked to her in the Coffee Shop and she seemed like a very nice person.
Thanks to Steve