.


Features > Only A Footstep Away: Ben Nicholas Gig by Edd
The Date: Thursday 21st February 2008
The Time: 10.30pm
The Venue: Walkabout, Derby

On a frosty February evening, I and a couple of friends walked the short distance to the Walkabout pub in Derby. Soap stars are more than familiar with the university circuit and now it was Ben Nicholas' turn to woo the local tax-dodging students with his band – Lucas (despite their name being 'The Rayz' on the promotional posters). Having had a nice hearty meal at another pub before hand, we arrived nice and early at Walkabout awaiting Ben's appearance. This gave us plenty of time to seek out the best place to see the stage and to get a few beers in.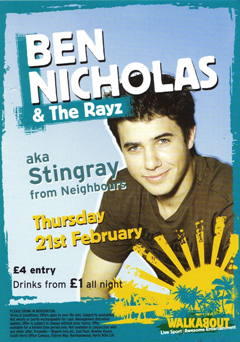 Around an hour or so passed and the venue was filling up nicely. The DJ did his best to keep the atmosphere going by reminding us that 'Stingray was in the building' several times. This however turned out to be a complete lie as just past 10pm, in walked Ben's band mates from Lucas, soon followed by Ben himself who was flanked by a rather menacing bouncer (not the dog).
Lucas took to the stage for a sound check while Ben acquainted himself with the bar, although he only had what looked like a glass of water, which was a relief, considering Stingray's battles with drink. Surprisingly only a couple of moments later and Ben quickly went on stage, but only to tell us all that Lucas were going to play a few tracks first to warm us up and that he'll be on later. As disappointed as I and most of the crowd were Lucas performed a fairly impressive set. Rock anthems such as Smells Like Teen Spirit and Back In Black soon got the crowd going. Ben meanwhile stayed perched up against the bar, but still close to the stage and the bouncer. Some people began to approach him and have their photo taken and I patiently waited for the right moment and to find enough courage to do the same. Eventually I seized the moment, walked up to Ben and shouted in his ear: "I'm Edd. I'm from The Perfect Blend".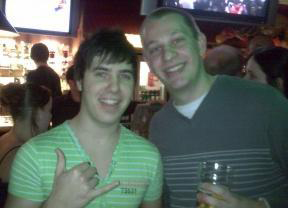 It was so loud inside and very difficult to hear but Ben responded, "Ahh, I know you guys. You're cool", following which he eagerly shook my hand. Not quite sure on what to say next I asked Ben if he'd mind having his picture taken with me to which he happily agreed to. A very kind friend of mine took the photo and afterwards I thought it best to leave Ben to it, especially seeing as his band mates were still performing at the time. I wished Ben good luck for his performance ahead, to which he replied in typically Aussie fashion with "Cheers mate".
As I scuttled back to our original standing position, I was delighted to have been able to meet and chat to Ben. Only a few moments later the guitarist from Lucas said to the crowd: "You might know this one", and slowly started to play the Neighbours theme tune. Lucas, who were sporting red shirts with their band name emblazoned across them sang the theme tune first, before finally Ben got up on stage and joined in on the Neighbours fun, singing the theme tune one more time. The crowd absolutely loved it and their second performance of the theme brought upon a rockier, wilder version and Ben soon injected his 'Stingray style' level of energy into the performance.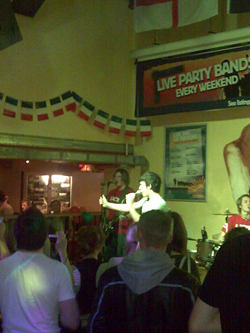 Ben and his band performed a variety of different music and it was a particularly nice touch for them to play a slower, funkier version of Superstition by Stevie Wonder, much akin to the sound of Ben's former band, Batman Street. Somewhat surprisingly Ben also displayed his rapping talents as he successfully wowed the crowd with the rather bizarre choice of song, The Fresh Prince of Bel-Air theme. Nonetheless it brought a smile to my face and the crowd loved it. Recent rock anthems such as Mr Brightside and I predict A Riot were performed well and I noticed that they'd slightly altered one of the lyrics to I predict A Riot, changing "Walking through town is quite scary" to "Walking through Derby's quite scary" – ironic, considering Derby is the most haunted town in the UK. A throwaway line or did they do their research?
Their set lasted around an hour, but it seemed to go very quickly. Afterwards Ben mingled with the crowd for some more picture-taking. Despite the event being advertised as Ben Nicholas and The Rayz I was keen to find out who exactly were Lucas. I managed to speak to the manager of the pub, but only by chance and he reliably told me that Lucas were the band Ben meets up with when he's in the UK. To my surprise the manager handed me a free Walkabout shirt for showing my interest which was nice and soon it was time for Ben to leave. Ben grabbed his bag and his band mates from Lucas waited for him at the door as Ben held them up by taking a phone call. Maybe it was Janelle reminding him not to be too late home? No, of course not. But after a few moments, they all quietly left the building together.
By now it was nearing 12, so Walkabout was beginning to close, so we all decided to slowly amble our way back home excitedly discussing Ben's performance and reminiscing about Stingray. Well, okay I lie. It was only me who was doing the reminiscing…