.


Features > Only A Footstep Away: Queensland Flood Fundraiser by Mark
The Date: Monday 24th January 2011
The Time: 7.00pm
The Venue: The Elephant and Wheelbarrow, Fitzroy Street, St Kilda

The Neighbours Nights have been a staple of Ramsay Street fandom for years now. Every Monday night at the Elephant & Wheelbarrow Pub in Melbourne's St. Kilda, loyal viewers flock to pay homage to the show, meet some cast members and be entertained by Alan Fletcher (Dr. Karl) performing with his band, The Waiting Room. But this week, the event was more of an Extravaganza with a whopping 20 cast members turning up to raise funds for the victims of the dreadful Queensland flooding. Since December, the floods in Queensland have turned into one of the worst natural disasters in Australian history with at least 25 people tragically losing their lives and many, many more people losing their homes and livelihoods.

Having put together a very successful fundraiser night back in 2008 in the wake of the Victorian bushfires, Alan Fletcher and the people behind the Neighbours Nights decided to do something similar to raise some much-needed funds for the massive clean-up operation ahead along Australia's north east coast. Alan managed to get 20 current and former cast members to donate their time and come along to the event to meet fans and pose for some pics. The producers of Neighbours (who were there on the night to show their support) also donated some fantastic memorabilia to be auctioned off and music was provided by Ginger & Tonic (a four-piece acapella group featuring Sheona Urquhart aka Kate Ramsay's nemesis Candace), Sam Clark (Ringo), Stefan Dennis (Paul) and, as always, Fletch.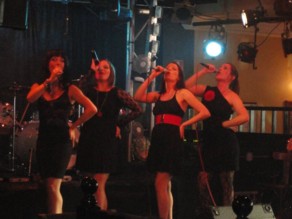 The night got off to a great start thanks to Ginger & Tonic. As the girls impressed the crowd with fresh twists on modern hits such as David Guetta and Kelly Rowland's 'When Love Takes Over' and classics Michael Jackson tunes, the eagle-eyed viewers in the crowd began to realise the dastardly Candace - who had almost ruined Kate's career as a dancer and contributed to her break-up with Declan - was one of the singers. The girls proved to be a welcome warm-up act and after they finished their set, The Backpacker King George Josevski took to the stage to introduce the cast one by one. Rows of seats had been set up on the stage and excitement built as everyone in the crowd began wondering who was coming. There were rumours that Libby would be there, and "the real" Declan... People quipped that maybe Kylie would even put in an appearance.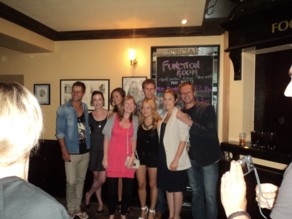 First out were the Timmins clan - Damien Bodie (Dylan), Ben Nicholas (Stingray),and 'mum' Nell Feeney (Janelle). Next out were 'brother and sister' Boyd and Summer aka Kyal Marsh and Jordy Lucas. It was mentioned that it was the first time Kyal and Jordy had met since Jordy took over the role of Summer last year. Patrick Harvey, who played Irish backpacker Connor, felt quite at home when he took the stage given so many of those in attendance were from the UK and Ireland. Then some of the latest crop of Ramsay Street residents came out - Sandy Winton and Valentina Novakovic, who play father and daughter Michael & Natasha Williams, Eve Morey (Sonya) and newcomer Gemma Pranita (Jade); Ashleigh Brewer (Kate Ramsay), Scott McGregor (Mark Brennan) and Scott Major (Lucas); and the current crop of youngsters - Jordan Patrick Smith (Andrew), James Mason (Chris) and Chris Milligan (Kyle). Receiving some of the warmest welcomes were two recently departed cast members - Sam Clark who was sporting a very non-Ringo looking shaved head and longtime stalwart Carla Bonner (Steph) who was given a rapturous welcome by the crowd. The final two to appear were original cast member and all-round legend Stefan Dennis and the actor who had organised the whole thing and persuaded so many cast to give up their time for free in aid of a good cause - Alan Fletcher. Alan brought a friend up on stage with him and announced it was actress Lyn Semler, who die-hard fans will recall played the deranged Jill Weir back in the early 1990s. Alan then welcomed the crowd, talking a little about the reason everyone was there - the dreadful floods that ravaged the country before answering two questions he got asked each week at the events - "No, Susan Kennedy is not covered from head to toe in tattoos and no, I don't hate these Nights, I love them!" On the latter point, Alan talked of how it is wonderful for actors to get a sense of what the audience thinks because when they are actually filming the show, it takes place in cold studios with no feedback from the viewers. Doing the Neighbours Nights allows them the chance to mix with the viewers and it is fair to say that throughout the night it was very evident that Fletch gets a huge kick out of his involvement in Neighbours.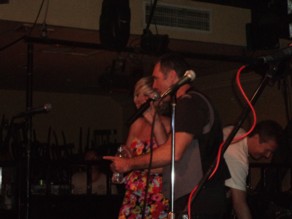 George (The Backpacker King) then asked the cast a few questions before the real excitement got underway as the actors began mixing with the 400 plus fans who had turned out for the event. Some of the cast gathered in groups at opposite ends of the pub to allow people line up and have their chance while Carla Bonner, Alan Fletcher, Stefan Dennis, Nell Feeney, Damien Bodie, Ben Nicholas, Kyal Marsh, Sam Clark, Scott Major and Patrick Harvey all dived into the crowds and mixed freely. All the guys were predictably mobbed by their adoring female fans and it was quite evident that 'Stingray' and 'Boyd' were still incredibly popular despite the years that have passed since their departures. There was particular affection on display for the recently departed Carla, and she spent quite a while making her way through the pub ensuring everyone got a chance to talk to her.

Safari Pete - well known to backpackers across Australia and a regular MC at the weekly Neighbours Nights - auctioned off the impressive amount of Neighbours memorabilia that was on offer. There were copies of the Erinsborough News, menus from Lassiter's Hotel, one of Donna's Shrugalaros, a Harold Bishop fishing shirt, cast photographs and Ramsay Street signs. A script of the first ever episode from 1985 went for $950, and Stefan Dennis and Alan had a bit of fun reading a scene from it at one point.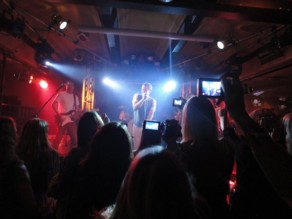 Sam Clark kicked off the live music then with a number of his tracks, including his single 'Send Me a Sign' which his character Ringo had performed on Neighbours last year to mark the first anniversary of Bridget Parker's death. Stefan Dennis was next up and although he didn't treat the crowd to a rendition of his 80s classic 'Don't It Make You Feel Good', he did rock it out with Beatles classics and more. Stefan also threw out a welcome to former Neighbours director Rod Hardy who had also come along. Rod now works in the U.S. and has directed the likes of Battlestar Galactica and Burn Notice but he will always hold a special place in Neighbours history for directing the iconic Scott and Charlene wedding episode in 1987. Finally, the legendary Fletch took to the stage and anyone expecting Karl warbling 'Free as a River' or 'River of the Soul', had come to the wrong place. Alan proved once again that he is a consummate musical performer - he brought the house down with a terrific mix of anthems from the likes of Kings of Leon and The Arctic Monkeys as well as some of The Waiting Room's own material. There was also a particularly moving rendition - in light of why the event was taking place - of Snow Patrol's 'Chasing Cars'. Alan also paid tribute to the long-running and complex ups and downs of the Karl/Susan marriage by adapting the lyrics of 'Living Next Door Alice', replacing Alice in the chorus with the cry 'Who the F*** is Susan?' and humorously setting out to explain the ins and outs of Karl's affairs and marriages over the years. It was very, very clear throughout the night that Alan Fletcher loves Neighbours and is fiercely loyal to it and proud of it - the series has a truly great ambassador in Fletch.

By the end of the night, a staggering $22,607 was raised for the Queensland flood appeal. It had been a fantastic night, thoroughly enjoyable and filled with good humour and camaraderie. The people present - cast, crew and viewers - all certainly engendered the spirit of Neighbours and no doubt there will be many more great Neighbours Nights to come.
Notes: There will be further Neighbours memorabilia auctioned off in aid of the flood appeal at the Neighbours Night on 31st January. If you would like to donate to the Queensland Premier's Disaster Relief Appeal, please click here.