.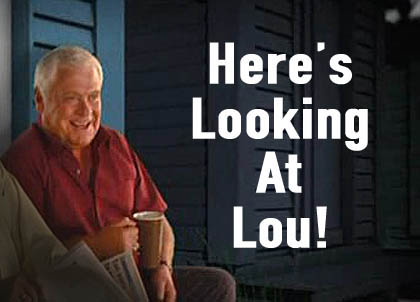 Features > Here's Looking At Lou! by Steve
Tom Oliverís career spans over four decades, but for the last two of those, heís been most associated with one role Ė wheeling dealing, dirty laughing used car salesman and publican Lou Carpenter. 2008 marks 20 years since his debut as Lou and here we look back at some of his finest momentsÖ

LOUíS ARRIVAL
March 1988 saw the first appearance of Louis Carpenter, and from those first episodes it was clear that many a heart would be broken Ė with plenty of wheeling and dealing on the side. Lou had arrived in Erinsborough to try and win back the heart of Madge Ramsay, the girl heíd lost in high school, and who was now engaged to another of their old high school friends, Harold Bishop. What followed was a brief, but classic love triangle that culminated in Madge throwing a bucket of water over her warring suitors, before Lou scuttled of back to Queensland, not to be seen again for four years.
PROPOSING TO MADGE
In 1991, Louís little sister Brenda and his son, Guy, made Ramsay Street their home and, of course, he wasnít far behind. Returning early in 1992, Lou found Madge on her own, with Harold missing presumed dead following an accident a few months earlier. He wasted very little time in trying to win her heart once again, and, having come to terms with her loss, Madge agreed to start seeing him and they seemed destined to be another classic Neighbours pairing, with comedy stories including a trip to a nudist colony, but when he proposed to her later in the year, Madge realised that her heart wasnít truly in it, and left Erinsborough to be closer to her family in Queensland.
LOUíS CHILDREN
As he joined the regular cast in 1992, Lou was the proud father of two Ė Guy and Lauren, each of whom spent a year living with him, at different times, in Ramsay Street. Where he had problems in his relationship with Guy Ė which was more of a power struggle than a father-son relationship Ė Lou was very close to Lauren and was upset when she headed back to Queensland. Soon after, Lou had more kids than he knew what to do with, becoming quasi-stepdad to Brett and Danni Stark after becoming involved with their mum, Cheryl, who then fell pregnant and gave birth to little Louise, known as Lolly. As if that wasnít enough for one man to cope with, he then learnt that he had another daughter, Ling Mai Chan, as a result of a fling heíd had whilst in Hong Kong as a young man. Though he kept in touch with most of his children, his relationship with Guy remained strained, and he was always closest to Lauren and Lolly.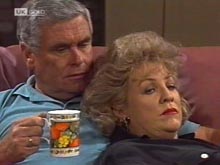 LOU AND CHERYL
Arguably Louís best love match came in 1993 when Cheryl Stark bounded into his life. A Lotto winner and bar owner, Cheryl soon set her heart on Lou, buying up every car in his car yard until he paid her some attention. The relationship didnít last long though, as Cheryl realised that Lou didnít really want to be with her, but she returned later in the year, buying 22 Ramsay Street and finally winning Louís heart. Though they quickly settled down together and had a baby, marriage was always a sore point and they never quite made it that far. The relationship broke down after Cheryl was kidnapped whilst in South America helping out her son, Brett, and returned having had an affair with fellow hostage Charles. Realising that relationship was beyond saving, Lou left Ramsay Street, and Cheryl behind. He returned a few weeks later (in real life, Tom Oliver had been axed by producers, then supposedly reinstated after fan protests) to find Cheryl dead.
LOSING LOUISE
With Cheryl gone, Lou found himself as young Lollyís sole guardian, but they soon formed a family with Cherylís mum Marlene, and another of her children, Darren, who had recently been released from prison. As time went on, Marlene, then Darren, moved away, leaving Lou to raise his daughter alone. They made a happy little team, until 2001, when a letter arrived to change everything. Lou learnt that Cheryl had cheated on him early in the relationship, and a man named John Allen was Lollyís biological father. After a custody battle, John and his wife, Sandy, took Lolly and moved away, though she returned to stay for a few months in 2007.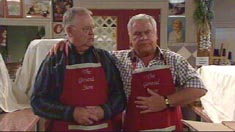 FRIENDSHIP WITH HAROLD
Ramsay Streetís most enduring friendship was that of two men who had once been enemies; Lou and Harold. Having fought over Madge for years, her death and Lollyís departure in 2001 left Lou and Harold with only each other to rely on. During several spells living together, they regularly fought like cat and dog, but could never admit how much they needed each other. In 2005, their friendship extended to a business relationship when they opened Bishop & Carpenterís General Store, another location for them to have regular disagreements. The bickering continued for three years, until Harold decided to pack up and go travelling around Australia, leaving Lou devastated to be losing his best friend, but struggling to come up with the words to explain how he felt.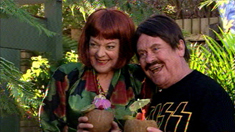 THE OTHER WOMEN IN HIS LIFE
Though Madge and Cheryl were the two big loves of his life, Louís had a few other partners during his Neighbours years. After Cherylís death, there was a brief relationship with tax inspector Carol Maitland, but it was a few years before he found himself being fought over by Valda Sheergold and Trixie Tucker. Louís flirtations with Valda had never truly come to anything and, while she was out of town, he ended up falling for songstress Trixie. The pair were married Ė despite a loud protest from Valda Ė but it lasted mere months before she was fleeing, ashamed of making Lou invest in her disastrous production of Hello Dolly. In 2006, Lou found love again, with Russian internet girlfriend Mishka Schneiderova. Though Mishka and Lou made a strong pairing, things were doomed to fail due to her illegal entry to Australia. With Mishka back in Russia, things petered out.

Cast Tributes
Some of Tomís current and former Neighbours colleagues pay tributeÖ
Tom was a joy to work with. He is always prepared for work with a good spirit and attitude to the collaborative process of creating our particular on screen"marriage" which was far more unconventional at the time than what Neighbours had previously presented for their central families. This was heralding the generational shifts that were occuring in the real community and thus it was quite left field for Lou. But for Tom he was always up for innovation and embraced willingly walking a fresh path which is why Caroline & Tom made Cheryl & Lou such a watchable union.
Caroline Gillmer (Cheryl Stark)
I knew Tom Oliver long before he was in Neighbours. In fact he was probably in a hit show called No. 96 when I first met him. He was a honey then and heís a honey now. Heís always been a true professional and a first class actor. He took on the role of Lou Carpenter and brought humour, skill and accomplishment along with him. Lou has been in many memorable Neighboursí moments over the past 20 years. Heís seen many come and many go and I must say Iím delighted he's still bringing his vigour and expertise to the show. My character of Rosemary and Tomís character of Lou, did not really have too many scenes together over the years but there was always a lot of laughter and good feeling when they did get together. Congratulations on your 20 years Tom! Youíre one of the best.
Joy Chambers (Rosemary Daniels)
When most people think of Tom Oliver they think of the lovable rascal Lou Carpenter. I have had the pleasure of seeing Tom create many wonderful and varied characters throughout his career. Characters that have all shown what a truly wonderful actor he is (I used to watch him when I was still at school!). Tom brightens up the Neighbours set with his charm and enthusiasm for life. I couldn't imagine the show without him.
Alan Fletcher (Karl Kennedy)