.
Interviews > Lucy De Ville
It has become somewhat of a cliché that if you have starred in Neighbours you have to release a record, so why should that change? Marcella Russo and Marisa Warrington are the latest to try their vocal cords out in their new band Lucy De Ville. Making up the three-piece is Shaun Gardener, who has had success with local Melbourne based band 21/20, and maybe less success as a Neighbours extra back in the 80s. They all kindly invited me to the recording studio to see them record their debut album, as well as to take some time to chat about their music and their plans for Lucy De Ville…
Firstly how did the band name come about?
Marcella: The band was originally going to be called Salvation Jane but there were two other bands with that name in Australia. So I had a bit of a think and I thought it would be kind of fun to use my nickname at work (Lucy) and after going through a list of various option I came up with Lucy De Ville during an afternoon sleep. The name was agreed on by Shaun (Marisa wasn't in the band at that time) pretty much I think cause we had a gig coming up and we needed a name.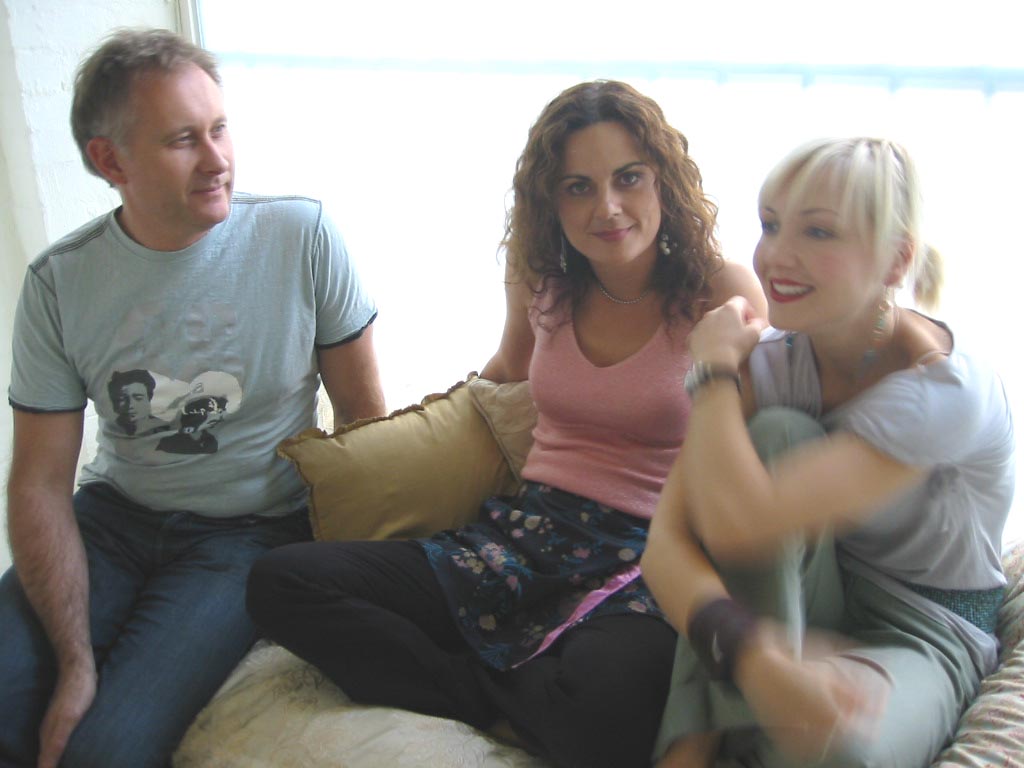 Why is your nickname Lucy?
Marcella: The nickname Lucy came up from two different sources at work. 1: our location camera man Geoffrey Biggs nicknames pretty much everyone at work and when I introduced myself as Marcella he said "hello Lucy" to which I replied "Nice to meet you Daphne" and 2: one day not long after that I was having a day of running into everything and dropping all the props and Kevin looked up at me and said "Lucy you got some 'splainin' to do" (a la Lucy Ball ) and we kind of have been Ricky and Lucy at work ever since.
How did the band come about?
Marcella: Lucy De Ville started when my real life neighbour Shaun Gardener and I worked together in an original band called Swallow. When that band broke up, we started writing together and enjoyed the sort of music we were creating and the band evolved from there.
Do you write all your own material?
Marcella: Yes.
What genre would you say your music falls into?
Marcella: Acoustic, laid back, with a hint of jazz, a wee dram of pop, melodic, chick music.
Shaun: Acoustic pop.
Marisa: We often discuss this and I don't think it falls into a particular genre but have you ever heard of the band Pitch Shifter ? Well it's nothing like that.
Who are your main influences?
Marcella: Musically I'm a bit all over the shop in what I like to listen to but when I write anything can influence from a band to the smell of bread baking.
Shaun: Marisa and Chel - both of them bad influences.
Marisa: Sarah McLachlan, Jack Johnson, Gwen Stefani.

You recently did your first major performance at the Neighbours Rocks For Aids concert, how was that for you?
Marcella: Jonathon Dutton from Cranky Fish and Ben and co from Events Australia pulled everything together so smoothly that all we had to do was rock up and play and it was brilliant fun. We had this huge rig that a big metal band playing the following night lent us, so we had all this sound and all these lights and room on stage - big fun! Also we had 3 talented, generous musos who offered to play with us that night and we haven't had a full band with LDV up til that point - so we were just on this huge high.
Shaun: It rocked.
Marisa: I don't know - you were there Karl - how was it?
Karl: An amazing night of course!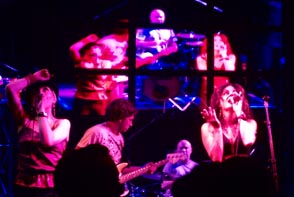 Have you ever been tempted to break into a Lucy De Ville version of the Neighbours theme at one of your gigs?
Marcella: Haha! Never occurred to me.
Shaun: Yes.
Marisa: No but I've been tempted to break into one of their houses.
There has been a lot of support on our message board for you to tour the UK. Will you be bringing Lucy De Ville over seas?
Marcella: That was our original plan but although we have had a lot support from fans we can't seem to get any of the promoters interested so we will have to go to plan B… well, first we have to work out a plan B, then we'll go to it.
Shaun: That's up to the powers that be.
Marisa: That's not true - I am touring the UK right now - oh hang on that was just a dream. We would absolutely love to tour the UK but we need a ground swell of support.
Although you are not touring the UK yet , are you doing gigs in and around Melbourne. Where can people see you?
Marcella: We play at various venues and if you ever want to find out where the next gig is just log on to www.lucydeville.com and check out the gig section.
Obviously you have heard that Alan Fletcher and his band Waiting Room had a massive response in the UK, what do you think to that and their music?
Marcella: I saw how hard Alan worked to get the CD ready and get everything together to go to England with the band so I had my fingers crossed that it would all go well. And in typical Alan Fletcher style - he did brilliantly. I've got his CD in the player all the time - it's great!
Shaun: He's a talented guy and deserves every success.
Marisa: I am so proud of him - he's fabulous!
Now you are currently recording your album, what can you tell us about that and how will people be able to get their hands on a copy?
Marcella: We have been blessed by Phil Webster and Risk Studio- who have pretty much allowed us to run rampant in their studios and James Ashton, who jumped on board and offered to record and produce the album with us. I mention this because it was so great to find people who believed in our music and because there is no way that we could accomplish this without them. It is sounding great by the way and we will be putting little snippets up at various times on the LDV site for some sneak previews. At the moment we are only planning to release the album through our website and CD baby.com - but if anything further happens along those lines, we will definitely let you know.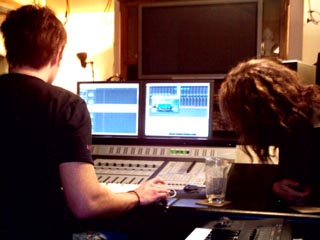 What are your hopes for Lucy De Ville?
Marcella: I hope we will write and perform the music that I love and that it will find a home in the world.
Shaun: Just to do the album and take the band on tour… and maybe a number one in Europe and America… you know, not much.
Marisa: I want to finish the album and take the band on tour and I want Robbie Williams to stop hassling me to do a duet with him!

Visit the Lucy De Ville website here
Interview by Karl. Added on 23rd July 2005