.
Interviews > Brenda Addie
An established actress, Brenda Addie is perhaps best known to Australian television viewers for her role as Barbara Taylor on the early 1990s nighttime soap Chances. Brenda is also one of a handful of actors to have appeared on Neighbours in more than one role. We caught up with her to reflect on her time in the series...

How long have you been acting?
I've been acting in episodic television for a very long time. Anne Phelan from Something in the Air and myself were in Bellbird together before colour television! Ian Smith (Harold Bishop) was in Bellbird with us. He was slim, young, dark-haired and quite a dish! Don't tell him I said so...
Just before you appeared in Neighbours, you starred in the adult soap Chances. Tell us about your time on that show?
Chances was a most interesting experience. It's become a bit of a cult thing now. In a way it was a forerunner of the more slick and glamorous and risque types of soaps. But to look at it now it's a groan! Cathy Godbold and I were good friends and I kept in touch with Yvonne Lawley, who played my mother, until her passing some years ago. Jeremy Sims was a very eager young man who has proved himself as an actor over the years. Chances was his first job. Series television is always a compromise - it's not like film where you have more time to get it right.
You first appeared on Neighbours in 1993 as Beth Brennan's mother, Bunny Lawson. How would you describe the character of Bunny?
I can't remember very much about the character of Bunny except I think she was rather disapproving.
What was Natalie Imbruglia like as a daughter?
Natalie was an absolutely gorgeous girl. At that time, I was brought in as her mother because she was leaving the series. You may remember that she and Scott (Michaelson, who played Brad) got married. Natalie had decided to pursue her singing career and of course she did. She was very sweet and most professional.
What are your memories from that stint on the series?
I had just come out of Chances and went in to Neighbours and the most significant thing I remember was that Beth's abortive wedding was recorded at Port Phillip Bay and we had done a similar wedding scene on a yacht in Chances. Also remember working with Sue Jones (Pam Willis) who is a long time colleague. In fact Sue and I both auditioned for both Neighbours and Chances, she got one and I got the other. I think I might have been better paid. But then she got five years and I only got two! I also remember Rachel Blakely (Gaby Willis) from that time, who I thought was a super-looking girl and a good actress. She's done some excellent work since Neighbours.
Your next appearance on the show was in 2001, playing Rhonda Wilson, the mother of Sheena, who tried to seduce her daughter's boyfriend, Toadie. How would you describe her?
Rhonda is fresher in my memory. Rhonda's character was quite over the top - I mean who would want a mother like her? Anyway it was Toadie's storyline and Ryan (Moloney, who plays Toadie) has a very particular way of doing his work and as a support actor that is what you are there for - to get the main character's story happening. It was fun, apart from the fact that we were filming the location scenes in the rain and I was losing my voice. I think it was a smidge better by the time we got to studio!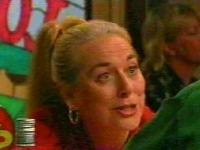 How did working on the show in 2001 differ from 1993?
Neighbours is a totally different style in the show now. You will notice it from the reruns. It has a different pace and delivery. It's difficult to know as a guest actor whether to pick up that style or try to be a bit different. Tricky decision - you could stand out as an old fogey who couldn't keep up the pace or you could look like an old fogey trying to look like a groover and look like an idiot! See what I mean? Neighbours is always fun. Peter Dodds the producer was a director on Chances, so we go back a long way.
What projects have you worked on since last appearing on the show?
I've done a couple of guest roles in Blue Heelers - one an obsessive compulsive who was having an affair with her brother in law and was accused of sawing him into a million pieces and the more recently as a pill-popping fashion designer whose son is trying to get her business. Heelers has changed considerably too. Everyone is upping the look and the style. I think it works quite well. But then again it's only one episode a week. More time to develop characters and not such a gruelling schedule. But after a while they all begin to get a bit like a factory - in, out, start again next week. It's very hard work and very hard for the actors to keep fresh so good on 'em for hanging in there.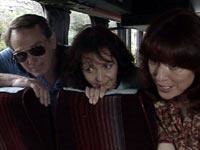 I also write and work for a film production house. I was the assistant to the producers on the Rachel Perkins film One Night The Moon and produced the Making Of One Night The Moon segment on the DVD. I also develop new projects. I've researched and written a world music series and currently I'm writing and researching a documentary about the Australian guitarist Slava Grigoyan. I do a bit of theatre every now and then. I was last seen at the Carlton Courthouse in a series of plays called School and my own play Bedroom Blues had a professional play reading there in preparation for rewrites and presentation to a major theatre company. I love acting but I think writing provides the greater satisfaction for me. It's slow, it's lonely and no one knows you are doing it - it's very different from being in the spotlight.
How do you look back on your time on Neighbours?
Neighbours was always fun. I lived in London for a long time and my then husband had relatives in Scotland who I never knew or spoke to but when they saw me on Neighbours, I was their long-lost relative and they wrote to Australia to ask me to send them a signed photograph of myself. Ah, the power of telly!
Interview by Moe. Added on 26th April 2003