.
Interviews > Jade Amenta
The daughter of veteran Australian director, Pino Amenta, Jade Amenta was plucked from Hoppers Crossing Secondary College in Melbourne at the age of 14 to play Todd's girlfriend, Melissa Jarrett in Neighbours. What started as a two-month role on the series turned into a two-year stint as a regular character, and Melissa, along with Todd, Josh and Cody, became one of the popular young characters of the early 1990s. We caught up with Jade to find out what she's been up to since her Neighbours days, and to look back on her part in the Ramsay Street saga...
Can you give us a background on your acting career before Neighbours? Was it something you always wanted to do, given your father was involved in the industry?
Before Neighbours, I had no acting experience whatsoever- professionally speaking. My brother, sister and I all loved to go to work with dad and hang out on set with all the crew, and play with the makeup and scripts and so forth. We were known as 'Pino's kids', and still are if we are ever in the entertainment environment. We all wanted to act, but I pestered and pestered my dad (who wasn't living with me at the time) to get me a good acting teacher, which he eventually did...
How did the role of Melissa Jarrett on Neighbours come about?
The acting school I went to was run by an actress named Diana Greentree [who played Rose Kirk on Neighbours], and I was going through a rough time in my teens at that point, and going to those classes was the highlight of my week. I had no insecurities there and thought that it was the only activity I had any confidence doing. There was one particular class when I played a school principal and afterwards, other students complimented me on the performance, including the teacher. I was in my element!!! The next class Diana told me about the role of Melissa on Neighbours and that she could organize an audition for me if I wanted to. All the students were buzzing because, through this class, this was a rare opportunity.
Had you watched the show before landing the part?
At that time, I hadn't watched Neighbours for a couple of years. But Neighbours is one of those shows which you can tune in and out of for a few months or even years, and, as long as there's one familiar face or interesting family, you can get straight back into the habit of watching it regularly.
What can you remember about your first day on set? Was it a daunting experience?
I remember a lot of make-up and sitting around. I didn't find it daunting at all. It might have been because I was used to that environment, and the only difference was that I was to play a part in the action. It was natural. I look back on those performances now though, and I cringe at how inexperienced I was and how much better I could've been, now that I am older and far less impressionable. But hey, retrospect is a luxury they say!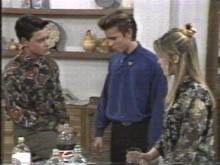 How would you describe the character of Melissa Jarrett?
Melissa Jarrett was initially introduced as a flirtatious character, and then did an about face to a much more wholesome, demure person, due to the introduction of Cody Willis, who was decided to be much more sassy and cheeky overall to the storylines they had in store for her. So Melissa was then written to be her opposite, the voice of reason. As a snide, egotistical 14 year-old this used to annoy me! She was the opposite of Jade Amenta, and when you are an inexperienced actor, you don't know where to go from there, the character itself becomes a challenge, not just the daunting struggle of acting. Incidentally, I have since noticed young actors in the same position, who slowly sneak a lot of themselves into their character, all the better to seem natural and at ease.
Melissa was a significant character in that she suffered from epilepsy. Did you do any research into the illness when you learnt your character was to be epileptic?
I didn't research epilepsy, as the storyline only came up once or twice, but I did ask my mother about it and also did some appearances through the epilepsy foundation.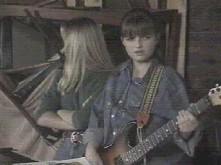 Do you have any favourite storylines from your time on the show?
I loved the storyline when Cody and Melissa wrote a song about the environment. It was so fun! We got a copy from channel 10 of the song and had to go home and learn it. It was all so funny. The director made us take it down a few notches, saying that Cody and Melissa were to be fairly average singers. I loved singing and showed off my voice at the time, all to be told to sing badly instead! I liked the silliness of it.



Who did you most enjoy working with on the show, and why?
I liked working most with Ian Smith. He was the most professional actor there without being w#nky about it. He could bring the best out in even the most untalented actor. He made me respond without being conscious of it, and was completely unaware of this effect. Put simply, when I played a scene with him, I believed every word he said and thus, found myself believing more in what I was saying.
As a younger member of the cast at a time when, unlike today, the majority of the cast were older, was there much socialising amongst the younger cast?
Amelia Frid (Cody) came from a different background, and everyone thought I was a terrible influence on her. But we hung out sometimes, once or twice crashed a few parties at Jeremy Angerson's (Josh) house. He was living with Richard Norton, who played Ryan, at the time and they were much older than us and had their girlfriends over, and I guess we tried to impress everyone and partied as hard as the rest of them. But that's what teenagers do!
What led to your decision to leave Neighbours in 1991?
My decision to leave was based on my school marks. I was going into the first part of my VCE and my marks were becoming pretty average. As much as I wanted to be an actor and work forever, I knew it didn't work that way and needed to think about a 'back up' career.
What did you most enjoy about your time on the show?
I most enjoyed the confidence boost it gave me. Also, it made me understand my father on a different level and respect him even more than I already did. I appreciate the hyper-learning it gave me in life, and all about egos, and how easy it is for kids to believe they have power because the rest of the world treats them like they do. What true self-acceptance is made of and that, after coming out of that particular experience, that you cannot listen to anyone else's hyped up idea of you. Hey, some cliches are true!!
What have you done since your Neighbours days?
I have done lots and lots since my Neighbours days. I have performed in a few short films that probably nobody has seen, I played the molested daughter of a star in a profit-share play at the Carlton Courthouse in Melbourne called Rain, in 1996. In 1997, I played Angela in a two-character play at the Universal Theatre called Three Dreams Of Drowning- A Journey Into Madness. The play was about a young couple trying to live together for the first time, it was described by critics as 'Seinfeld on acid'. I studied teaching at Melbourne University, during which I worked as a chef to support myself. I ended up leaving uni and pursuing the career of a chef instead, which I am currently still doing. (I have been a chef for 9 years now). For a while I wrote a few screenplays, none of which happened, one feature and three shorts. I have travelled the world four times since then and am about to get married overseas....
Have you kept in touch with any of your former co-stars?
I don't keep in touch. My dad has passed on a few hellos here and there. My sister thought she saw Amelia one day and said she had grown really tall and looked beautiful.
Do you ever watch Neighbours now? If so, what do you think of it?
I do watch the show now, for old time's sake. I can never watch it in the same way again though, and now I watch it with understanding of what the actors are most likely doing/ thinking etc.
What do you think has made Neighbours such a huge success?
Neighbours was the first TV show that was light hearted and was about ordinary people. I think it's success lies in the formula of creating dynamics between families which each represent a part of society i.e., economic status, positions in community etc. The interesting part is that they all have to get along, despite what each unit represents. So everyone can relate to someone, and then subconsciously look to how they can somehow relate to everyone else, meaning, metaphorically, the place in society and therefore the rest of the world!!! And as long as conflict happens, and everyone is different, this show will stay successful!
To read a full character biography of Melissa Jarrett, click here
Interview by Mark and Aaron. Added on 14th November 2003