.
Interviews > Georgina Andrews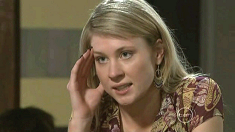 Georgina Andrews first hit Erinsborough as journalist Heather Pryor early in 2008 and went on to romance Riley Parker, before dumping him, with a spectacular slap, when she found out he'd been cheating on her with his aunt Nicola. Here, Georgina chats to us about playing Heather...
Can you give us a background on your career prior to Neighbours?
Well...prior to Neighbours I had been living and 'treading the boards', so to speak, in London. When I came back home to Oz, I did a couple of commercials, short films, etc but not a whole heap, so when Neighbours came along it was great!
How did the role of Heather come about? Was it just a typical audition for you?
My agent called and told me that I had an audition for a guest role on Neighbours, I liked Heather straight away. She had a feistyness about her... so I went in and had the audition and really just waited around for 'the call'! I was lucky I got it!
How would you describe the character?
Heather's job and career were important to her, she was feisty and wouldn't let things stand in her way, that's the same with her relationships I think. But she wasn't mean and she would never do wrong by others. As a journo she had to get her stories, she had to push, and sometimes perhaps do things she wouldn't really want to do. I don't think she would ever want to hurt people. She just was dedicated to her job. Surfing was her outlet, her time to be free.
Have you enjoyed playing Heather? What will you remember most fondly about working on the Neighbours set?
I loved playing Heather, she was interesting and unpredictable, I never knew if one day I was going to be a mean journo or paddling in the surf! Everyone was a joy to work with as well. Pippa [Elle] and Sweeney [Riley] who I did majority of my scenes with were just wonderful, great actors and great people.
Is there anyone you have particularly enjoyed working with during your time on the show?
Pippa and Sweeney, also I got a long very well with Imogen [Nicola]! Funny considering her character broke Riley and Heather up! But she is a great girl. But even in the green room, people like Tom and Ian who play Lou and Harold, were so much fun, they cracked jokes and were always so bubbly, I loved chatting with them.
What's it like to work alongside such an established cast?
It was really great to work with everyone. Was a bit surreal at first, as I grew up watching quite a number of them. Like Susan, Karl, Libby etc. But as actors and people they are just awesome, very welcoming and accepting. So down to earth as well. As you can imagine coming onto something where there is already a 'family' environment established can be quite nerveracking, but I was lucky, as everyone was just wonderful!
Will you stay in touch with anyone you have worked with on Neighbours?
I am in touch with a few people.
Have you ever been a Neighbours viewer yourself?
I wasn't an avid viewer of Neighbours I'll admit, but if it was on, I'd watch it.
Will you continue to make guest appearances on the show?
If they will have me, why not! Hopefully if there is a big story breaking, Heather will be there!!
Would you consider a regular role on Neighbours, if the opportunity arose?
Yes, definitely.
What are your hopes for your career in the future?
Well since finishing Neighbours I was quite busy. I shot a feature film in Perth called The Sculptor which I was luckily enough to get one of the leads in. It also had a very talented cast, so that was a joy to be part of. Also I have just finished a stage show. So just hopefully moving forward and upwards, I love what I do so it's important I keep working hard... and getting jobs!!
What do you think accounts for the huge success Neighbours has continued to enjoy over the past 24 years?
I think Neighbours just continually gets great actors on the show, a story is one thing but to get the right people to execute it is another. The actors on Neighbours are great and they work hard on their roles, I know I have watched them in rehearsals. There is also a wonderful commaradiry amongst everyone. The crew, the actors, the directors, producers etc. If that wasn't there, how could you make a show? It just seems to keep getting stronger and is always interesting.
Interview by Kate. Added on 20th September 2008