.
Interviews > Mary Annegeline
Since the beginning of 2008, one nurse has been treating every patient who passes through Erinsborough hospital, flitting from ward to ward and regularly clashing with Dr Kennedy. Here, actress Mary Annegeline chats about her recurring role as the formidable nurse Jodie Smith...
Can you tell us a little about your career before Neighbours?
Before Neighbours, I had worked on some great student films and had worked as an extra on a few telemovies. Then I landed a role on a television series called Out There. I played the part of Miranda Lee, a feisty teenage go-getter. It was actually the first real audition I had attended in Australia and couldn't believe I had got the part first go. Originally I was only supposed to film for a small 2 or 3 episode cameo in the first series but I was lucky enough to have been written in for half of the episodes shot over 2 seasons. Once I'd finished shooting Out There, I went on an extended holiday to North America and studied Meisner in Vancouver. That trip changed my life. I fell in love with acting all over again.
Do you remember how you first landed the role of Jodie?
I had just relocated to Melbourne when I was lucky enough to sign with a fantastic agent. She was working really hard to ensure I would get a good role. I was so excited when she called to let me know that Neighbours were casting Jodie's character. I remember learning the lines in my bedroom and going over the scene again and again to get as much out of the script and the character as I could. I wanted to make sure that I wasn't going to be just another actress reading lines out-loud that she didn't understand. When I went in to meet the casting director I remember feeling a weird kind of zen calmness come over me. The Meisner training had kicked in. I nailed the audition and I walked out of there feeling confident that I had done my best. I had my fingers crossed for a few days. When my agent called me with the good news I was in a shopping centre buying groceries, and I remember buying myself a big steak and a nice bottle of wine for dinner. I was so excited to be working on such a long-lasting and successful show.
What do you remember about your first day on set? What was it like to be working alongside such an established cast?
I was nervous, I'm not going to lie. Once I got into the greenroom, I was first introduced to Natalie Blair (Carmella) as I had my first rehearsal scene with her and that's when it hit me that I was actually going to work with actors that I'd grown up watching on television. It was just the best feeling to work with these people and steal their knowledge. I realized very fast what it was like to work on a high volume show, and it was so amazing to see just how well organised and planned everything is. Neighbours is a well-oiled machine, and it feels really good to be part of it.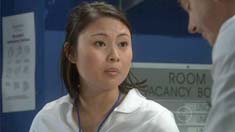 Do you enjoy playing Jodie? How would you describe her?
I really adore Jodie, she can be quite the ball buster when she wants to be which is the complete opposite to me. I take out all my frustration and anger on her character. She has such strong beliefs and is very dedicated to her work which is why she's had a few hiccups in the past with a few characters on screen. But overall, I see Jodie as strong woman who is set in her ways and she's not afraid to stand up for what she believes in and I think that's why I admire her so much.
You've made numerous appearances during 2008 - would you be willing to join full-time if the opportunity arose?
I have been very fortunate this year in terms of how much Jodie's character has appeared on screen. I can't give away any plot points, but I can tell you that if Jodie's character was in more episodes, I'd be a very happy girl.
Are there any actors you've particularly enjoyed working with?
Everyone I have worked with has been so great and welcoming and each of the cast bring something different and special to Neighbours. Working with Alan Fletcher, who plays Dr. Kennedy is fantastic. He is one of the longest-standing characters on the show. He has a wealth of knowledge and is a very professional man. It is really great to work alongside him. In fact, all the of the cast members have been an absolute pleasure to work with.
Did you enjoy getting off the set to film Jodie's appearance at the recent football game? Would you like to see more of Jodie's personal life explored?
When I found out that they were taking Jodie's character out of the hospital and introducing her brother, I was very excited. This opened the doors of some totally new aspects of Jodie's life that I could explore. It's important to remember that Jodie is a real person, with a real life. There are reasons she acts the way that she does, be it a dark and mysterious past, or some big personal issues that are bubbling under the surface.
Which have been your favourite scenes to film so far?
I would definitely have to say filming any scene on location is fun. I also really enjoy the hospital scenes where there are emergencies that require Jodie's strong personality to take charge.
Will you continue to make guest appearances on the show?
Again, I can't give away too much, but Neighbours as a show is filled with interesting characters with interesting stories and Jodie is no exception.
Have you ever been a viewer of the series yourself?
I have been a big fan of the show from such a young age, and I know that many of the actors I work with have grown up also tuning into Neighbours. This show starting going to air when I was two years old. I think most people with a television growing up in the suburbs of Australia would have watched this show at one time or another!
What are your hopes for your career in the future?
Acting is something I'd do for free every day. I don't see acting as a career, but rather, something I do to exist, like breathing, and sleeping. In the future I hope to be able to work on projects that really help challenge me an actress and a person.
With Neighbours now in its 24th year, do you have any thoughts on why the show has lasted so long?
The plight of every day Australians in a suburban setting is something that the viewers really get hooked on, be it people tuning in to Channel Ten in Australia, or viewers in countries lucky enough to see the show off-shore. For one reason or another, people identify with the characters and with the show, and the producers and writers do their best to keep the story alive. The fact this show has been airing now for 24 years is a testament to what a success Neighbours is. I hope to continue to be part of that success into the future.
Interview by Steve. Added on 1st November 2008