.
Interviews > Lisa Armytage
Back in 1987, single father Jim Robinson met Dr Beverly Marshall, thanks to a little matchmaking by cousin Hilary and, less than a year later, they were married. Lisa Armytage played Beverly for her first 18 months in Erinsborough, and here, she chats to us about her acting career and what it was like to join Neighbours at the height of its popularity.
Can you tell us a little about your acting work prior to landing the role of Beverly in 1987?
In my teens I realized that, however precarious it might be, acting professionally was what I wanted to do with my life. I'd auditioned for the National Youth Theatre, which had a great reputation and was very competitive to get into, and that gave me confidence that it wasn't an impossible dream of mine. So I auditioned at a few drama schools, including The Guildhall School of Music and Drama in London, and trained there for three years. I was only out of drama school for a couple of years before I met my husband and left England for Australia, but I managed to fit in a few theatre jobs before I left. Looking at the date "1987" actually surprises me now, because I didn't feel I had been in Australia all that long before Neighbours came along, (I arrived in 1979). But in fact by that time I had already done a few plays there, and made a start in television with some small roles, including several weeks in Crawfords Skyways, playing a battered wife in the halfway house in Prisoner, and landed the female lead in a feature film romance called Cool Change, playing opposite the late Jon Blake.
What do you remember about your Neighbours audition?
My main memory was feeling very nervous beforehand! I had actually auditioned for a six-week role. A few days later my agent rang me and said, "Well, they don't want you for six weeks." OK, I thought, anything would be fine for a start. "No, they actually want you for a year." I was quite shocked. At that point my youngest child was just coming up to her first birthday, so taking on a major acting commitment at that stage was quite a challenge. But it was what I had wanted, so, after some careful thought, I went for it.
What was it like to join the cast at that time?
Intimidating! I remember standing behind one of the rather shaky flats that served as the wall of the Robinson household, and feeling as shaky as the scenery! But they were a charming, welcoming bunch of people. Craig McLachlan was an impish character who could always make me laugh. I didn't get many opportunities to chat with Kylie and Jason, but enjoyed it when I did...
The real impact of joining the cast was the impact it had on my personal life. As soon as the character came on air I lost a lot of my anonymity. I had to resort to going shopping for clothes wearing dark glasses! (Ever tried choosing the colour of clothes with dark glasses on? Crazy!). I also tried to be home by the time the kids came out of school! Interestingly, though, when I was out with my own children, I was often, though not always, simply ignored and not recognized at all. That says a lot about how young mothers were viewed: essentially I seemed to just disappear!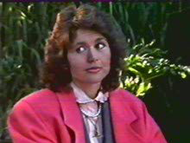 Did you enjoy playing Beverly? How would you describe the character?
Yes, poor old Beverly. Not a domestic bone in her body, it seemed. (I felt quite at home with that: the first meal I ever cooked for my own in-laws the oven switched itself off – we had to resort to boiled eggs!) The emotional side of her was quite a challenge at times. At other times the situation she was in seemed to touch something off in me, and it was all too easy to burst into tears. I remember one of the directors saying, "OK, that's lunch!", when I'd just finished an emotional scene, and when the cameras stopped rolling I just carried on weeping. He quipped, "Oh, OK. The canteen food's not that bad, is it?!" That did the trick. I stopped weeping and started laughing instead.
Were there any scenes or stories that you particularly enjoyed, or disliked, filming?
One day we had to join in some English country dance. No idea why. I loved it. Got quite into the spirit of it, shouting English country whoops as we all went spinning round.
Disliked? Well, no, I don't think so. Although I remember once I had to do a sprint down Ramsey Street – not once, but a few times to get the timing right. Not easy in high heeled shoes. It made me very aware of how physically fit the actors in action films are. And how relatively unfit I was!
Neighbours was at the peak of its popularity in 1987 and 1988. Did you find yourself receiving a lot of attention from the public?
In a word, yes. As I mentioned in your earlier question, I was suddenly thrown into the spotlight in my everyday life. I found that out shopping, if I asked a shop assistant for help, they would completely forget what I'd asked them and start quizzing me about Neighbours. I got given lots of wrong change at that time!
Once, when out with my kids swimming, I was recognized. I felt more like a circus performer than a mum out with her kids. And on a trip back to England I was in Hammersmith when a load of teenage boys came out of an afternoon film showing. I felt very uneasy when a couple of them stopped me and said, "'Ere, Miss, ain't you that bird of 'a Neighbours?" I immediately put on my best posh English voice and said, "Oh, no, people do say I look like her, but no, I'm not. Sorry!" And then made a discreet and rapid exit!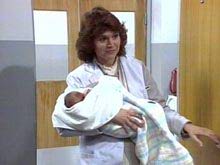 Beverly was part of the first Neighbours birth, helping Daphne give birth to baby Jamie by the side of a lake. Do you remember much about the filming of those scenes?
To be honest I don't, really; which makes me think that most of it was done without me anywhere near the actual "birth" itself. I have hazy memories of it. I had no idea how popular that story line was going to be.
What led to your decision to leave the series after 18 months?
As I said, it was just before my youngest child's first birthday when I started on the series, so that would have been May 1987. 18 months later she was busy teething and being a typical two year old. I was absolutely exhausted, being disturbed nearly every night, and also getting concerned that she was becoming more the nanny's child than mine. I didn't want to miss that precious time with her. Now I think it would be more accepted that a mother is working full time, but then I felt there was quite a feeling of disapproval around me, and it made me doubt the wisdom of carrying on. That, coupled with my own tiredness, made me make the decision to take less long-term work while my two children were young. It was quite a hard choice to make, particularly when, not long after, I was helping with the initial casting of Police Rescue, reading opposite the actors auditioning for the roles, and I was asked, "Why aren't you auditioning for this?". The series was shot in Sydney and we were living in Melbourne at the time. I felt I just couldn't justify being away from home and the girls so much.
Were you aware that the character of Beverly would be recast after you left? Did you ever see Shaunna O'Grady in the role?
No, I didn't realize that would be done. Although the series producer sat down with me and had a good couple of heart to hearts trying to get me to stay; so my decision must have been very difficult for the story line. And no, I didn't see Shaunna in the role. I think it would have been quite hard to watch my role being played by another actor.
Where did your career take you after leaving Neighbours? What are you doing these days?
I found the years after Neighbours very difficult. It was hard to move on. In the first two years especially I was given the impression I would be hard to cast elsewhere as I was too identified with that role. Being a full-time mum had not been my plan! I did do some work in theatre, and small tv roles eventually, including the dying mother in The Miraculous Mellops, but to be honest it was, and remains, a real struggle. Which is hard, because I feel I still have so much to offer.
I returned to England some years after my marriage broke down, and basically started again. I worked in theatre, developed more work in voice overs, particularly recording short stories with shortstoryradio.com, and recently books with AudioGo Ltd, (the company who do the recordings for the BBC CD's). Strangely, apart from some short films, I have not yet been able to return to tv and film in the UK. I should say that this does not mean I've given up. Far from it. I'm an exceptionally obstinate woman, and I don't give up easily! So now, I'm continuing to work part time in the "day job", so that I can focus on marketing myself as an actor... So this interview came at the right time!
Do you ever still find yourself being recognised thanks to your Neighbours role?
Ocassionally. Usually by Australians! I'm told I still look very similar to how I looked then. Mmmm… 24 years on. If only!
Are you still in touch with any of your former Neighbours co-stars?
I haven't kept in touch on a regular basis, unfortunately. Altough from time to time our paths have crossed. I went out to dinner with Alan Dale a few years ago when he was visiting London. Which was a little surreal. We met friends of his at the Ivy Club in the West End of London. He was greeted by name and we were shown to our table. Outside, a smattering of photographers were waiting to take pictures of any celebrities they spotted. He graciously stopped for photos and autographs before we said goodbye.
Jason I bumped into at Television Centre one day – in the lift, when he was recording an interview, at the time he was taking part in Strictly Come Dancing. After a brief moment he recognized me and gave me an affectionate hug.
Finally, what do you think is the secret to Neighbours' success?
Seeing episodes now it has clearly changed a lot, incorporating more upbeat music and focusing on the younger cast members. One of its secrets I suppose is that it is able to move with the times and respond to what the audience wants. And it has also kept a lightness and vitality which is missing in many other long-term tv series, which tend to get a bit bogged down with life's problems. Nothing on Neighbours ever seems insurmountable.
And in England the sunny, friendly image has created a wistful feeling about Australia as a whole. People generally think I'm mad to have ever left. Sometimes, I agree with them!
You can find out more about Lisa's work at her website, www.lisaarmytage.co.uk
Interview by Steve. Added on 6th May 2013