.
Interviews > Imogen Bailey
Last year saw Imogen Bailey, in her first major acting role, spend six action-packed months as nurse Nicola West, who had a fling with her adoptive nephew, an HIV scare, spent time in a coma and poisoned her brother-in-law, before being sectioned. Here, Imogen shares some memories of her time working on Neighbours.
Could you tell us a little about your acting career prior to Neighbours?
I'm qualified in marketing but started modeling in my early twenties; I guess the profile that I got from modeling is initially what got me started in TV. I then took part in a few reality shows like Celebrity Big Brother, Skating On Thin Ice and Celebrity Survivor. I started acting classes about 8 months before I landed the Neighbours role. It's something I have always been passionate about and I absolutely love it so I was over the moon when I was cast as Nicola.
How did the role of Nicola come about?
The role came up; I was called in for an audition with a load of other actors and was lucky enough to land the role.
How would you describe the character?
If we were judging Nicola on first appearances I would say the word 'Vixen' describes her best, but she is actually quite a multi-layered character and this made her really interesting to play. She has a lot of emotional baggage from her childhood, she seeks constant validation from men and is a pretty insecure and messed up woman at her core. She plays the smiley happy-go-lucky sister and she causes lots of trouble in the street but what it all comes down to, for Nicola, is her deep need to find love. I guess in a way we all have this need but Nicola's quest for love really does rule her life and causes her to make some wacky decisions... She went through many highs and lows in the six months that I played her and the end of her first chapter was pretty heavy, playing her emotional breakdown was exhausting and challenging but I loved every minute of it.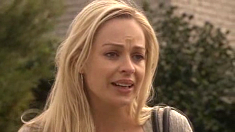 What was your first day on set like? Were you nervous?
My first day was really nerveracking. Coming into a show that works like a well-oiled machine means new cast members have a lot of pressure on them to get things right from the get go. It's a sink or swim job. There are tight schedules to be adhered to because a show like Neighbours is shooting the equivalent of a feature film in a week. That's a lot of scenes, a huge amount of scripts to learn and everything moves at a rapid pace. The cast and crew are nothing short of amazing. They work so hard and are extremely supportive of new faces. I was blown away by the generosity of not only the actors but the crew. I had to learn a lot in a very short period of time. I had never worked with three cameras and wasn't used to filming storylines all over the place. It was daunting but I had plenty of good people around me holding my hand and encouraging me to step up. As a fairly green actor it was a priceless learning curve and experience and I can't thank the Neighbours family enough.
Did you enjoy playing Nicola? What will you remember most fondly about working on the Neighbours set?
I loved playing Nicola, I have to confess I miss playing Nicola, she had an exciting life and it was fun being on that rollercoaster everyday. My fondest memories lie with the people I met and the friends I have made. My absolute favourite is Ryan Moloney who plays Toadie. He was my biggest support and my teacher. He made me laugh, gave me confidence and taught me all at once. He is a pretty amazing human being and a very talented and generous actor. He will be a friend for life.
What are your thoughts on the controversy surrounding Nicola and Riley's relationship?
I think the great thing about shows like Neighbours is that they revolve around storylines that face the good and the bad in life, they tell the story and they show us the consequences that play out when we make mistakes, however harsh they are. Let's face it, when a character has a big flaw or is a bit of stuff up in life they are so much more interesting to watch. I was aware that there was a small amount of controversy going on in the media with this storyline and I commend the Neighbours writers for taking a risk with it but at the end of the day what they did do is show that Nicola's relationship with Riley was wrong, that it should never have happened and they illustrated the reaction of Nicola and Riley's peers very clearly. There was never a moment when the show or the writing of the storyline condoned the relationship. It was all about this should not be happening, this is not a good thing and the people who live in Ramsay Street were not accepting of it at all. I believe the important messages were loud and clear.
Did you ever struggle with acting out some of Nicola's more outlandish evil deeds?
No, not at all, it was Nicola doing it all, not me and when I was in character that is who I was. I thought like Nicola and I acted out just as Nicola does. I will say that, yes, she is very different to me and there were times when I would read the scripts and go 'oh Naughty Nicola' which is what we nicknamed her on set but her wacky side was what made Nicola so much fun. She was pretty loopy but truly not that bad at heart. She always believed that what she was doing was for the greater good of someone, often we knew it was for herself but unfortunately Nicola rarely saw things that way. She always believed she was doing the right thing by or for someone, be it Steve, Miranda or Bridget, she really never meant to hurt anyone.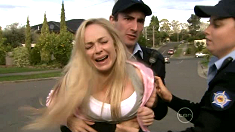 Is there anyone you particularly enjoyed working with during your time on the show?
Ryan Moloney was my favourite but I also had lots of fun with Morgan who plays Cal, with Steve Bastoni (Steve) and Nikki Coghill (Miranda), and Pippa Black (Elle) and Nat Blair (Carmella). I had fun with them all, it's really is a fantastic cast and the crew was a lot of fun too. Alan Fletcher (Karl) and Jackie Woodburne (Susan) also stand out as two cast members who helped me a lot. They always had time to give pointers and to go through scenes which is so important when you are starting out.
How did it feel to be working alongside such an established cast?
As corny as this will probably sound it was actually a huge honour. Neighbours is one of our greatest success stories as far as television exports go and it has some faces that we have all grown up with. I was nervous about it at first and it was weird bumping into faces like Harold Bishop in the first week or so. But when you walk into such open arms all the nerves soon fade.
Would you ever consider a return to the series, either full-time or for guest appearances, if the opportunity arose?
Absolutely, I had a great time and I miss my friends from the cast and crew. I also loved being able to wake up every morning with a huge smile knowing that I was going to work to do something I loved.
Have you ever been a viewer of the series yourself?
I watched it when I was a teenager and I also loved being able to switch it on whilst I lived in the UK for two years. Neighbours is like a little slice of home when you're in London.
With Neighbours now in its 25th year of production, do you have any thoughts on why the show has lasted so long?
Its homegrown Aussie feel and the drive and passion of cast, crew and management for the show. It's a street we could see ourselves living in and I also believe some of the success can be attributed to some very loveable, extremely talented and memorable faces like Dr Karl and his family, Harold Bishop and Toadie to name a few. Oh and let's not forget Bouncer.
Can you tell us a little about your work with PETA, and why you're so passionate about the cause?
The People for Ethical Treatment are an amazing organization. I believe they are the voice of our generation when it comes to animal rights. I started working with them in 2002 and haven't looked back. I am an animal lover to my core and I believe that every single animal in this world has the right to feel safe and secure in their environment. I also believe that human beings do not have the right to mistreat, to experiment, to torture or to destroy the habitats of any animal for their own personal or corporate gain. I am disgusted that there are so many animals in our world that are being tortured so we humans can have our luxury products. The sad fact is that most of us have no idea how many things we use and do in our everyday life that continues to feed the cruel behaviors of companies who hide behind big money, big enterprise and in some cases our government. I wanted to do something to help, although I never feel it is enough but with PETA I have been able to be a part of some very controversial campaigns. We have made worldwide press with them all and that means that so many people have seen them and spoken about the cause and I believe this is such an integral part of making a change. People need to know what's going on before they can take part in stopping it. And that is why I work with PETA; they are experts in shocking and serenading the press in order to get their very important messages across. If your readers want to know more I urge them to take a look at www.peta.org or my own website, www.IMforAnimals.com...
What are your hopes for your career in the future?
I hope that I can keep on working as an actor. If there is a role for a granny with a walker I'll be there. When you find the 'thing', your 'thing' that makes you fill with passion and energy then you want to do that 'til the day you die. For me it's acting. Sure I was a late bloomer but I love that I have found this fantastic craft that has hold of me right to my soul. The challenges will always be there and I believe it's a job where you will never stop learning and for me that is an exciting place to be.
Interview by Kate. Added on 21st February 2009