In the early 1990s, Kerry Bartlett had two roles to play in Neighbours, as Bianca, a schoolfriend of Cody Willis, and as single teenage mum Donna Burgess. Here, Kerry chats about her career and her time on Ramsay Street...
Had you done much acting before your first Neighbours appearance as Bianca in 1990?
I had been taking drama classes at secondary school, cast in productions of Grease and Annie in the chorus and played Lily Wjite in the play On our Selection. I hadn't had any acting experience other than that. But for me it was just something I was drawn to as I was always a huge TV / movie lover and wanted to be on TV. I was passionate and that's where my drive came from.
I was a huge Neighbours fan, when it aired March 1985- I would go to their public appearances, collecting photos and autographs. I collected any magazine covers and pictures of the cast- I became very obsessed. In year 7, 1986, I boldly and very confidently told everybody I was going to get onto Neighbours or become a nun ! So I had something to prove. Then once "Charlene" made her appearance I decided to become THE biggest Kylie fan EVER!! My bedroom became a shrine, I called her at Channel 10 on her 18th birthday, asked for the Neighbours green room, was connected, but sadly she'd left for the day. I started calling Terry Blamey, Kylie's manager to try and start a fan club. I was going through all the right channels, which fuelled my dream of been on Neighbours, hopefully in time to meet Scott & Charlene ! It was a daily after school activity. My family thought I was nuts but I was going to get on that show, nothing would stop me.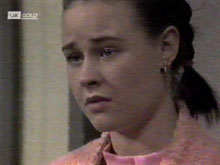 I got myself an agent at 14, went on the books of "Linda's Rising Stars" and soon had a commercial, as an extra (never seen in the tvc) but it got me into Actors Equity. From there, I was luckily given extra jobs on Neighbours, mainly playing a school student, all filmed on location, occassionally in the "Coffee shop" filmed at channel 10. I was just ecstatic, collecting autographs of the cast and getting as many photos with the cast as possible. This was in '88, '89 and '90. Unfortunately Kylie had left the show before I started. I used to tape all the Scott & Charlene parts of Neighbours every night and weekends, learning the scenes off by heart and been proud to relay the entire scene to anyone at school who had missed the episode.
How did that first role come about? Was it just a typical audition for you?
I got the audition to play "Melissa". Jade Amenta got the role. Then in 1990, I was to audition for "Bianca". Luckily for me I was sent a script, with a scene between "Charlene" and "Madge", her mother. This was it, I would get the part. Now, with me knowing the scene like the back of my hand from watching it on TV, I blitzed the audition with Jan Russ. I was in awe of Jan, her casting Kylie, Jason etc. She told me I looked like Tina Arena. I liked her straight away!! I knew when I left the audition, in my heart, that small role was mine.
You returned two years later as Donna Burgess, who appeared in several episodes over the course of 1992. Did you have to audition again?
No I was really lucky that I didn't have to audition. My agent said they remembered me from 1990, so I was so lucky to be handed the part. It was also good to know I'd be in scenes with Simone Robertson, who was in the "Bianca" episode.
Did you, or Simone Robertson, recall your previous Neighbours appearance together?
Yeah, we did, what a coincidence!
Was there anyone you particularly enjoyed working with during your two stints on the show?
Mark Little was really funny.
What was it like to work alongside such an established cast?
It was great, I mean I was a huge fan so was starstuck every time. Sitting in the make up trailer with Terry Donovan left me pretty overwhelmed. I wanted to just talk to him about Jason but I was tounge tied.
Would you ever consider returning to work on Neighbours if the opportunity arose?
If they asked me, I DEFINITELY would!
Are you still in touch with anyone you worked with on Neighbours?
No. But if you have Kylie's contact details.....!
What are you up to these days?
Make up artist and beauty therapist.
Why do you think Neighbours has been such an ongoing success?
Not sure, it appeals to every generation in a different way. What I loved most about it was at the start they had just the families and some friends interacting in Ramsay street- but once they bring in too many twists etc and un-related characters, it doesn't appeal to me any more. I feel it's become about young attractive people and minor celebs getting parts, it's all the same. Reminds me of Home and Away.
Interview by Steve. Added on 14th June 2008