.
Interviews > Brett Blewitt
In the mid 1990s, as the original families of Neighbours began to disperse, the Starks entered the fray – and one of the most popular and well remembered of the brood was the lovable, if slightly geeky, Brett. Aside from a brief cameo in last year's 20th Anniversary episode, it's now been almost 10 years since Brett was last seen in Ramsay Street, and here, the actor who played him, Brett Blewitt, looks back on his days in Erinsborough…
Can you give us a background on your career before you joined Neighbours?
I first knew that I had a knack for the craft when I won a year one talent quest with an impromptu retelling of the three little pigs, but it wasn't until I was twelve that I signed up for some acting and singing classes. It all just snowballed from there and by the time I was thirteen I was doing about fifteen hours of classes a week. That's when I landed my first gig, an ongoing role on My Two Wives, a sitcom on a network over here. Kym Valentine (Libby Kennedy) played my step sister, we actually auditioned together and we have been inseparable ever since. She is my friend, wise mother and kid sister all at the same time. We worked on My Two Wives for two years and during that time I had numerous guest appearances on other shows. When Channel Nine pulled the plug on My Two Wives, Neighbours came up.
Tell us about landing the role on Neighbours.
It was an audition like any other. I was doing a lot of them at that stage having just finished up on the sitcom. I didn't think it went all that well, but I was definitely excited by it. Having watched Neighbours from a very young age I was gunning for it. I was surprised to get a call back in Melbourne which went well and within two weeks, I'd moved to Melbourne. It was school holidays at the time so many school friends freaked out that I wasn't there and wouldn't be coming back.
How would you describe the character of Brett Stark?
Two words - "Lovable Dork". I was so happy to play a real character. He was very comical so I had some awesome storylines, like the trip to Africa and the school play. He was such an important character, in the way of a male role model, particularly in Australia. Brett was happy in his skin, he wasn't cool and he didn't have girls falling at his feet, but he was smart and loyal and from granny Helen to Stonefish, everyone valued Brett as a friend.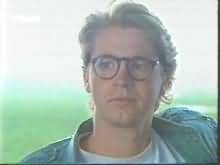 You joined the show the same time as other young actors like Eliza Szonert (Danni), Troy Beckwith (Michael) and Peta Brady (Cody). How did you get on with the other young cast members? Was there a good social life?
We were the new Brat Pack! When myself, Peta, Troy and Lizzie hit the cast, It had been their biggest youth injection in a while. I loved them all. Peta was always up for a laugh, we used to muck around on our guitars. I ran into her last week in Melbourne. She is busy with plays and films, great chick!! Troy was like my big brother, we share a birthday, although he is a year older. He took me under his wing, and taught me every bad trick I know. He lived in Sydney a bit a couple of years back, so we used to catch up a bit. Eliza was and still is a real sister to me; from day one we shared such a brilliant bond. Lizzie is very sensitive to people's feelings and energy; she was a great person to talk to. I had a lovely catch up with her on a recent Melbourne trip also.
Who did you most enjoy working with on Neighbours?
Caroline Gillmer, who played my mum, was awesome, she was as challenging as she was supportive and I loved that. She worked so hard at dispelling the myth that good scenes weren't to be seen on a soap, Neighbours was very lucky to have such a deeply talented actor amongst the ranks as was I. I can't sing her praises enough!
Brett's relationship with everyone's favourite Gran, Helen, was a departure from the norm in terms of depicting a friendship between a high school student and a pensioner. Can you tell us a little about this terrific on-screen friendship, and working with the late Anne Haddy?
Anne was so easy to work with, which may have had something to do with her 30+ years experience, 10 of that being on Neighbours. I loved that Brett found such a close friend in Helen. Anything that challenged the social norm on the show I loved. Neighbours has a pretty conservative audience demographic both here and in the U.K so when a different enough storyline came up I was busting to run with it. Thankfully, having such an eccentric character I got quite a few of them. I was very sad to hear of Anne's death. One thing is for sure; she died happy - she always said she wanted to work till the end, and she did. What an inspiration!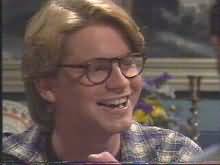 You also got to take part in the filming of the special episodes in Africa with Jackie Woodburne, aka Susan Kennedy – how did that all come about? What was the experience like?
That was definitely my highlight! The way it came about was quite funny. All us youngsters were getting called into the producers office. Everyone was returning with long faces, apparently they were cracking down on our relaxed attitude to learning our lines. Now, I was dreading my call to the office, although I had always been totally on top of my lines so I knew that they couldn't pin me with that. I walked the long walk to the production office, they closed the door, sat me down and asked the question " What are you doing in June/July this year?" "Working with you, I hope!!" I retorted. They laughed and then asked me if I wanted to go to Africa! I had to keep it quiet, which was painful. I returned to the green room ginning like a chimp. The experience was amazing; it totally opened my eyes to the different reality others are forced to live. I'd lived a very protective life up until that point. It was so amazing to see how much World Vision helps entire communities. It was such a worthwhile experience. I left Australia a naive sixteen year old and I returned a worldly warrior with two sponsor children.
Why did you decide to leave Neighbours?
I had done my dash, I wanted to do it for two years and it was getting closer to three. I was enjoying the experience less and wanted a change. There is a saying "some people only ever initiate change when the reality of the now seems more fearful than the thought of change". I never want to be "some people".
What have you done since leaving the show?
I've travelled a lot, I've continued working in theatre, film and TV but a lot of my time has been dedicated to a company called Brainstorm Productions. A friend started it up about 20 years ago and she is now the biggest theatre in educational touring production company in Australia. The shows are all issue based – bullying, conflict resolution, body image etc. And they are awesome. I work with the company as an actor, writer and director. I've just recently wrote a pilot for a children's show which we hope will be picked up next year.
We've just seen you make a brief cameo appearance in the 20th Anniversary episode of Neighbours. How did this return come about?
Linda Walker, who has been the Production Manager for as long as I can remember, just gave me a call. I was more than happy to do it. We shot it in Sydney on the harbour. It was nice to see a few old faces.
Would you consider making another return to the show?
The show is a Trojan horse of the Aussie industry. There is no doubt that an offer would be beyond consideration.
Have you kept in touch with any of your old co-stars?
Lots of them! I'm still great mates with Jess Spencer (Billy Kennedy) and Kym Valentine. Everyone is in Melbourne and when I get down there, it is usually for work so I don't get much time for a catch up.
What's next for Brett Blewitt?
Summer in Australia! Bring it on. I'm doing a lot of writing; hopefully my pilot will be picked up next year. I'll continue acting… I have a one man show touring the country in April for four or so weeks. But the most exciting thing is that I never know exactly what's next for Brett Blewitt!
Interview by Moe. Added on 28th January 2006