December 2007 saw the announcement that former Neighbours scriptwriter Susan Bower would be taking over from Ric Pellizzeri as executive producer of the show. Here, only six weeks into her new role, Susan takes some time to chat to us about her career and her plans for Neighbours.
Can you tell us a little about how you started in the television industry?
What can I say? I began life as a nurse and it seemed a natural progression into TV. Doesn't everyone?
Seriously. I began as a medical researcher/storyliner for A Country Practice and everyone was very encouraging. I then progressed to trainee script editor and the rest is history.
In the mid-1990s, you worked on Neighbours as a scriptwriter – what did you think of the show back then?
Loved it! I was actually dropped off the writers' list because I asked too many questions. At least I hope that was the reason. Perhaps I was a bad writer.
How did your transition from scriptwriter to producer come about?
Basically I prefer to work in a team so I preferred to be an in-house writer. Script departments are amazingly creative and productive machines. However, more often than not writers are not part of the production process. That's what I wanted so I nagged people until Posie Graeme Evans took a big chance and let me produce McLeod's Daughters.
You worked as story/script producer on Sea Patrol in 2006, and as producer on Little Oberon in 2005 and Canal Road last year. How does working on these primetimes series differ from working on the daily soaps?
Firstly the AMOUNT of work increases (times 5 per week and times 48 weeks per year!).
Secondly telemovies and series have a beginning, middle and end, while serial dramas keep rolling on. However all dramas have the same principles of storytelling. The craft differs in how the stories are told, that's all.
Have you been following Neighbours in recent years? What do you think of the recent revamp and the reasons behind it?
I have been watching Neighbours on and off – the timeslot is difficult when you work long hours. In terms of the revamp, all long-running dramas need regular updates. This invigorates everyone; the cast, crew and viewers and I think the past year's team did a wonderful job.
Though the revamp has been well received by long-term fans, ratings have only risen slightly since last July. How do you think Neighbours can regain its lost viewers in 2008? Do you think that the lack of advertising for the show may play a part?
At the moment we are aiming for a different type of story telling, by incorporating more contemporary stories and music into the show. We want our viewers to talk about the show to each other, like – 'did you see what happened last night?' The episodes coming through are wonderful. I can't wait to see the results around May 2008.
As for advertising, this year has already seen Neighbours more in the public eye due to an enthused publicity, marketing and promotions department who are all very excited by the 2008 productions.
What do you personally think are Neighbours' biggest strengths and weaknesses?
Our strengths are definitely a great cast and our stories that centre on the lives of ordinary people. These elements allow our viewers to identify with the characters, take them to heart and in some cases live "through" their experiences. Neighbours is warm and loving and it's a relatively safe place to visit every night.
Weaknesses: What weaknesses?!
2007 has seen the returns of popular characters Valda and Libby to Ramsay Street. Do you feel that bringing back past characters is important in a long-running drama? Do you have any plans to bring anyone else back in 2008?
Valuable research shows that viewers love familiar faces. They love the different generations portrayed on Neighbours and we will continue to tell stories around this. So far Lynnie – Steph's mum - returns in 2008, and of course we'll never really let Harold go.
Who are your personal favourite characters from the past 23 years, and who would you most like to see brought back?
I had so many favourites - but those characters were right for their time. At Neighbours we aim to keep characters contemporary so the audience can continue to identify with them.
With Valda and Harold set to become recurring characters in 2008, Lou will remain as the only senior citizen in the regular cast. Do you have any plans to bring in some new older characters, and what will become of Lou without his best friend and sparring partner?
Ah Lou…he and Harold will remain sparring partners but Lou is also busy becoming an important member of the Parker family, as a surrogate grandfather to young Mickey, and a support to Steve and Miranda when times get tough. He's also quite the neighbourhood gossip.
In 2007, Neighbours attracted a number of much-respected actors, such as Penny Cook and Steve Bastoni, for both guest and regular roles in the show, to much acclaim. This looks set to continue in 2008, with news that Simone Buchanan will film a five month stint. How do you feel about such established actors working on the show? Is there any chance that we will see more big names appearing in 2008?
Actors are always attracted to quality projects so therefore we have a steady flow in and out of the Neighbours family. In turn their presence encourages story tellers and writers to push the drama envelope.
We're also always looking for the right actor to play the role which includes both established actors as well as new faces.
There has been much speculation that actors are now on shorter contracts, meaning that fairly recent additions such as Natalie Saleeba & Ben Lawson are leaving after only 18 months on the show and Nicky Whelan has been let out of her contract early. Is there any truth behind this, and if so, do you not feel that this keeps the audience from truly engaging with the characters given that they could leave at any point?
There are many reasons both personal and professional why actors leave any show so nothing can be presumed. There will always be a mix of longer and shorter term characters in Neighbours to keep the drama fresh. Basically, what works best for the show is the most important element in decision making.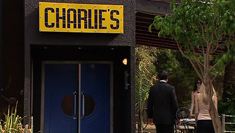 For Neighbours to gain new viewers, the show is aiming to appeal to younger viewers through the inclusion of bands & musical artists performing in the bar, Charlie's. Are you worried that by focusing on attracted the youth market in this way you could alienate the more long term, and now older, viewers?
As I mentioned earlier our viewers love the familiar faces and range of generations on our show and this will remain the centre of our storytelling. Neighbours will always be about the whole community.
Finally, what are your main objectives for Neighbours in 2008?
1 - Bring Neighbours into the 21st century by using contemporary characters and storylines as well as up to date story telling production techniques.
2 - Encourage and promote the pride and affection amongst cast, crew and viewers towards Neighbours which is an Australian icon.
3 - To build on the amazing work of the past and continue to 'fly the flag' producing a popular and relevant serial drama.
4 - Kick Arse with ratings!
Interview by Steve. Added on 1st March 2008