.
Interviews > Don Bridges
A prolific actor on Australian stages and television screens, Don Bridges is best known to Neighbours fans as Big Kev, the object of Angie Rebecchi's affections. We were delighted when he agreed to discuss his time on the show for this exclusive interview.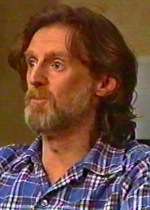 Can you give us a little background on your career?
I have been acting professionally for 30 years this year, and although I am Australian, I got my first work at Harrogate, in Yorkshire, in Half a Sixpence at the repertory theatre there. My first contract was as an assistant stage manager and understudy, but on the first day of rehearsals I was told I was a dancer. It was big news to me. From there I spent 11 months as a stage manager/understudy/musician/cup washer with the Unicorn Theatre, at the New Arts Theatre in Great Newport Street, London. It was a kids company and I loved it there. I returned to Australia in 1975 and apart from a three-month stay in New York and some more time in London, most of my career has been spent here in Melbourne.
I have worked with the major theatre companies and fringe ones, and also had various roles and stints in television series - Blue Heelers, Man from Snowy River, State Coroner and various other shows including an incredibly brief appearance in Prisoner. I've had supporting film roles in Romper Stomper with Russell Crowe, The Hard Word with Rachael
Griffiths and Guy Pearce and the soon to be released Gettin' Square with David Wenham. I still work a lot on stage and also do a fair bit of voice over work, and for the last few years I have been very actively involved in Actor's Equity and the constant fight for the rights of actors.
Tell us about your first role on Neighbours, as Karl Banks. What was the story?
Karl was an employee at Lassiter's way back when Kylie was still around, and he was pilfering stuff from the kitchens. The wonderful Vivean Gray as Mrs Mangel stuck her beak in and dobbed him in to Paul Robinson [Stefan Dennis], who was the manager at the time, and he got the sack. There was a great scene where he turns up and Mrs Mangel was vacuuming the floor and it goes off and when she turns around I was standing there with the power cord, twisting it and saying I was going to kill her and make it look like an accident. I ran away when someone came home, I think. I am not surprised no one remembers as it was a long time ago and not that memorable, except to me.
What were your impressions of the show and its production?
I found the team that worked on the show very fast and professional, as with all the full-time crews in this country. They have a very hard job to do and they do it incredibly well.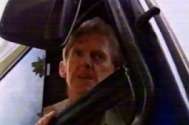 How did the role of Big Kev come about? How much input did you have in the character?
The role of Big Kev came about because the long lost son, Shane, who I gather is still in jail, was leaving and we moved into Ramsay Street. Stonie was around as well and Angie was brought in to get in the way of the boys, I guess. There was a huge build-up to my coming back home and Angie got very excited and kept going on about Big Kev. Then the huge truck rig pulled into Ramsay Street, almost filling the entire street, and out hopped little, tiny me. Originally the script had me leaping out and carrying Angie into the house but after consultation with one of my favourite television directors [Richard Jasek] we thought it funnier and a lot easier if Angie picked me up and carried me. It set up some great character stuff for Lesley Baker as Angie and me. Interestingly, Ryan Moloney, who has become everyone's favourite Toadfish, was in the scenes, basically as a featured extra. He has, through hard work and great talent, and an innate comedic sense, carved a niche for himself in a market which would normally shun his 'type'.
I haven't really had that much input into the character apart from interpreting what the writers give me. I like to try to make what they give me work. It can be a challenge sometimes, but I respect their job and they are certainly better at writing than I am. I may occasionally make minor changes to a line, but I think the writers enjoy writing Kev because he is loud and brash and funny and not very subtle.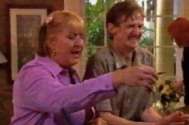 How did the return of Big Kev and Angie in 2002 come about?
We came back in 2002 as a result of the awful accident to Madeleine West when she left a streak of makeup along the side of a Sydney bus. I had been visiting [Neighbours assistant producer and casting director] Jan Russ that very day and we talked of Angie and Kev possibly coming back at some stage. I had a call on the Monday to ask if I go back the following week. The script department worked extremely hard to take out all the Dee scenes and replace them with Angie and Kev scenes. Having us win the lottery was a lot of fun and taking off in the huge camper van left the way open for us to return. Often I hope.
How did you enjoy the new run? Had much changed on set over the six year gap?
The production is still as slick and organised as it ever was, but I think the script department have really got their act together at the moment. The scripts and ideas were lots of fun and the writers were really giving us some amusing stuff to do. Some of the faces have changed around the greenroom but the hours they work and the commitment to the show has remained constant.
Big Kev and Angie are very unusual characters for the show – what do you think their appeal is?
They are down-to-earth real people. They are simple with a joy of life, even when things are going bad. They argue, they love, and they are not as pretty as some of the characters we see on shows normally. I don't think we would ever see them in an American show. They are not pretty people!
Who have you enjoyed working with most on the show and why?
I love working with Ryan Moloney, as we get on very well and have a mutual respect for each other's work and timing. I would defer to him on comedy timing any day and I am not afraid to ask a younger actor for guidance in that way. As well as that he is a genuinely nice bloke.
We understand that as an acting coach, you trained Nicola Charles (Sarah Beaumont)?
I coached Nicola Charles for her audition for Neighbours and from the start it was pretty obvious to me that she would get the role. She nailed the character very quickly with very little help from me. I really only met her two or three times for the coaching sessions.
Do you think we've seen the last of Big Kev?
From what I hear, the writers really enjoy Kev and Angie, so hopefully they will keep finding reasons to bring us back. I would love to do a storyline where we form a country music duo to sing really bad country songs. I play guitar and sing and Lesley was a singer for years, so it could be lots of fun. I think we [Angie and Kev] might be seen sooner than you think. I am shooting some more episodes fairly soon so keep your eyes peeled.
To read a full character profile of Big Kev Rebecchi, click here.
Interview by Stuart