.
Interviews > Richard Cawthorne
2005 was a bad year for Dylan Timmins, as his old mate Reuben 'Roo' Hausman turned up in Erinsborough. After shopping Roo to the police for a planned robbery at the Scarlet Bar, Roo escaped from prison, kidnapped Dylan's brother Stingray and forced Dylan to hold up a service station by way of revenge. Now, the three of them are in prison together and actor Richard Cawthorne spoke to us about playing a Neighbours bad guy...
What were you doing prior to your work on Neighbours?
Where do I start, how far back do you want me to go? Just kidding. I've been working as an actor here in Melbourne for a number of years now, so the majority of my work has been locally based. Melbourne's a great town – and I feel blessed to have been involved with a fair few of the local productions.
What did you know about the role when you got it?
Back in the day, Roo and Dyl used to hang out as kidlets in their home town of Colac, it seems as though Dylan desperately needed a brand new telly… and what better way than to get his mate Roo to help him with a smash and grab job. Things didn't go to plan and both boys end up at the cop shop facing time. This is where Roo steps up and takes the rap for both of them… A debt to be paid…
Can you tell us a little about your time on set?
Neighbours is such a family show and as such you can't help but feel you're entering an environment where people have known and worked together for a number of years. I felt very relaxed and welcomed while working on the show.
Everyone is there to do a job and to do it well. That is foremost, but that doesn't mean fun can't be had. Working in television can be extremely exhausting, especially on a show like Neighbours where things really have to go like clockwork…
This is a tough profession on and off the job – there is so much working against you in this industry. That said, you seem to find that the people involved are incredibly committed and passionate about what they do. Neighbours is no exception.
In my experience you can pretty much guarantee that anyone working as an actor has been told to give it up at some point or another. You walk on to a show like Neighbours and you know that not only have people worked damned hard to be there, but they absolutely love what they do.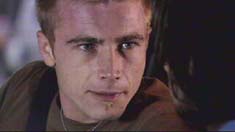 Were there any cast members you particularly enjoyed working with?
Couldn't single anyone out if I wanted to – have tremendous respect for everyone.
How did your return to the series come about? Were you aware during your first stint that the role would recur?
I think there was a greater plan for the character than I suspected during the first stint. I did hear rumours there was more in store for Roo – but exactly what would have to wait till I had script in hand.
Would you be interested in making a permanent return to the series - as Reuben or another character?
I like Roo, I feel there's much more to be explored with the character… There's a journey somewhere ahead of him and it would be a thrill to have the opportunity to see where that went.
Having appeared in several other Australian dramas, such as Stingers and Blue Heelers, how did Neighbours compare?
I guess other than stylistically, the main difference would have to be the turn around time it takes to complete an episode. Both Stingers and Blue Heelers would allow a week per episode, whereas Neighbours works at a considerably faster pace.
Off-set the shows also have a unique feel to them. The Neighbours green room can range from being very hectic to quite subdued, where people read, learn lines and drink coffee over the occasional crossword. You always get a feeling that the green room is the living room you never get to see.
Are you a viewer of the series yourself?
When I get a chance I'll flick it on. It's always interesting to see where the storylines are heading.
What have you been up to since your stint on Neighbours?
A little film, a little telly and a little theatre. In Melbourne I work with an ensemble theatre group called Red Stitch Actors Theatre.
With Neighbours turning 21 this year, what do you think is behind its huge success?
Despite my growing up in Hong Kong, Neighbours had a daily timeslot on one of the English language television stations. As a teenager, I remember clearly this being my only reference point to a country whose passport I held.
In the early 90s our family returned to Australia. And when I arrived Neighbours was still on the telly. For me the show has been where I have been. I suppose it doesn't matter where you grow up – Neighbours has been a constant, and for more and more people it has been around for the best part of their lives. As the characters and families live their lives, so do we. I guess in some idealistic way Neighbours is a kind of ambassador for the idea of family – it's nice to have that voice on television.
Interview by Steve. Added on 4th March 2006