.
Interviews > Nicola Charles
2013 saw the return of Ramsay Street homewrecker Sarah Beaumont after 14 years away from Erinsborough. Here the actress behind her, Nicola Charles talks about her career, her time on Neighbours and how her biggest storyline almost didn't make it to the screen...
Can you tell us a little about your acting career before you joined Neighbours?
Prior to joining the cast of Neighbours I had been a model with Elite in London for eight years and was the face of campaigns for Ford Cars, Rimmel Cosmetics, L'Oreal, Schwartzkopt, Coca Cola, Sunkist, Sprite, Häagen Dazs Ice-Cream etc etc.
How did the role of Sarah Beaumont come about?
The role of Sarah Beaumont was written for me after I had a chance meeting with casting director Jan Russ. The character was originally going to be called Jane, but I had asked for it to be changed as I had known a girl called Jane as a teenager that I hadn't liked very much. They happily agreed.
Sarah is probably best remembered for her affair with Karl, did you realise at the time that the story would have such an impact with viewers and cement the places of Karl, Susan and Sarah in the viewer's hearts and minds?
Yes I did realize the storyline would be impactful. In fact I suggested it a year before it was written in a script meeting but was laughed out of the room. I was delighted when it came back.
Would you say that the affair was your favourite storyline as Sarah, or is there another that springs to mind?
Yes the affair between Karl and Sarah was definitely my favorite storyline but mostly because it was the only big one that Sarah ever had.
Is there anyone you particularly enjoyed working with?
I enjoyed working with Alan Fletcher a lot. He's easy to work with. No muss, no fuss.
What led to your departure from the series in 1999?
I left to pursue a relationship with someone who was based in London and had to make a choice.
Where did your career take you after that?
I signed a recording contract with Mushroom Records UK but got dropped as an act two years later a month before my release date when the label was sold.
We next saw Sarah in the 20th Anniversary 'documentary' - how did that come about? Can you tell us a little about the filming of your segment, did you have any input?
I had no input into the Friends Forever episode and it was shot in my back yard in the UK.
Following an interview with Inside Soap, the Executive Producer of Neighbours, Richard Jasek contacted you about returning to the show, were you surprised to be asked? Was it difficult to step back into Sarah's shoes after 14 years?
I was delighted when Richard Jasek invited Sarah back. It was a pleasant surprise and brought me some much needed Karma after a rocky few years in the States.
Often when a character returns, their time away is often a blank canvass, whereas with Sarah we had learnt that she had become a mother to Antigone in 2001, and then had split with Peter in 2003, then with her return we learnt that they must have reunited, having another child, Angus, and were now divorcing. Do you think it was easier to play the Sarah of today knowing where her life had taken her in her years away than if you had been left to try and fill in the blanks yourself, other than her transformation from a nurse to a media representative?
It was much easier playing this time around with so much background and character growth. I think the new writing team had much to do with that.
How had the show changed since you left?
The show is bigger and better run now but fundamentally still the same.
Obviously one change was the revelation that Karl and Sarah had indeed slept together, which although Karl had implied as such in the years previously to Izzy Hoyland, many viewers still believed that it was just a kiss. How did you play the storyline originally?
I played the Karl Sarah affair with ambiguity originally as that is how we were directed to play it. To leave the ultimate question up to the viewer.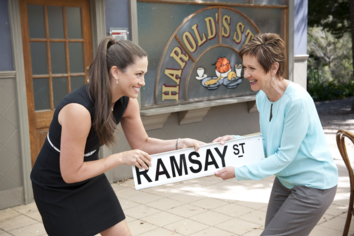 Susan was hostile towards Sarah for most of her return, with the story almost implying that Sarah had fled Erinsborough in disgrace immediately after the affair, whereas by her departure in 1999 Sarah had mended a lot of bridges. Was it hard to take that step backwards in their relationship, or do you think, as had become the case with some viewers, after all that time Susan was just remembering what she associated most with Sarah - the affair?
Who can blame Susan? Sarah is the living breathing embodiment of a large crack that appeared in her marriage. Sarah reminds her of the weakness of men and she hated her for it.
What was it like to work with Alan Fletcher, Jackie Woodburne and Ryan Moloney after so long? Were you disappointed that, although their plans to meet up were mentioned, Sarah didn't get to reunite with Lou on screen?
No I wasn't disappointed that I didn't get to work with Tom Oliver because I did get to hug him in the Green Room but some fans have mentioned that they would have liked to see them together again.
Many fans have suggested that they'd have liked to have seen Sarah stay around, suggesting that she and Paul Robinson would make an interesting couple. Would you consider returning to the show on a more permanent basis?
I would always be interested in discussing Sarah's permanent return. Selfishly I had looked forward to it but the fans reaction has been so touching and consistent that I truly believe they love this character and that makes me want to play her more of course. Sarah and Paul would be a knockout. Though I think she would also make a formidable adversary too.
What's next for Nicola Charles?
Nicola Charles is what is known as a Hussler. I shall keep hussling my little ass as long as the business will let me and as soon as I know, you'll know what is next.
Finally, what do you think is the secret to Neighbours' success?
Neighbours success is it's fans. They are staunch, loyal, dependable and above all sure of what they want and like.
Interview by Callum. Added on 20th April 2013