.
Interviews > David Clencie
A member of the original Neighbours cast, David Clencie spent the show's first 18 months playing Danny Ramsay, and returned for a cameo appearance in 2005. Here, David shares some memories of those difficult early days, his screen parents and the reason behind his departure...
Had you done much acting before winning the role of Danny Ramsay in late 1984?
I played Steve Sullivan in The Sullivans, Joe Carmichael in I Can Jump Puddles, Sam in Sam's Luck, guest roles in Cop Shop, lead role in The Kid at Play Box Theatre, support role in the film Run Chrissie Run. All before I was 20!
Several of the other original Neighbours cast auditioned for other roles - for example, Stefan Dennis auditioned to be Des, but ended up playing Paul. Did you always audition with the intention of playing Danny?
Yes.
Can you remember much about your initial Neighbours audition?
Only that Jan Russ (who is still there today) and John Holmes and the director Mark Joffe were there. I knew Mark from The Sullivans.
What did you think when you read the initial scripts? Could you ever imagine the show lasting as long as it has?
Not really. However, I think it was very well cast back then with atypical soap actors, that tended to change the scripts to suit them, to make it more real. The directors very much let us do what we wanted and it worked very well, it made it more real. But in saying that, I never imagined that my six year old son would ever watch anything but replays! I doubt that a series will ever last this long again! And to think that I uttered the first words in episode 1, way back in 1985 is rather strange! I still have the first script which was given to me bound as a going away present from Grundy's! Any offers? lol
Did you enjoy playing Danny? How would you describe him?
Yeah, he was really just an extension of me at the time - young, wild, crazy yet vulnerable and a nice kid.
Which members of the cast did you particularly enjoy working with?
Francis Bell, who played Max Ramsay, Danny's dad, was one hilarious individual - a brilliant actor, top bloke and very giving as an actor. Also Darius Perkins, who played the original Scott, and I were pretty close, we thought we did some pretty good scenes together, we were 20 year olds playing 16 year olds so that was pretty interesting!
Do you have any specific or enjoyable memories of being on set?
I guess Danny's birthday party where there were drugs involved was pretty relevant and rather risqué at the time as I guess drugs in 1985 was just beginning to become a problem for young people. The issue was handled pretty well on screen and was probably a credit to the writers at the time.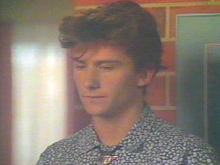 What was the atmosphere like on set during those initial months? How did you feel when your screen mum, Dasha Blahova, left after only six months?
Everyone got along really well. We worked hard, played hard and virtually lived in each other's pockets, shows can be like that sometimes, you become very close.
Dasha was a most interesting character. She was brought over by Reg Watson, the show's creator from Czechoslovakia and I kid you not spoke very little English!! In those days she was a very well known actress from the Eastern Bloc, she was named in the top 10 actresses in the world next to Liv Ullman by the French theatre critics!! Reg loved her, and assisted in her escape to Australia and cast her as Maria Ramsay in downtown Ramsay Street!!
Only problem was she didn't speak the lingo!!. Bud Tingwell, the very well known Australian actor, was appointed her voice coach. Dasha also liked what she would call her special coffee, for our common breakfast scenes, which comprised of Scotch and milk which she would drink all morning on set totally unbeknownst to anyone except Francis, Peter O'Brien and myself !! As the morning progressed so did Dasha's intake which made her pigeon english even worse!! We had so many hysterics with her on her pronunciation of the Aussie slang! It was truly hysterical laughter, scene after scene! She was a fantastic woman in an absolutely bizarre situation, I wasn't surprised when she left after 6 months because I don't think she really enjoyed it that much, very funny memories indeed! I think she returned to Czechoslovakia when the iron curtain was lifted! God bless her.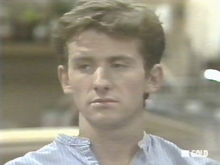 How did you feel when Neighbours was axed by Channel Seven, then taken over by Network Ten? What was the atmosphere like amongst the cast during that time?
Yeah, the feeling was of total shock. We just didn't understand, the show was rating well all over the country except Sydney, where the Seven execs put the show on at 5.30pm when no one was watching. It was a Channel Seven Sydney decision to axe the show. I bet they regret it now! I believe it is still a very touchy subject with Seven even today.
When Channel 10 took over the show the feeling was of elation!! Yees we all get to keep working together which we enjoyed so much. However, there was a degree of scepticism among the cast that it would actually happen - would Seven sue? This was unprecedented in Australian TV history. No programme had ever been axed and picked up by another network! Could this happen? The rest is history.
Did things change much on set when the show moved channels?
Yeah, it did, the show looked different, Darius was replaced by Jason Donovan who I knew from I Can Jump Puddles, and new characters were introduced… Madge, Charlene, Mike. The whole family dynamic thing sort of changed. Scott and Danny weren't great mates like they were and Danny was working in the bank and Scott all of a sudden became much younger than Danny with blonde hair, and was still at school with his friend Mike!
What led to your decision to leave the cast after 18 months as Danny? Did you ever regret leaving, when the show went from strength to strength and secured record ratings only months later?
Francis Bell left after six months and Jason and Kylie started to become very popular. I felt at the time that Danny had sort of run out of legs and didn't really have anywhere to go as a character so I left with no regrets.
Do you still keep in touch with anyone you worked with on Neighbours?
Yeah, I see Darius, and Vikki Blanche occasionally.
You made a cameo appearance in 2005 as Danny, during the show's 20th anniversary celebrations. How did that come about? Can you tell us a little about filming your cameo?
Well they asked me to do it because I was the first to speak on the show and obviously an original cast member. Filming day was weird, I caught up with Stefan Dennis, had a few laughs, but they wrote a huge monologue for me and I couldn't remember my lines!!
Do you ever watch Neighbours these days? If so, what do you think of it now?
Not really, they must be running out of storylines by now! Ramsay Street sure is one happening street.
Would you ever consider a return to the show?
If I was asked I would consider it yeah. Why not? It would be pretty funny seeing the street was named after Danny's great grandfather, I think.
Where did your acting career take you after leaving Neighbours? What are you up to these days?
After Neighbours I really wanted to do other things as I had been a kid actor all my life. I have had my own advertising company, and worked as an auctioneer for many real estate companies. These days I have returned to acting and have appeared in Blue Heelers, MDA, Stingers, tv commercials and I do many voiceovers for radio and TV.
With Neighbours now in its 24th year, do you have any thoughts on why the show has lasted so long?
Not sure – the UK success maybe?
Interview by Steve. Added on 29th November 2008