.
Interviews > Sasha Close
Sasha Close was the second of three actresses to play the part of Lucy Robinson, taking over the role from Kylie Flinker in 1987, at the age of fourteen. In this exclusive interview, Sasha reflects on her time on the show playing a major character from the early years, and tells of her enjoyment of being part of the cast when the show was at its peak of popularity.
Nowadays, Sasha still remains passionate about the acting industry but currently enjoys working 'behind the scenes' with a cinema chain based in Melbourne. Recently married, Sasha also kindly shares with us some recent pictures from her wedding.
Can you give us some information on what you've been up to since leaving Neighbours?
Since leaving Neighbours, some 14 years ago now, I have completed my secondary education and also completed a University degree. During these years I also starred in several TV series, did two TV commercials and performed in several plays. In 1998, I started working for a film distribution company and so began my career 'behind the scenes'. I now work for a cinema chain, in programming and marketing. Whilst I love acting, I find my current job extremely fulfilling. It is still in the film and TV industry – just not in front of the camera. And about one month ago I got married – married life is going well.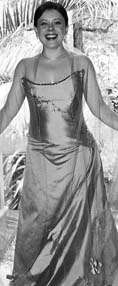 Can you tell us how the change from the original actress who played Lucy, Kylie Flinker, come about?
It is difficult to recall all the specific details, however I do remember that Kylie Flinker wanted to concentrate on her schooling. So the producers set about auditioning girls between the ages of 12-14 for the role of Lucy Robinson. I was very fortunate and landed the role.
Did you ever watch the show before you joined?
I did watch the show before joining it, and was very excited when I was offered the opportunity to be on it.
Were you nervous about joining the show, knowing it was a time when its popularity was at its peak, and with Lucy being a major character in the show?
I was extremely nervous about joining the show. However after meeting the cast and being familiar with the filming process, my nerves eased somewhat. I still remember forgetting one of my lines during filming in the first week – the director and Anne Haddy were so nice and made me feel very much at ease. After that day, I was paranoid about learning my lines though!
When Lucy left the show to attend boarding school, you continued to return to the show from time to time - was it your decision to appear intermittently like this?
The decision to return intermittently was partly my decision and partly that of the producers. I was very happy to return to the show and also be able to attend school more regularly when I wasn't filming.
Do you have any specific memories of being on set?
I have extremely happy memories of being on set. As you mentioned in one of the previous questions, the show was at its peak of popularity. This meant that everyone was enjoying being part of the success. At times, some of us couldn't believe how well the show was rating. All the cast were very friendly and I will always consider myself fortunate to be part of such a great group of people.
Out of all the other actors on the show, who did you enjoy working with the most?
Anne Haddy was such a delight and a very wonderful woman. I also have great memories of working with Kylie and Jason. Craig McLachlan also made working a lot of fun. He was constantly telling jokes.
Lucy returned to the show again in 1991 with a third actress in the role. Would you have liked to reprise the role yourself?
In 1991, I was finishing my final year of High school; so returning to the show wasn't really an option. Perhaps if it had been any other year than my final year of High school, I would have returned to the show.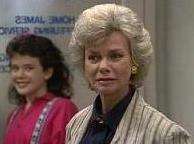 Do you still watch the show today? and are you still being recognised as Lucy?
I actually don't watch the show on a regular basis anymore (ie night by night). I have been known to turn it on occasionally though.
And would you believe, I am still recognised. Which is very flattering considering it was so long ago.
Having been part of one of the most popular and significant episodes in the show's history - the wedding of Scott and Charlene - can you tell us a little about your memories of filming that special episode?
I recall filming in the church & on location. It was a very cold day – just at the start of winter. We were all freezing and had to put on jackets in between takes. Everyone was really excited on that day though – we had a feeling that we were part of something special!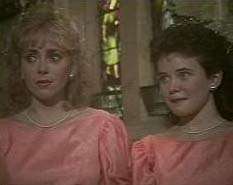 Interview by Barry. Added on 13th December 2003