.
Interviews > James Condon
James Condon holds a special place in the history of Neighbours. As well as starring in the series twice, as conman Douglas Blake in 1985 and as wealthy philanthropist Reuben White in 1995, he was also the husband of the show's best-loved and longest serving cast member, the late Anne Haddy.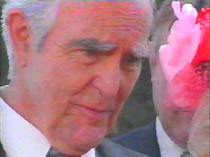 Can you give us some background on your career?
My acting career - professionally - began in ABC Radio in 1942, when I was aged 18 and on the RAAF Reserve, awaiting call-up. I resumed with ABC after three and a quarter years in the Air Force, with the rank of Flyer Lieutenant, having flown operationally with RAF Squadron 547, B24 Liberator, Coastal Command stationed at Leuchars Junction, Fife, Scotland for the last six months of the war in Europe. In 1949, I went to London and worked for the BBC in Radio and television until 1951, when I was given a contract by the ABC in Australia at four times the salary I was on in London. I took it, obviously, and worked as an actor, scriptwriter and interviewer until in 1956, when television began in Australia, I moved to Sydney. For the next 29 years, I never stopped, either in television, radio, theatre, film and voice-overs - the list is pages long. During those years, Anne Haddy and I met as actors - just friends, then much later as lovers, and together since 1974. The most wonderful 25 years of our lives. We married in 1977.
In 1985, Anne landed the role of Helen Daniels on Neighbours, and you both moved from Sydney to Melbourne for the part. Had you any idea how big the series was to become?
We took a chance relocating to Melbourne, but we had no idea - just hopes that Neighbours would succeed.
How did the role of Douglas Blake come about?
I was offered the role of Douglas Blake and said "yes"!
What are your memories from that time on the show?
My most vivid memory of my first day's shooting as Douglas Blake was the ice on my car's windscreen - the temperature was 0.8 degrees Centigrade. Of course, we were all dressed in light summer clothing. At one stage the director said "Relax, James." I replied slowly: "I can't relax, my jaw is frozen!" My best memory of all from those days was working with Anne.
10 years later, you joined the cast as Reuben White. How did that return come about?
Previously, I was playing simultaneously in Prisoner and Neighbours. When Douglas Blake finished in 1986, I told the powers-that-be that I'd grow a beard and return as a different character with a Scottish accent. I have a very good Scottish accent, having lived there for a long time, and having had a Scottish girlfriend during the war. Many years later, my schedule happily fitted in with Reuben White's time, and almost all his scenes were with Anne.
How did playing Reuben compare with playing Douglas?
Douglas Blake was a colourful character - baddies are always fun to play. But Reuben married Helen, and our being married again on camera was very special - no acting required - just living and loving it.
Had the show changed much in the 10 years since you last appeared?
The show had become more sophisticated when Reuben arrived on the scene, but our early timeslot could not allow too much relaxation of moral standards.
What did you most enjoy about your second stint on Neighbours?
Obviously, I most enjoyed acting with Anne.
Did Anne always intend to stay with Neighbours for as long as she did, and what was the mood on set as she recorded her final scenes?
Anne intended to stay for however long the show lasted - but her heart and liver troubles and her hip operation caused schedule disarray. For her final scenes, I was not on set - I was rehearsing in the theatre - so I didn't see the tape till later. We thought it a bit strange.
What do you think accounts for Neighbours' phenomenal success?
Neighbours arrived on the world televison scene as a fresh, very human and real portrayal of ordinary, loving, decent people. After 18 years, and still going, that quality alone indicates the strength and reason for its impact.
What have you been doing since playing Reuben?
What have I been doing since? In theatre - a wonderful production of Madame Butterfly, which was great success in Melbourne, Sydney and touring over several months. In film, I had a small part in Evil Angels, starring Meryl Streep and Sam Neill, Spotswood, starring Anthony Hopkins and featuring Russell Crowe, and Backstage which featured a lot of Australian actors. I've also done a whole lot of television - a couple of series for PBL (Packer), Time Trax - an American company working in Queensland and Something in the Air for ABC. The ABC still does radio drama and this old man - I shall be 80 next September - is still working! But mostly, I record talking books for the blind. Originally, for the Louis Braille Talking Book Library, now for the National Institute of Library Resources. I record about six books a year - have done so for at least 18 years and I love it!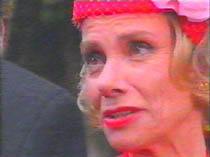 Do you ever watch Neighbours now?
Yes, every now and then I watch Neighbours, when I have the opportunity. I know some of the old guard still acting in it and most of the cameramen and technical and production people.
What, in your view, was Anne Haddy's contribution to Neighbours?
Anne's portrayal of Helen Daniels was the backbone of the entire Neighbours saga from 1985 to 1997.
To read a full character profile of Helen Daniels, click here.
Interview by Moe. Added on 24th May 2003