.
Interviews > Lucinda Cowden
One of Neighbours' most popular characters in the 80s and early 90s was the slightly insane Melanie Pearson. Here, actress Lucinda Cowden shares her thoughts on the role - and the laugh - that everyone loved, and her feelings on the off-screen breakdown of Mel's marriage to Joe...
Where had your career taken you before your first stint in Neighbours in 1987?
My professional career started when I was 14 and i was involved with St Martins Youth Theatre in Melbourne and was picked for a play called Cains Hand which was produced at The Belvoir St Theatre in Sydney in which I played a 14 year old drug addled rebel, (slightly different to Melanie..). I then went back to school and studied Drama at the Victorian College of The Arts for 3 years. I didnt finish that course as I got a part in a film for tv called Just Friends in which I played a pregnant 16 year old, then closely followed by Handle With Care a film about breast cancer in which I played the daughter of the main character. I too'd and fro'd with Neighbours in between doing another Aussie soap called The Power and The Passion which was as bad as it sounds and fortunately got axed and Neighbours took me on full time after that.
How did the role of Melanie come about? How would you describe the character?
She was originally Henry's mad girlfriend and when i auditioned for the role, there was no character breakdown - just a note about the laugh, which said "she laughs like a cross between a seal honking and a donkey breying". The character started from the laugh and I worked backwards to what she'd be like if she laughed like that! I think she was funny and a free spirit who was always trying to make people happy, I liked the fact that she wore bad taste clothes, I think she was quite genuine and unaffected which I think made her relatable. Theres one word to describe Melanie... "Dag"
Something many fans have always wanted to know – whose idea was the infamous laugh?
Not mine! Some bright spark at Grundy's.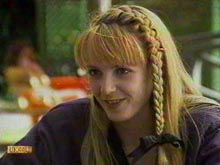 You made several brief appearances on the show in 1987 and 1988 as Neighbours was at the height of its popularity – can you tell us a little about working on the show during that time?
Well it wasnt like that in Australia, I don't think people realised how popular it was here in the UK, I didn't until I came over and saw it. So we were all pretty unaware of it at the time. It was pretty much similar to when I was there later, except of course without some of the more famous cast members. I always felt really welcomed as a guest cast member, they all were friendly and helpful. I remember Anne Haddy giving me tips on working with the cameras and hanging on her every word, what a pro! Craig was always really hyper and was always cracking the crew up and Jason & Kylie were very sweet, I think they thought I was a nutter when I started doing the laugh on set, lets just say it made an impression on them. It was probably a more relaxed time for me as I wasnt there full-time. I met my best friend in the world, a lovely boy called Anthony Fletcher who played the Rev Richards during those days, he now runs his own casting and film company called "Fletcher Films" in Sydney.
You became a Neighbours regular in 1989 – how did that come about?
As I said earlier I was in another Aussie soap called The Power & The Passion. I had done some Neighbours stuff before that and when we found out it was getting the chop, the director's assistant said to me that I should ring Mark, the exec producer on Neighbours, and let him know that I'm available again, as they had tried to get me back and I'd been working on this other show so couldn't do it. So I did! I remember being incredibly nervous but was egged on by my other cast members, so took a deep breath and rang him. Must've had the Gods on my side that day cos Annie Jones had just unexpectedly not renewed her contract and when Melanie had been in the show previously she had worked in the office for Paul Robinson. So I had a meeting with Mark and we talked about what to do with the character and then they offered me a 6 month contract. He who dares Rodders, he who dares!
Were there any of Melanie's stories that you particularly enjoyed filming?
Definitely the weddings! I loved the storyline when Melanie turns up at Paul & Chrissie's wedding in a wedding dress then gets stuck on the cruise ship for their honeymoon. I loved Joe and Mel's wedding and courtship, thought they were a cute couple. Ummm, Harold trying to teach Melanie to sing was pretty funny, the pig cake at the church fete and a karaoke night with Henry, Bronwyn and the Rev Richards was also hilarious. Any scenes with Maggie Dence who played Dorothy Burke.
Did you prefer performing Melanie's comedy moments or the more emotional scenes?
Gosh did she have emotional scenes...? Well not many anyway. I think when you do alot of comedy you look forward to something a bit deeper and visa versa.
Were there any cast members who you particularly enjoyed working with?
Yes! Mark Little is still one of my greatest mates - he lives around the corner from me and I spend a huge amount of time with him and his family. Mark was such a joy to work with, I had seen his stand-up material and admired his enormous talent from afar so was very pleased when our characters got together and think they both had a great spark. We always laughed a lot but always got finished early. Maggie Dence, Genevieve Lemon, Anne Charleston (who I just did a radio play with) Ian Smith, Guy Pearce, Fiona Corke, Ashley Paske, the delightful Beth Buchanan, and Richard Norton, who I have done alot of theatre with over here, just to name a few!
What led to your departure from the series in 1991?
I had been on the show for a while and wanted to spread my wings a bit and see what else was out there, Mark had already told me that he wasn't renewing his contract and I didn't want to mope around Ramsay Street without him so that helped me make the break.
How did your appearance in the anniversary special in 2005 come about?
The producers of the show contacted my agent over here and asked if I was interested in making a cameo appearance. Of course, I was flattered to be asked and agreed immediately.
When and where were your anniversary scenes filmed?
Think it was about this time last year, in London walking beside the Thames near the Houses of Parliament.
Have you had a chance to watch the finished anniversary episodes?
Yep it was a laugh. Funny to see everyone now.... haven't we all got old!
Would you ever consider bringing Melanie back to Erinsborough if the opportunity arose?
Dunno, maybe if the price was right....?
Are you still in touch with any of your former Neighbours castmates?
Mark, saw Anne Charleston the other day, Beth Buchanan via the email and Anthony Fletcher who played Rev Richards.
Melanie's final months in Erinsborough saw her finally find true love with Joe, then marry him. Between 2003 and 2005, we have learnt, through Joe, Sky and Mel's anniversary appearance, that the marriage didn't last long. What are your thoughts on this?
Shocked and suprised! Thought they would last forever obviously the script writers didn't agree. Shame... don't think Lyn Scully is any good for him either!
Where has your career taken you since you left Neighbours?
Well to the UK... I have been here since 1993. I do a lot of theatre here and a lot of voice work, I voice characters in The Koala Brothers which i believe is shown here on the BBC and in Aus on the ABC and do a lot of radio work. I have also done some stand-up writing and performing in my own one woman show at the Edinburgh festival, been a regular guest with the Comedy Store Players as well as stints of tv presenting.
Your stint presenting Parallel 9 in the mid-nineties saw you interviewing several Neighbours actors – what was that like?
Weird... they were all bringing out bad singles...
Finally, with the show turning 21 this year, what do you think are the reasons for its enduring success?
I think it's light and bright and easily digestable. I don't really watch it any more these days but I think in the earlier days there wasn't so many daily soaps and I think the dailyness was part of the initial hype. But to be honest I think it's probably a very dedicated team of actors and crew that make it as good as it is in the time they have to do it.
Interview by Steve. Added on 8th April 2006