.
Interviews > Paul Dawber
Paul Dawber is well-known to fans of Australian television, having guest starred in many serial dramas and appeared as regular character Todd Buckley in Sons and Daughters. In 1998, he played the extended guest role of Kim Howard in Neighbours. Here, he remembers his time on the show, including the significant role he played in the Karl, Susan and Sarah storyline...
Could you give us some information on your career prior to your role in Neighbours?
Before Neighbours I was busy acting in theatre, a little film and other TV series such as Sons and Daughters, Prisoner and Blue Heelers... I even appeared in several episodes of Neighbours back in 1990 as Mr. Denning the science teacher. My greatest passion is the stage and I spent a few years in LA in the mid '90's to work for The Los Angeles Shakespeare Company.
Having acted in other Australian serials, what were your first impressions of the way Neighbours did things? Did you find yourself seeing any familiar faces?
Neighbours did things extremely well. As it's Australia's longest running TV series they've perfected all aspects of producing the show. I was made to feel extremely welcome and a part of the show. One of the regular directors of the time, David Myles, was a friend of mine - we'd worked on a play together and put some time into producing a film (which hasn't eventuated... yet!) so it was good to know someone there. I also had previously worked with Ian Rawlings on Sons and Daughters back in the late 1980's when I was a regular in the series for its final year. I hadn't seen him for about 10 years and we took off from where we left off.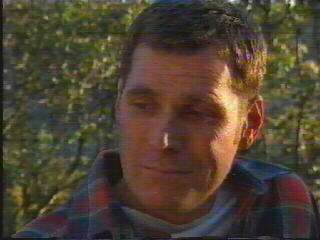 Did you enjoy playing the character of Kim Howard? How would you describe him?
I did enjoy playing Kim he was a nice guy who enjoyed life and wouldn't put up with any nonsense. It would have been nice to develop his character further but due to an opportunity to screen test in Hollywood for Days Of Our Lives I wasn't available for extra scenes (you may have noticed I disappeared pretty quickly after Susan left Karl). There were plans for Kim to marry Sarah but a new character was brought in because it looked like I was going to be in Hollywood for 3 years. Alas, the Hollywood job didn't happen and I was left out of work for a month before I got a two year job touring Australia in the musical The Sound Of Music.
How did you feel about acting alongside such an established cast?
It's always great to work with a competant and confident cast. All the actors were extremely professional and even the newcomers (at that time) to acting (like Dan Paris and Daniel McPherson) behaved like they'd been doing it for years.
Your character played a significant part in the Karl/Sarah affair storyline, which was one of the most dramatic stories in the show's history. Did you have any idea how big the story was going to become?
Not only did I not have any idea how big the plot was going to be but nor did the producers. The concepts for the scripts were being written only days before the scenes were shot. I was originally hired for 6 weeks work on the show and that turned into over 6 months and it would have been even more if it wasn't for me being unavailable. I was very fortunate to be involved in such a fantastic storyline.
Which cast members did you particularly enjoy working with and why?
I enjoyed working with all the cast. Especially Susan, Karl and Sarah (using character names now!) who I worked with most of the time.  Harold and Toadie were also a lot of fun.
Did you watch the show before joining? Do you watch it now?
Unfortunately I don't have time to watch the show regularly but I do catch it occasionally as my daughters are avid fans.
Could you tell us a little about your work since your time on Neighbours?
I worked in a film called Erskineville Kings were I portrayed the main characters drunken and abusive father (a long way from Kim!). I played seven roles in the play Two by British playwright Jim Cartwright. Guest starred in several TV shows including Blue Heelers (again) as bad cop Barry Craig in a very important episode of the series (Maggie Doyle's death). And 392 performances as the villain Herr Zeller in the Australian National Tour Of The Sound Of Music. At the moment I working on a modern play which is based on a Shakespearean Play as a Junkie! As you can see I usually portray bad guys so it was extra good to have played a goodie like Kim Howard.
What do you think accounts for the huge success that Neighbours has achieved since it launched more than 18 years ago?
Wow, has it been that long? I remember testing for the role of Henry Mitchell back in 1987. Of course the role went to Craig McLachlan but Grundy's were sufficiently impressed with my audition that they wrote a regular part for me in Sons and Daughters. Now that's not a reason for Neighbours success (using Craig instead of me?) but using good talent, fresh and often exciting storylines and constanatly bringing in new characters has something to do with it.
For more information about Paul's career, visit his website at www.dawber.org.
Interview by Steve. Added on 5th July 2003