.
Interviews > Paul Denny
Viewers recently saw Priya Kapoor facing harassment, and an indecent proposal, from school board member Brian O'Loughlin. Here, actor Paul Denny tells us what it was like to play bad boy Brian...
How did you first get started in the acting industry? Can you tell us about some of the roles you played before appearing in Neighbours?
My first experience of performing was at the local annual community concert in the small town of Allora in QLD where I grew up. I was 11 or 12 years old, and I first appeared as one of the sons in Fiddler On The Roof. I enjoyed it so much that I asked if I could perform my own acts as part of these concerts each year. I was very much encouraged by the wonderful Michelle Smith who directed these concerts, and as a result I performed Monty Python skits for the crowd, as well as doing a magician act on occasion. These went down a treat with the audience, and it wasn't long before I became Allora's little version of Macaulay Culkin spliced with a healthy dose of John Cleese. I had the bug from then on.
After finishing school, I went to uni to study acting, and after that I moved to Brisbane to pursue a career there. It was really tough trying to get a foothold there, as I knew nobody in the industry apart from my university pals who were also trying to make their mark, so it wasn't until my second year out of uni that I scored my first professional acting gig. It was for a QLD tour of Hamlet and I played various roles in the play for nearly 6 months. It was a great experience for a young actor, and taught me heaps.
My real break came when I did a one-man show that my best mate Adam Zwar wrote for me called The Fall & Fall Of Jeromy Hawthorn(sic). It received great critical acclaim in Brisbane, and even did 2 return seasons, after which I began working regularly at the 2 professional theatre companies there, as well as scoring various roles in film and TV.
In 2003 however, I felt it was time to broaden my horizons and try my luck in Melbourne, which had a much larger film and television industry. So (my future wife) Rebecca and I moved here, and after pretty much starting from scratch again, managed to gradually make a career for myself in this great city. I've played a number of roles on stage and in TV & film since arriving here, most notably as 'Bob' the photographer in 2 seasons of ABC TV's Lowdown, again written (together with his wife Amanda Brotchie) by my dear friend Adam Zwar. You can see a detailed list of what I've done at pauldenny.com. Ah, shameless self-promotion...you can't beat it eh?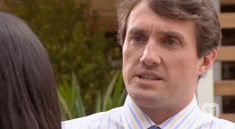 How did your role as Brian come about? Was it just a typical audition for you?
Strangely enough, I didn't actually audition for Brian. I had auditioned for other roles in Neighbours throughout the years, but this one just came to me. My agent received a call one day asking me if I'd like to play the role, and I gratefully accepted instantly, as I'd always wanted to visit Ramsay St. You don't feel like you're a true Aussie actor until you've had a run in Neighbours!
How would you describe Brian?
Ah, poor Brian... He's not happy in his marriage, and is searching for happiness elsewhere. His method of doing this however, is by using his position to try to threaten potential partners into submission. He is deeply insecure, but masks his weaknesses with bluff and bravado. He just wants to be loved, but doesn't love himself, and as a result has to rely on artificial means to woo the other sex. A good psychologist, and a thoroughly honest appraisal of himself, might uncover a scared child waiting to grow up.
Were you aware of Brian's full story, and what sort of person he'd turn out to be, when you first took on the role?
I was given a basic outline of his motivations and what he would do, but there was a fair amount of guesswork, as the role was still being written when I first took on the role.
How did Neighbours compare to other Australian drama series that you've worked on?
It's so fast! It wasn't just the speed of the process that impressed me, but also the efficiency of the crew and creatives. There's not much margin for error in a show that pumps out so many episodes a year, so everyone was incredibly good at their job, and also fantastic to work with. A great bunch of people.
Has there been anyone you have particularly enjoyed working with during your time on the show?
I loved working with everyone, but I need to put in a particular word for the lovely Menik Gooneratne (yes...the lady I stalked in the show). She made me feel so very welcome from the outset, and was always willing to work the scenes with me before we walked on set. Truly a joy to work with. It didn't hurt that she was a fan of my character in Lowdown either ;)
What was it like to work alongside such an established cast?
It was slightly intimidating because they all know each other so well, and I felt like an outsider in the beginning. But it only took a couple of days before they made me feel like an important part of the Neighbours tapestry and I found my feet. I also knew quite a few of them from seeing them around the traps, and had previously worked alongside the very talented (ooh, he'll love that) Scott Major on a few occasions doing voice overs together.
Would you ever be interested in joining the Neighbours cast full-time if the opportunity arose?
That would be a yes. I'd love to.
Have you ever been a Neighbours viewer yourself?
When I was growing up in QLD, our family used to watch it religiously every weekday. I still catch it every so often especially since appearing in the programme, as I've gotten to know a lot of the actors and characters. Admittedly, in between chasing my 4 year old around and all the demands of having a newborn baby, I seldom get to watch television until about 8.30pm, by which time I'm pretty exhausted.
Finally, as it celebrates 28 years on Australian television, what do you think accounts for Neighbours' enduring success?
Its constantly changing storylines, the familiarity of its setting, and the likeability of the cast of characters, all add up to make it an enduring success and more like a good friend than just a TV programme.
Interview by Steve. Added on 2nd May 2013