As part of Sydney based band, Leonardoís Bride, Abby Dobsonís voice may be familiar to viewers of Neighbours in the late 1990s. Now a solo artist based in Melbourne, Abbyís music returned to our favourite soap as the title track of her debut album, Rise Up accompanied the aftermath of the bus crash. Here, Abby takes some time out to chat about them, her solo career and her upcoming cameo on Neighbours.
Can you give us some background about yourself?
I am the youngest of 5 children, brought up in Sydney, now living happily in Melbourne.
Who are your main influences?
Itís quite hard for me to gauge my influences as often the things that sneak in, do so when Iím not looking. But the things that were playing in my house when I first started a love affair with music were; Bob Dylan, Al Green, David Bowie, Carole King, Cat Stevens, Elton John, Frank Sinatra, The Sesame Street record, Ella Fitzgerald, Whitney Houston! Later, I got into Fiona Apple, Tom Waits, Jeff Buckley, Crowded House, Sufjan Stevens, Lauryn HillÖ. Itís a pretty mixed bag really.
As one quarter of the ARIA-nominated, Leonardoís Bride, long-term fans of Neighbours will have heard your music before, with the award winning Even When Iím Sleeping being played in the Coffee Shop during 1997 and the beautiful, Stay, which accompanied the funeral of Helen Daniels. What caused Leonardoís Bride to go their separate ways?
Leonardoís Bride were together from 1993 to 2001. Thatís quite a long time for a band. We worked very hard and consistently tried to make strong, beautiful albums and live shows. But we got to a point where we were exhausted and didnít think we had another beautiful record in us at that stage together. There was a need to experience music and life outside the group.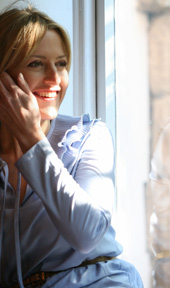 Ten years on from the height of Leonardoís Brideís success, you released your debut solo album, Rise Up. Can you tell us a little about what went into its conception and eventual birth?
Rise Up was my debut solo album which I released in Australia late last year. After Leonardoís Bride split, I was open to the idea that I wouldnít necessarily have a career in music any more. But I suppose there was still the desire in me to make music and so I took on smaller projects for a while, working on other peopleís records and touring with them, and getting commissions to record some of my new compositions for television shows. It wasnít easy making Rise Up and I often thought it might not ever get finished, but I was eventually very single minded about it and quite driven to make a beautiful album of my own.
Rise Up has been critically acclaimed; did you ever imagine that it would become as successful as it is?
I suppose I knew I didnít want to release an album unless I was moved by it and proud of it. It did take quite some time for me to feel that way about it and I did lots of re-recording and work on the album until I felt happy to offer it up. So, once it was finally released, I wasnít surprised that people liked it!
Which would you say is your favourite song from the album and why?
My favourite song changes all the time. But the most perennial favourite would be Cloud Watching because it was so effortless and has such an open hearted feeling about it. Itís kind of timeless.
UK newspaper, The Independent has described you as Ďone part Gwen Stefani to two parts Sinead OíConnor.í How does it feel to be compared to such successful artists?
Itís always interesting to see how you are perceived. Fortunately I really like those artists and so I took it well.
In 2007, Neighbours returned to sourcing tracks from Mushroom Music Publishing after a 7 year break, meaning that once again your music was featured on the show. Were you contacted regarding the use of your music and how did you feel about it being used on the show?
It was funny actually. I had a meeting with my publisherís Mushroom Music when I went to deliver them the finished album Rise Up. They immediately gave the album to the folks at Neighbours and within 2 days they contacted me to see if they could use one of my songs, the last song on the album (also called) Rise Up for an upcoming scene.
Have you seen any of the scenes it has featured in what did you think of the use?
I donít have a telly at home, but someone did tape the episode where they featured that song. It was a terrible car accident scene. I thought the use of the song was great and the scene was quite moving and strong.
Are you a fan of the show? What do you think of the changes that are happening?
As I said above, I donít have a telly so Iím not quite sure of the new movements on the show.
Neighbours' Musical Director, Chris Pettifer acted as composer for The Secret Life of Us with featured your first solo offerings, Don't Ask for More and I'm Not Missing You on its soundtrack. Has he ever asked you to produce some exclusive tracks or even a version of the theme song for Neighbours?
No, he hasn't.
Your music has featured on many other Australian television shows, including Home and Away and as mentioned, The Secret Life of Us. How important is the use of your tracks on shows like these to artists such as yourself?
Well, unlike when I was in Leonardoís Bride, I am now signed to a small independent label in Sydney called Craving Records. It is more difficult to promote music this way and having your music played on popular television shows is a great way for people to hear your music. And often these shows get syndicated around the world, so itís a wonderful way to spread your music around the world.
How does it make you feel when you hear one of your songs on a show?
I won't lie. It's a pretty great feeling.
Youíve recently recorded a cameo on Neighbours, along with your band. How did that come about? Can you tell us a little about what happens?
I was invited to bring my band to the set of Neighbours to perform a song in the bar on set. We were all pretty excited, even if we were trying to be cool about it. We all drove out to Nunnawading in Melbourne for the afternoon and got dressed and had hair and makeup etc and then set up in the studio/ bar to play Itís Only Love which is actually my latest single from the album.
What did you get up to on the day; did the cast make you feel welcome? How did it feel to be on the set of what has been described as an Australian institution?
It was a Monday and actually a little tricky to arranged for my 6 piece band to all be there. But everybody realized that it was a little piece of history, being on Neighbours, so we all made sure we could rearrange our schedule to make it happen. All the crew and some of the cast that we met, were all totally gorgeous to us. The day after the taping, my bass player, Paul Housden, called me up and said, ĎI feel like Iíve peaked now, where can I possibly go after Neighbours?í
I told him there was always Summer BayÖ
Your music is available to download from the UK iTunes store. Do you have any plans to release in the UK market and are we going to see you over here touring soon?
Iím actually doing this interview from Paris, France, where I am doing a little writing and also trying to organize a way to release my album in Europe and tour the UK and EuropeÖ. So fingers crossed, it will happen.
What else can we expect from you in the future?
Iím hoping to expand the boundaries of what I do. Iíd love to do some more collaborations with people, do some interesting shows that are fun. Iím talking with friends at the moment about doing a jazz show and also, doing another show where I sing French songs. Iíd love to do a musical as wellÖ I think (not Oklahoma or that kind of thing) but Les Miserable or something like that. Of course, Iím planning on doing more of my own shows with my fabulous band tooÖ and getting inspired wherever I can...
Interview by Callum. Added on 21st June 2008