.
Interviews > Erik Donnison
Erik Donnison is one of Neighbours' multiple guest actors, having played seven different characters between 1989 and 2000. Here, he chats about his career and his Neighbours highlights...
What were you doing prior to your work on Neighbours?
First worked on Neighbours in 1989 (I think). Prior to that I had 30 years experience in the theatre. And several years' experience in television. Soaps, commercials, telemovies…
How did you first role on Neighbours, back in the 80s, come about?
I first worked (through my agent) in 1989 as a one episode character, Gavin Fairchild, opposite Craig McLachlan, which didn't go to air. When this happened the director Kendal Flanagan gave me another role opposite Craig, which ran for some time. I think the character was called Ted and I ran the local community radio station and employed Craig's character. Subsequently, at the end of that stint I took Craig's character to New Zealand and so out of the series.
Can you tell us a little about your time on set back then?
It has always been a pleasure to work on the set of Neighbours both then and in my most recent appearance. Professional, friendly and very efficient. In those days, it was Madge and Harold and, of course, Rachel Friend (Bronwyn), who was delightful.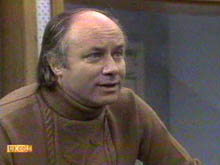 You went on to appear in several other guest roles in the 90s, including Alan Briggs, whose son was killed in a drag race, and salon owner Ivan Hart. What do you remember about those different roles?
Alan Briggs was a good role. Got to be emotional in that one. There were some great outside scenes, including the cricket match. Caroline Gillmer was in the cast, at that time, and was very supportive of me. Ivan Hart gave another opportunity, as he was a bit dodgy and was stealing from his business. In that one, I got to work with Janet Andrewartha who I had had an association with in the theatre in earlier times. Both these were extended roles and I had the opportunity to work with many actors and also many directors. The directors have always been top-notch.
Did you notice any changes in the programme between your first appearance in the 80s and your most recent in 2000?
Sets, lighting and the general look of the show had improved. The wonder has always been the variety of young actors and story lines that have been presented.
Were there any cast members you particularly enjoyed working with?
I think I have always had a soft spot for Craig McLachlan. Always so friendly and unassuming. Years later after the 1989 role, I worked with Craig in a telemovie based on the Backpacker Murders. And the moment I walked onto the set he came across and welcomed me, remembering our time on Neighbours together. I thought this was quite extraordinary and most generous.
Would you be interested in making a permanent return to the series if the opportunity were ever to arise, or do you prefer making shorter, guest appearances?
Always would have liked a permanent role. Something you dream about. But I was only ever called for the smaller guest spot roles, although I have played many other roles which probably played two or three episodes. However, one of the problems with the industry is that casting people don't seem to be able to accept that we are actors and can create. I did a commercial in 2001, for Reece Plumbing and it was on screen until the beginning of this year. It has been very successful. But, I haven't had a job in television since then. Always, at auditions I am told I am too over-exposed, etc.
Which of your various Neighbours roles was your favourite to film?
I think the Ted Murrow role with Craig.
Having appeared in other Australian dramas, such as Blue Heelers and Stingers, how does Neighbours compare?
I have probably appeared in most shows out of Melbourne. Each in its own way is unique. Neighbours has a feeling or an aura associated with it which is unlike any other. No other show has the same vibes. Blue Heelers, of course is totally different – very professional and more intense, as are the ABC shows, particularly something like Janus.
Are you a viewer of the series yourself?
Not regularly these days, always seem to be too busy at that time slot. However, dip in on occasion just to catch up with characters and see where story-lines are heading.
What have you been up to since your most recent stint on Neighbours?
Since 1999 have moved to the Mornington Peninsula. Have written and directed and played in 6 plays for Community Theatre. I directed a production of Rodgers and Hammerstein's Carousel with Roger Lemke in the lead, this for a Peninsula charity. I have played Cervantes/Quixote in Man of La Mancha, Frederik in A Little Night Music and The Narrator in Into the Woods – all in Mornington. And I played Daddy Warbucks in Annie at the Frankston Arts Centre last January (see picture at top of page). So I'm keeping pretty busy.
With Neighbours now on screen for over 21 years, what do you think is behind its huge success?
I think the great variety of talent and the diversification of story-lines is what is behind its phenomenal success. Also, the fact that the show has always remained true to its target audience. It has not tried to become too adult or raunchy etc.
Interview by Steve. Added on 19th August 2006