.
Interviews > Coral Drouyn
Although the name Coral Drouyn may not immediately strike a chord with Neighbours fans, she was around in the very beginning, writing some of the first episodes. And her association with Australian drama certainly doesn't end there, as she worked as a story and script editor on Prisoner: Cell Block H, as well as writing for Blue Heelers and Pacific Drive. Her current position is that of script producer on Home and Away. Here, she offers her own unique and witty insight into the Neighbours phenomenon, as well as revealing more of her personal links to the Erinsborough saga...
How did you come to be a scriptwriter and to work on Neighbours in particular?
Well I was already the story editor for Prisoner: Cell Block H when Neighbours started. Story editors are those peculiar people who don't just write…they come up with endless ideas for stories and characters and then what they can't write themselves they brief the other writers on. I was aware of the development of Neighbours because Reg Watson was involved in both shows and he asked me if I would like to write some episodes during my break… that I guess must have been over Christmas 1984…. Good Lord…it's so long ago it's hard to get the date right. I guess it could have been 83. At any rate Neighbours had not started production. In those early days a writer wrote all five episodes for the week and I remember that I wrote episodes 16 – 20 – seems impossible now. I'd put in my two cents worth about the show during development – like the fact that I thought the working title of One Way Street was an abomination – but I don't know that I influenced it in any way. I can't even remember those early characters very well …I am sure fans can enlighten me….but I do know the major story in my week was quite daring….some teenage character seeking an abortion.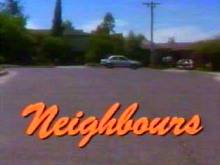 When I went up to plot it… from Melbourne where Prisoner was based, to Sydney where Neighbours was being scripted (though of course it was shot in Melbourne) …I found that story editor Valda Marshall and Reg Watson…both truly lovely people, had not caught up with the fact that abortion was now legal in major states and performed at something called "Family Planning Clinics"… which probably should have been called family unplanning! So we had to dump the story as they had it...set in back alleys…and go for something more sterile….largely because it was legal! I don't know if anyone remembers that storyline… or even whether the first, Channel Seven, series ever went to air in Britain. As for how I became a screenwriter, well I talk in length about that on my Drama Queen site…but I can't remember a time when I didn't write. I had my first poem published when I was 11 (yes…I do have a copy if anyone is interested…hehehehe) and I used to write plays when I was at school and then later on I wrote melodramas for theatre restaurants and comedy material. Ian Smith, who plays Harold Bishop, had worked in one of my theatre restaurants for many years and he had just moved into TV as a script editor on Prisoner. So when I saw the first ep and went "OH MY GAWD!!!" I called him and asked could I get a script…even though I didn't have a clue about doing it… But I had to wait for a while… and so my first script was for another Aussie soap The Restless Years or TRY…which was unkindly known by the media as Try Harder! Once bitten though I knew it was what I wanted to do and I never get tired of it…even when I am facing a deadline at 3am in the morning.

Do you have any particular fond memories of working at Neighbours?
Of course – how could I not? It was such a breath of fresh air. The theme song was written by Jackie Trent and Tony Hatch and because I was also a cabaret artist I got to work with them…. Terrific musicians and really astounded by how HUGE the theme song became. Of course Des O'Connor had the hit in England but originally the song was sung by Barry Crocker whom I also knew…and who I actually saw only a few weeks ago singing better than ever. Reg Watson was a lovely lovely man with a pixie face. He had been heavily involved with the original Crossroads in England and my uncle Jack Haig had been a permanent character in that show – and my cousin Sue had been his "switcher" on the show…but neither of us knew that at the time. It was a lovely moment when we discovered the connection. We thought from the first that the show would be a big hit – so we were stunned to hear in May of …was it 84 or 85?… that Channel Seven was dropping the show. The producer then was John Holmes and I remember calling him on Mother's Day to say how sorry I was. The programme head at Channel Ten then was Valerie Hardy and she had said previously …"I wish we had Neighbours". Seven's boo boo was Ten's triumph. John Holmes was later my executive producer on both Blue Heelers and currently Home and Away. And then, of course, my daughter Kelly became one of the storyliners and later script editors for Neighbours… that would have been around 1996 – and Stanley Walsh, the executive producer at that time, is her grandfather. Once again, neither knew of the connection when she went to work there. So there always has been and always will be a strong connection… and I went back and wrote a little in…. Gosh early 96 maybe?… Sorry I am so bad with the dates.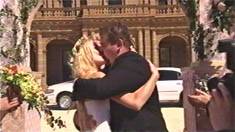 Do you watch the show these days - what do you think accounts for its enduring success?
I do watch the show when I can – last episode I saw was Toadie's wedding and the big car accident. WOW!!! Television is so demanding though that I barely have time to watch my own show (Home and Away). I've always thought that the attraction was that generally Neighbours is an upbeat show – it says, even in the midst of high drama, that the community is there for all its members and that there are people you can count on. It doesn't rely on bitchery or murder or betrayal or crime… it just takes a microscope to the lives of people who, because they are blessed to live in Australia, have a lifestyle where you don't need to be rich… and the sun keeps you warm. EastEnders and the likes tend to depress me. I'd like to think, when all is said and done, that if I needed to I could knock on the door next door and MY neighbours would be there for me – even if, like Harold and Lou, we'd had our spats in the past. It's a pretty good promise for any show to hold out to its audience.
For more information on Coral's career, visit www.thedramaqueen.net
Interview by Steve. Added on 6th March 2004