.
Interviews > Jonathon Dutton
He spent four years playing Toadie's badly-behaved cousin Tad Reeves, and now he's back at Neighbours, this time working behind-the-scenes. Here, Jonathon Dutton tells us about working on Ramsay Street, in front of, and behind, the camera...
Can you tell us a bit about your acting career prior to your first Neighbours appearance?
I was passionate about drama from an early age. At 14, I went to an acting school in Melbourne (I'm from Geelong) before getting an agent and working as a professional actor. I did a couple of TV commercials, a guest on Blue Heelers and Thunderstone (children's TV series) before playing 'Kenny Hyland' on Neighbours. One year later I landed the role of 'Tad'.
What do you remember about that initial role as Kenny and the filming experience?
It was one, full day location shoot. I had a ball working with Ian Smith, Jansen Spencer and the crew. My character fell off a cliff and I distinctly remember that the only stunt guy my height was this young Asian guy. They had to cover him with pale white make-up so he looked like me... Very funny!
How did your next role as Tad come about? Was it just a typical audition for you?
I actually auditioned for another role four months before I started playing Tad. I got the role and had told all my friends, I was very excited. Unfortunately Jansen Spencer came down with glandular fever so they re-wrote my character for a girl to play the storyline out opposite Rebecca Ritters who played Hannah. Four months later I was called in to audition for 'Tad' and got that role. It actually worked out well because the character of Tad was a much more interesting character.
How would you describe the character of Tad? Did you enjoy playing him?
Tad was a great character. He started off as a delinquent who was straightened out by Toadie, Harold and Madge. The writers are very good at picking up on actors' strengths (particularly young actors) and steering their characters in that direction. Tad went onto to have some great storylines, my favourites were; when Tad found out he was adopted, his crush on Susan and Madge's death. All of these storylines developed Tad into a very interesting character, I always quite liked him and had a ball playing him.
Was there anyone you particularly liked working with during your three and a half years playing Tad?
I had a terrific relationship with the rest of the cast. I particularly loved working with Ian Smith and Jackie Woodburne. I had some great storylines with them both and they taught me so much about acting. They both remain close friends to this day.
How did your departure from the series in 2002 come about?
I had been on the show for 3 and a half years, I was 19 and had a thirst for travel and developing as an actor outside of Neighbours. As a result, I decided to leave the show and head over to the UK. Tad subsequently left the street to pursue his DJ career in the US.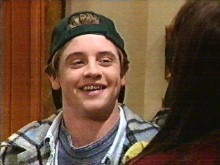 Where did your career take you in the years that followed your departure?
I headed off to the UK and worked on various plays (including a pantomime) and TV shows including the UK sitcom, Two Pints Of Lager and a Packet of Crisps. I then returned to Melbourne where worked on various TV shows and short films, I also pursued another passion in film making. I did a one year course at the VCA before starting a production company, crankyfish. Since then I have been living in Sydney and juggling acting, running crankyfish and making short films, corporate doco's, TVC's, etc. Most recently I did a play in Sydney and The Vegemite Tales in London. I have just returned to Melbourne after living in Sydney and London.
With Ryan Moloney still in the cast as his cousin, Toadie, is there any chance that we might see Tad back on Ramsay Street in the future?
I guess there is a chance I could be asked to come back and play Tad given Ryan is still in the show. I would be open to the idea if the story was good and it wasn't for too long. Having said that, I am doing some directing there at the moment so not sure if that would work.
Do you still get recognised in public thanks to your Neighbours role?
I still get recognised occasionally as an actor but not often. It always makes me laugh when I do, some people have great memories! Most of the time people come up to me and say, 'did we used to go to school together?'
How did your recent stint as a Neighbours director come about?
I have always wanted to get into directing film and drama and I am still very good friends with Jovita (one of the current directors at Neighbours). I asked her how she would feel about me being an attachment and learning with her so she put me in touch with Sue Wild, the line producer. Sue informed me of a Film Victoria internship program Neighbours participates in so I applied and got it. I have just finished four months as a trainee director and got to direct an episode. It was a great experience and I learnt so much - I am very grateful for the opportunity. I will be returning in a few weeks to continue working with Jovita and progressing as a director...
Have you ever been a Neighbours viewer yourself? If so, what do you think of the show now?
I think the show has evolved nicely from my days as an actor. The new producers have made quite a few changes and I think what we produce great quality drama given the massive time pressures every department faces. Producing two and a half hours of drama every week is quite a feat!
Finally, as the show continues its 25th season on Australian screens, what do you think accounts for its enduring success?
I think Neighbours' enduring success is from telling good stories that are universally relatable with a healthy dose of Aussie charm!
If you've enjoyed this interview and would like to discuss it with other fans, click here
Interview by Steve. Added on 25th June 2009