.
Interviews > Alan Fletcher
Back in May, Perfect Blend brought you reviews of two of Alan Fletcher and band Waiting Room's sell out gigs. This month sees Alan (and Waiting Room) return to the UK to pick up where they left off. Here, we speak to the man himself, and find out exactly how he got into music, whether he'd like to see Karl and Susan reunited, and what it was like to be part of those infamous 20th anniversary episodes.
Congratulations on being invited back to the UK for a second tour.
Thank you. It's very exciting.
How do you like the UK?
I've always loved the UK. I've got a lot of family here and I've done 4 pantos, and have probably been here about 6 or 7 times. And I always have a good time. I like the smaller places, I mean, I really like being in places like Durham and Sheffield. Some of the big cities can be a bit big for me. Yeah, it's just a gorgeous country. Fantastic place.
How's your health this time?
<laughs> Yeah, no, I'm fine, I'm fine. Although, I'm always going to be tired vocally because it's such a big gig, and we do so many of them. But I'm fighting fit.
That's good to hear. How did you first get into playing and writing music?
I started very young - my Mum bought me a guitar when I was quite young, and I always plodded along with it, and I used to play guest spots in bands and things like that, but it wasn't until 18 months ago I got serious about playing music and creating my own band.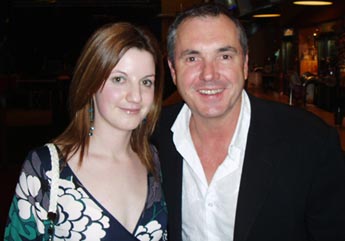 You've got a support act this time, so will it be arena tours next?
Arena tours? <laughs> Well, I don't know about arenas but our main ambition is to bring more of our originals into it. And I really like playing to crowds of about the size we are at the moment. I think it works really well. This is the sort of size audience I just love doing and the gig's absolutely pumping. I think this is the kind of the size that's right for our type of band.
Last time I was here, I think you played two Waiting Room tracks. Will we hear more tonight?
Yeah, we'll do at least three tonight. We play for an hour but it seems like a really short time.
It felt like five minutes in May. Do you have any plans for a second album?
Well, actually, what we're going to be doing is adding tracks to the album we've got now and hopefully having it distributed in the shops next year.
Do you see the band as a full time career option in the future?
I don't know. I love acting, and I think that music and acting compliment each other very well because they're both about telling stories, they're both about entertaining. So, I would like to think that I could integrate the two together. I don't know that I could be in a situation where I was doing music full time.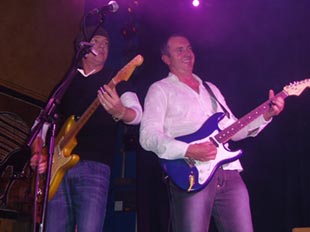 If you could perform anywhere in the world, where would you choose?
We've got a beautiful music bowl in Melbourne - the Sidney Myer Music Bowl - I think that would be sensational. <pauses> No, I reckon it would be Glastonbury.
Who would you most like to sing a duet with?
The person I'd love to sing a duet with would be Natalie Bassingthwaighte from Neighbours. She's now in Rogue Traders, and they're getting gold record and platinum record status with their stuff. She's a sensational singer, and I worked with her on The Rocky Horror Show - we actually did a duet on that.
Do you prefer to act or to sing?
I don't have a preference. I think when you're singing, you're acting. I don't feel any different about the two things. I've done a lot of music theatre, and that's music and acting combined. That's the way I look at it.
You're also a budding photographer. Have you had much time to indulge in that hobby recently?
No, I actually stopped taking peoples' headshots this year because the music's taken over. I'll always be a keen photographer, and I could go back to it at any time, but it's on the back burner for now.
A lot of Neighbours stars have taken the step into the music industry. Are there any of these whose music you particularly enjoy?
Sure, Kylie's sensational, Natalie Imbruglia's stuff is wonderful. As I mentioned, Natalie Bassingthwaighte and Rogue Traders - I went and saw her the other night when they were supporting Kelly Clarkson. Rogue Traders are absolutely awesome, and I can't wait for Nat to do some of her own stuff aswell. You know, I still like some of the early Jason Donovan stuff. People always talk about soap actors going into music, but really, everyone's very different. If you listen to Natalie Imbruglia's stuff, if you listen to Rogue Traders, if you listen to Kylie or Jason, everyone is working a different area.
And, likewise, the stuff I'm doing with Waiting Room, it's not pop as such. It's not me trying to be an overnight sensation. We're about playing live and just gigging live and having a good time.
What do you think of the recent bout of talent shows such as Australian Idol? Your support act is Kirsty Crawford, a finalist on Pop Idol 2003.
Yeah, and she's fantastic. I think in most cases, the people who come through those shows are fantastic. You watch them grow in front of you and I think it's all good. Shannon Noll in Australia and Guy Sebastian have both become very well-established recording artists and have done very well, and there's been quite a few in the UK having success through X Factor. As an actor, I just get a little bit sick of reality shows. I'd rather see drama, but that's just personal preference.
What type of music do you listen to?
At the moment, I'm back into listening to rock and roll. I used to listen to a lot of jazz, a lot of swing and country music. But now I listen to a lot more alternative music. I'm back listening to all my old Elvis Costello stuff. I like listening to Blur, The Killers, and Oasis. I listen to a lot of John Mayer - I love John Mayer. David Gray, I think he's sensational. There's a spate of nice balladeers at the moment. James Blunt has got a good album, Back To Bedlam. Daniel Powter's one song is good, but I don't know about the rest of the album. So, it's pretty eclectic, but I listen to a lot less back catalogue now than I used to.
What question do you hate being asked?
When will Susan and Karl get back together? Because I don't have the answer not because I hate the question.
<nervous laugh> A variation of that question is coming up!
Well, I'm always asked that question. I can tell you that Karl realises that he made a mistake…
I think most people realised he'd made a mistake!
…yeah, but he doesn't know how he can possibly repair the situation. The audience is going to get treated to some very good storylines over the next 12 months which will revolve around Karl and Susan and the way they interact.
Can't wait! Are you making any TV or radio appearances this time?
Yeah, I'm doing BBC Breakfast on December 2nd, and I'll also be on Jo Whiley's show. And I'll be doing radio all over the country. The Breakfast team did a couple of Neighbours specials for the 20th anniversary, and they said when I was back over here, they'd have me on the couch.
Someone who'd been at the Glasgow gig called Jo Whiley's show today to say how great you were.
Oh, cool. Excellent. Well, they're getting her all primed up.
How do you manage to fit your musical commitments around your filming schedule?
It's not too bad. I only play one night a week in Melbourne - I'll probably do two nights a week next year - and we finish pretty late. I have a 6.45 start the next day, and I've got to pace myself. Neighbours is my priority and I've got to make sure I look after myself and don't muck it up.
How are they managing to explain Karl's absence?
Well, actually, Karl's got a new girlfriend and we've just seen the beginnings of that in Australia, so he goes to New Zealand with her.
OK, going back to something you touched on earlier; I know you can't tell us whether Karl and Susan get back together, but do you want them to?
I think it's what Karl wants and I love working with Jackie. Even if they're not together as long as I get to work with her, well that's good. In a way, it's kind of like, if they get back together then where do they go from there? So I think there's still a lot of value in playing out that story - the 'are they going to get back together'? story.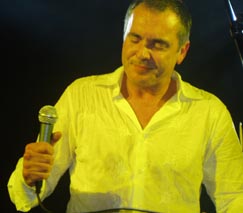 How did you find being part of this year's 20th Anniversary celebrations?
It was very exciting. I mean, it was just a great time. I was going through a very strong storyline, breaking up with Izzy. To have everyone come back was wonderful, you know - Ian Rawlings was in the building, Terry Donovan was in the building. The list goes on, there were just so many people, and every time you walked into makeup, there'd be a new person there. So it was just a terrific atmosphere. There was a real sense of celebration, and that was really heightened when the BBC came over and did the anniversary specials because…
<Alan is told his dinner is ready>
I've just got one more question, is that alright?
No, keep talking.
You must get asked this all the time, but what do you think is the secret of the show's success?
I think it's because it's got a lot of comedy in it. And I think it blends its comedy and its drama really well. It's got some great characters like Toadfish, who are involved in comedy, but also serious stories. And that's probably one of the keys to its success - the fact that it manages to blend its comedy with its serious drama. So it's never too heavy.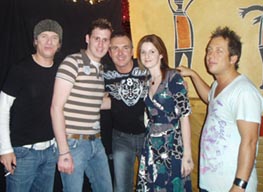 Interview by Kate. Added on 26th November 2005