.
Interviews > Ben Geurens
After taking over the role of young Toby Mangel, Ben Geurens spent a couple of years as a regular cast member, outlasting the rest of the family before eventually leaving with his new guardian Dorothy Burke, in 1993. Here, Ben shares his memories of life as a neighbour...
In 1990 you took over the role of Toby from Finn Greentree-Keane. Can you tell us how the change came about and how the audition process worked?
In 1989 I was actually a stunt double for young kids on television shows. I got into this as I was quite good at gymnastics and probably a bit of a believable bull#### artist. I was employed by Neighbours to do a stunt for a girl actually... Toby's friend at the time called Lochy. I remember I had a lot of waiting to do on the set that day and I didn't really complain at all whilst waiting. Apparently Finn was leaving for some reaon and they needed a new boy to play the part of Toby. The producer asked my stunt co-ordinator Mark Hennesy (now a writer/actor) if I wanted to audition for the part. I remember having to learn a few lines and go in and do them for Jan Russ. I did it on two occasions and then after the second round I remember asking Jan what should we do……she replied very coolly "Don't call us Ben We'll call you". Three weeks later we got a call saying they wanted me to be on Neighbours. I refused the job as I was supposed to be going to Disneyland for a holiday……every ten year old's dream. They got back to us and said I could start when we got back from the States.
What was it like joining such an established cast? Had you watched the series or Finn's portrayal of Toby beforehand?
I had never watched Neighbours before in my life…..except the one episode I had done a stunt in. He-Man and Astro Boy were much more important to me at the time.
Were there any of Toby's storylines that you remember especially fondly?
Toby's first kiss is one that is branded into my mind. Perhaps this was one of the most embarrassing moments of my childhood. Toby developed a crush on Phoebe Bright (played by Simone Robertson). The storyline climaxed (as I'm sure Toby did) when the character asked Phoebe for a kiss on the cheek in reciprocation for a bunch of flowers he had given her. He put out his cheek and when she moved in for the peck he cheekily swung his head around ninety degrees and planted a big kiss on her lips. I just remember the director at the time making us do about six takes of the kiss and even coaching me how to pucker up and make a kiss sound. Highly embarrassing for a twelve year old in front of a big crew.
Many of your scenes were with Maggie Dence, who played much-loved Headmistress Dorothy Burke. What are your memories of working with Maggie and have you ever crossed paths again?
I loved working with Maggie so much. She is one of the funniest people in the world. All I remember is her trying to corrupt my innocent little mind with dirty jokes. She now lives in Sydney and I bumped into her here a couple of times... she is good friends with a director we had at NIDA and she came to see one of my second year performances.
As a young member of the cast when you joined, were you given much support from the older cast members?
Constantly. All of the older cast would help me out…in particular Mark Little, Maggie Dence, Stefan Dennis, Tom Oliver and Scott Michaelson.
Which members of the cast did you particularly enjoy working with, and do you still keep in touch with anyone from the show?
I particularly loved working with Mark Little and Maggie Dence. Both of them are solid actors who made the characters their own and didn't just succumb to playing their own personality. Obviously I didn't think this at the time. However when I was young they were the two actors I worked with most and the two that actually treated me like an adult.
Do you ever watch Neighbours now? If so, what do you think of it?
I don't get much time to watch television at all these days and if I do it isn't until later in the evening.
In recent years, the producers of Neighbours have shown an interest in resurrecting old characters, and your on screen sister Sky Mangel has returned played by Stephanie Macintosh. Would you ever consider a return to the series to reprise your role?
I did go to the reunion party a few months ago and did meet a lot of old friends. In particular it was great to see Mark Little again as I had stayed with him for a bit in England and also get along with his sons pretty well. It is hard to say whether I ever would go back as I am getting work at the moment and it would seem like a little bit of a regression for my career... not in terms of my opinion of Neighbours but more in the sense that I have done the soapie thing and would much prefer to concentrate on film and theatre. However a small stint might be quite fun if old friends were there.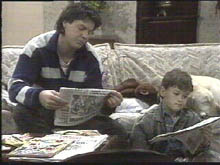 Can you tell us a little bit about what you've been up to since leaving Neighbours?
After leaving Neighbours at the end of 1992 I pretty much moved straight into a new series that was called The Man from Snowy River: The Macgregor Saga in which I played a character called Micheal O'Neil. Michael was the son of Kathleen O'Neil (played by Wendy Hughes) who eventually married Matt Macgregor (The Man). I stayed in this series for three years and then left in order to finish my last two years of schooling. Following this I decided to travel overseas to the U.K. and the continent for a year. No, I did not do the panto thing like most ex Neighbours actors! In fact, I did quite the opposite. The months I wasn't travelling I spent either working in a pub in Dulwich or doing brickies labouring at a worksite in Green Park.
On returing from overseas I went to university at Monash studying commerce. I would try and do acting gigs when things came up but it was difficult to get motivated when my head was full of numbers. Then I got a gig doing an Australian play called Hotel Sorrento by Hannie Rayson, which toured around Australia for a few months. This play reignited my love for acting and a couple of actors in the show influenced me heavily about what direction I wanted to go. Later the next year I found myself having been accepted into NIDA and that is where I have spent the last three years.
I finished NIDA at the end of 2004 and am now living in Sydney. I started up a theatre production company with some friends from NIDA and we put a co-operative show on at the Darlinghurst theatre at the start of this year called BONES. Following that I did another show at the same theatre called Terminus and am now currently working on a feature film called Monkey Puzzle.
After 20 years on Australian screens, what do you think accounts for the enormous success Neighbours has seen?
Hard to tell. Maybe it is the pure domesticity of Neighbours that makes it interesting to viewers. A form of escapism from their own lives. I guess it is like an early form of Big Brother that allows the voyeur inside all of us to get its fix. Whatever it is, the formula seems to work. That's why lately, when I do happen to catch the odd episode, it amuses me seeing how things have changed so much in the show. Like they are starting to use flashy cinematography and are even giving each episode a title!? I find that hilarious!. It's not high art. It's Neighbours. I don't think it needs to be changed much... if it aint broke...
What lies ahead for Ben Geurens?
Well it will be either constant acting work or constant hospitality work……preferably not the latter. I'll pursue with the company I have started up with my friends with should keep me busy enough when I'm not working.
Interview by Barry. Added on 16th July 2005