.
Interviews > Caroline Gillmer
A favourite of many fans, Caroline Gillmer played the larger than life Cheryl Stark on Neighbours from 1993 to 1996. In this exclusive interview, Caroline shares her thoughts on the role of Cheryl, her time on Neighbours and where her career has taken her since, as well as offering her very own suggestion on a possible return to Ramsay Street for Cheryl...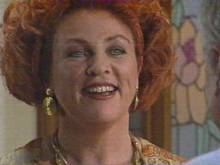 In a recent feature on our site to mark Neighbours' 18th birthday, Cheryl was ranked number 11 in the best characters of all time. How does that make you feel?
How simply thrilling - I think Cheryl is one of the great soap characters to come out of Neighbours' script department and I couldn't agree more with your selection of her in the 18 best characters. Let's bring her back! I don't think she died in that incident - I think it was a carefully conceived plan. Her son Darren was trying to leave the crime gang group he had associated with in prison and they were blackmailing him into staying. As Cheryl's safety was their threat she staged her own accidental death and with the assistance of Karl removed herself from her life, business and all she loved in Erinsborough in order to save her son from a certain fateful life of crime and to protect her innocent baby from being in the wrong place at the wrong time. She is such a champion human being!
How long have you been acting?
Since I was born - but studying the craft since I was 21. Only a short time!
How did the role on Neighbours come about?
Grundy's were to introduce the character and one of the head writers had written for another character I had played in another TV series and requested for me to play her.
How would you describe the character of Cheryl Stark?
Uninhibited, unpredictable, unleashed, undeniable, unusual.
What are your memories from your time on Neighbours?
All top shelf memories - the work load and pace of 49 production weeks a year I find stimulating and, of course, challenging, and brings out the best of your skills or the worst of your failings as an actor. Staying buoyant and fresh as an actor is a pre-requisite in our business - keeping so busy and having to think fast in the show is of great assistance to achieving that.
Who in the cast were you closest to, and why?
Bloody Karl Kennedy!!! [Alan Fletcher] We had worked together in theatre prior to Neighbours and liked each other a lot, we are very close and see each other frequently. Recently we have each been renovating our homes so we exchange that extraordinary experience daily almost. I was close with Jesse Spencer [Billy Kennedy] and my screen sons Brett [Brett Blewitt] and Darren [Todd MacDonald] whilst making Neighbours. I guess like Cheryl, I like boys. On the female side of things I simply adored my daughter Lolly [Jiordan Anna Tolli] on and off screen and that leads me to Lolly's father, everybody's favourite Lou, alias Tom Oliver. Then of course there's Kym [Valentine, who plays Libby Kennedy] and Jackie [Woodburne, who plays Susan Kennedy] and I loved the wardrobe department, and my hair. How could I ever leave out the hair and make-up department? I thoroughly enjoyed working with Peter [Dodds, Producer] and Linda [Walker, Production Manager] and Jan [Russ, Assistant Producer] in the production office and the props and camera crew - they all always tried to make Cheryl the best she could be. Get the picture? It was top shelf as I said.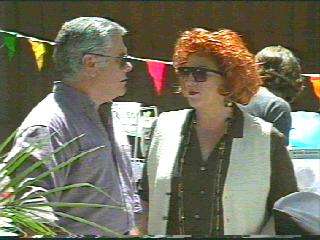 You worked closely with Tom Oliver during your time on the show, and had an excellent on screen chemistry with him - did you enjoy working with him?
Thanks for that - on screen chemistry is such an elusive cherry. Who knows where it comes from and what the recipe for its success is? Tom is such a pro with so much experience that he knew the moment the chemistry happened. Being such a screen veteran he also knew how rare a thing it is and just let the relationship soar wherever it wanted to fly. Words on the paper, are words on the paper - actors lift them off the page and form them into the characters that they are, and the worth of the situations they find themselves in as characters is meaningful to an audience only if the actors can deliver a level of commitment that has resonance for the viewer. Tom is flexible and easy to work with and was always open to doing things differently, which I loved.
How do you feel watching him now?
Secretly, happy he (Lou) has never found another partner to replace cheeky, chirpy Cheryl.
How did you find working with Neighbours legend, Anne Haddy?
Another top shelf memory - classy, slick, reliable and fiercely loyal to the pursuit of excellence in the show. She set the standard and didn't suffer unprofessionals gladly. The show needs that kind of staunch high standard amongst its cast. She always wanted the very best actors to be in the show and she was the mascot. I loved her and I know she loved me.
At one time, there was speculation that you were going to star in a spin-off series, featuring Cheryl running a bar. Was there any truth to this?
It happened. It was called In Cheryl's Arms, the name of the bar/pub. It was shot on parts of the Neighbours set slightly re-jigged and re-configured and it was brilliantly produced by the then Executive Producer of Neighbours Ian Bradley. Everyone from the production team of Neighbours worked on it, from casting to direction to set, to costume, hair, wardrobe and cameras.
In 1995, Colette Mann stepped into the role of Cheryl while you were ill. How did Colette come to be selected for the role and what did you think of her portrayal of Cheryl?
I was so ill, and so absorbed in determining what was the matter with me and how to recover from it, that I had absolutely no input into who was selected or how. Cheryl was in the midst of a major storyline and season end cliffhanger and there was no way the scriptwriters and schedulers could deal with the illness in any other way than to have another actor portray her. Collette and I are good friends and sharing the character was character building.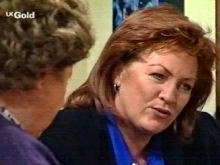 After the kidnapping ordeal, Cheryl underwent a massive change. Do you think this change was good for the character?
I think a show like Neighbours is at its most relevant and pertinent when inhabited by a neighbourhood of people - different strokes for different folks is the premise. I think there should be locals who don't change from one decade to the next and on the flip side I think Cheryl, like many, was up to evolution and turning the scrutiny spotlight on herself regularly and re-discovering how her life was going. I think when a show understands that its audience develops and changes then it maintains its viewers. Gosh I guess change impacts on us changing houses, cars, hobbies, schools, jobs, diet, sport, partners, clothes. So my research into traumatised victims of terror certainly supported the supposition of internal questioning of your core beliefs and the foundations you built your life upon. I am knocked out by the storyliners as this was long before terms like "War on Terror", "9/11", "Bali Bombings" and the concept of terrorists in our backyard was part of our psyche.
What led to your decision to leave the series?
I had made a film that had been extremely well noticed in the States and in that film also was the female lead of another very very big oz flick that had taken the cinema world by storm. It was her great regret that she had not done the LA thing at the time of its success and I learned from her that opportunity only knocks once.
Were you pleased with the decision to kill Cheryl off, and which, therefore, ruled out any chance of returning?
Let me ask you and your readers. Were you happy with the decision? Now, if you are a student of soap you already know that killings in this genre or any serial format only have impact if you kill someone the public cares what happens to or seriously has feelings for. If script wise you do not adhere to this rule, you dull your audience's perceptions of the suspension of belief in the situation and lose a sensational ratings tool - which your opposition soap will happily exploit. In short, if your character isn't hot why waste the publicity and ratings opportunity? Now flattering as that is, I was confused by the choice as I had just been so long hospitalised and they need not have brought me back in as Cheryl (i.e. they could have continued with the new actress). Add to that we had recently shot the pilot for the spin off series and though the Network was toying with changing the title of the show and the heroine to In Carol's Arms (in the vein of other self titled shows like Ellen, I Love Lucy, Grace Under Fire, Roseanne etc.), I was not convinced this was in the new sitcom's best interests and felt we should keep our naming options open and though Cheryl would need to leave Erinsborough in order for the spin-off to work for the audience, a death, albeit so noble, was not the best departure.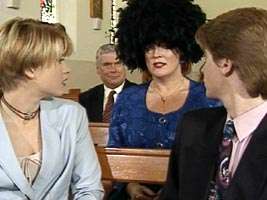 Where has your career taken you since leaving Neighbours?
This is like presenting my CV. Okay well, there has been 5 movies, a US Green card, some time in the USA, numerous stage plays and shows and several long-run musicals including Mamma Morton in Chicago, and a new ABC series called MDA.
In 2001, a major storyline on Neighbours (to facilitate young Jiordan Anna Tolli's departure from the show) featured Lou discovering that Louise was not his daughter and was actually the product of a brief affair Cheryl had. Were you aware of that storyline and if so, what did you think of it?
No I was not aware of it until people constantly passed by me calling out "slut" from passing cars in the street. Then some of my drama students asked precisely the question you have just posed and I was able to put the wolf whistles and cat calls into context. What do I think of it? I think its great fun and even more brilliant that 6 years later Cheryl is still responsible for providing the writers with ideas for major story lines.
As Neighbours celebrates its 18th year on Australian television, what do you think accounts for the huge success the series has achieved?
They do it so well. Its rare that you get a go at something long enough to do it right, regularly. One year is a long time in television - 18 years is a chance for perfection.
To read a full character profile of Cheryl Stark, click here.
Interview by Moe. Added on 7th June 2003