.
Interviews > Marieke Hardy
Marieke Hardy may have started working on Neighbours as a teenager, but in her time with the show she's had many different roles - from guest performer to storyliner to episode writer. She took some time to chat with us about her career so far, the show's scriptwriting process, and her other fashionable projects...
UK viewers are warned that this interview contains spoiler hints.
Can you give us a little background on your career before Neighbours?
Before Neighbours I was - believe it or not - a precocious, lisping child actor. I was part of the main cast of The Henderson Kids 2 and have guested in everything from Flying Doctors to A Country Practice to Raw FM...mostly playing 'colourful' characters such as homeless runaway teenagers or lesbian erotic dancers (true). I'm not sure whether this is to do with what some would consider an eccentric dress sense or my sensitivity as a performer. I'd go the clothes option.
When I turned up for my Neighbours audition (acting before storylining - but more of that later), Jan Russ the casting lady congratulated me on dressing up as a homeless person in an effort to get the part. I was on a lunch break from work and dressed in my normal clothes.
After I finished high school in 1993, Ewan Burnett and Jonathan M Shiff gave me work as a production assistant on a series called Raw (not to be confused with Raw FM or Heath Ledger star vehicle Roar). Jonathan knew I wanted to be a writer and when the series ended he kept me on in-house as a script assistant for his children's series Ocean Girl. The story editor at the time was dear Michael Joshua, who was also freelancing for Neighbours. He suggested I do a script submission and there you go...
Were you a fan of the show before you joined its writing team?
As much as anyone else who was a teenager in the 1980s. I had the requisite crush on Kristian Schmid; read about all the Lucys and so on in TV Week. Remember Kerry being shot while campaigning for animal rights (poor Joe). Loved Plain Jane Superbrain and the makeover days. And that Mrs. Mangel, what a bitch! I suppose that's a yes then, isn't it?
Like anyone, I'd watched Neighbours on and off for years which was important when I did my script submission. The writers have to essentially nail the character's voices and since I'd been dipping in and out of the show on air, I knew the quirks of the various actors (from memory, the B-Man Samazan was one of the characters in my submission).
What is your favourite position in the show's writing process, and why?
While I do love being part of a storylining team and essentially creating (and destroying) people's lives around a table of donuts and coffee, I also enjoy the solitary process of writing at home from a scene breakdown. It can occasionally become very lonely, especially on a show such as Neighbours when time is of the essence and so many scripts are being churned out by different writers. But I have strong relationships with a few folks still in there - Ben Michael and Megan Herbert and so on - so it's easy to feel like there's a network of people there to connect with if you need them.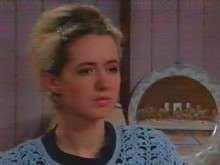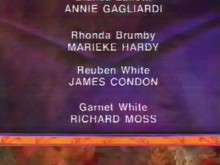 You've also acted on Neighbours in the guest role of Rhonda Brumby. What did you make of that experience? Does it make you more aware of how the show is put together now that you are writing episodes?
It was strange...I went directly from having a scrag fight on the floor of Marlene's antique shop (where I actually got to call someone a 'moll'...career highlight) to sitting around the storylining table watching tapes of the rushes and commenting on actors. I'm sure it was bizarre for the script department at that time to have just seen me guest performing on the show. Acting was an enjoyable enough experience but I'm a stronger writer than I am an actor (as those who will have seen some of my musical theatre work will attest) and far more comfortable sitting at home at a computer.
Being on a film or television set and being aware of the scripting process wasn't necessarily a new experience for me as my folks are both writers and I've grown up in the industry. Neighbours, however, is a different kettle of fish altogether so it was good to see how important it is the actors understand why the storyliners make the decisions they do, and also how the storyliners work around actor and production requirements.
Is there a particular storyline that you have most enjoyed writing? Also, is there a particular character or group of characters that you have most enjoyed writing for?
I remember when I was storylining being particularly obsessed with skateboarding and the film Kids, and I was able to combine the interests by giving Hannah a skateboarding story with a boyfriend called 'Casper'. It was all very Puberty Blues, girls rebelling against the perception that they couldn't skate and very toughly strapping on the elbow pads and lettin' loose. Hannah even went so far as to successfully campaign for a skate park in Erinsborough, although I have no idea where it is now.
There are so many actors that are great to write for - I once wrote Ian Smith a fan letter because he always played my jokes so beautifully! Toadie's usually a cracker for giving a few one-liners to, and I used to adore writing for Lance - Andrew Bibby. He had natural comedic ability and always added funny bits of his own.
Karl and Susan are bang-up actors and have a beautiful gift for turning 'filler' dialogue about Dahl the galah or ironing clothes into something interesting. They speak over each other and let the words flow like two people who have been together forever. As an audience member now, I still love watching them.
You're renowned to fans as being a writer who includes many pop culture references in your dialogue. Why do you feel this is important?
I do that in all the scripts I write, not just Neighbours. I'm not exactly sure why I started doing it - to me, saying 'I'm exhausted. Toadie kept me up all night playing records' isn't anywhere near as funny as: 'I'm exhausted. Toadie kept me up all night playing Craig David records. He's trying to grow a matching goatee.'
Pop culture references give dialogue something specific to be based around (sometimes that can be as simple as dinner references as well...somehow it's more comforting to think of Joe and Lyn eating 'left over pad thai out of the container' than just 'leftovers'). I also like knowing that friends of mine watching Neighbours can always pick one of my scripts. It's nice putting more obscure pop culture references in of 60s garage rock bands and so on that I like - I know as a fan of some bizarre subcultures it's always nice to hear some out-of-the-blue reference from Harold reminiscing about his time guesting with Jefferson Airplane on tuba.
Now that you are solely an episode writer, do you feel that it is constraining having to stick to a tight scene breakdown?
Not at all. Partly because I know the editors and storyliners and can call with any beefs/queries regarding the storyboard, but also because the stories have been so damn good lately. Darcy's gambling problem made me a fan all over again. It was just bloody good plotting.
You've also written for programmes such as Always Greener, Something in the Air, Thunderstone and Short Cuts. How do they compare to writing for Neighbours, especially those which have more self-contained episodes?
Nothing really compares with writing Neighbours. With Neighbours, you're given a scene breakdown and you need to write an ep in 2 weeks which you never hear about again until it arrives on air. Always Greener, you're there from the episode's plotting to the polish. And Short Cuts I wrote as a series myself, so I was in rehearsals with the actors going through scripts and explaining dialogue (very upset when one of my 12 year olds didn't know who Mr. T was...). I guess the joy about Neighbours is being part of the whole 'grand plan' - if you're not writing, you can still be watching and catching up on stories. Also it's such an institution now...to think that I remember when it came on air (even when it was on Channel 7 and Darius Perkins was Scott)!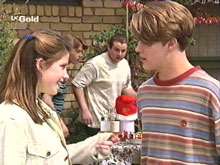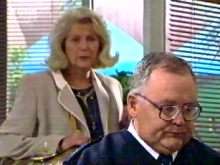 How do you feel about the changes the new executive producer Ric Pellizzeri has made to the show, and did you feel any constraints under the old management?
I haven't been a storyliner in nearly ten years now, so my days of dealing with 'management' directly are far behind me. I remember when I first started storylining, the script producer at the time was having a hell of a job trying to please both Channel 10 (who wanted something teenage and racy, along the lines of Heartbreak High) and the BBC (who wanted to bring back Harold and Madge and traditional family values). It was an impossible task. I know Ben Michael's had a hell of a lot to do with the great, gripping soap direction the show's been going in so I guess he and Ric work as a fantastic team.
The Dee/Toadie wedding ep followed by Libby and Taj having it off was just blissful soap to me. I actually gasped when Libby kissed him. You want to be that involved with your characters and I think Ben and the script team are giving the audience something they can follow for a length of time rather than: a guest character arrives on Monday, does something evil on Tuesday and is gone by Friday. It's nice to watch things progress with time and space.
Do you believe that the show's rich history is still important in storylines today, considering it was absent for so long?
I think sly references to Scott and Charlene (still living happily on the Gold Coast as far as I know) and nods to the street's history are important, if that's what you mean. One of my favourite moments recently was Toadie's wedding where Big Kev, Angie and Stonie all came back - which is what realistically would happen. Most soap weddings or funerals you get a telegram from some essential character who left years ago explaining why they can't be there that day but big kisses etc. It really gave a sense of family and history to have the Rebecchis there on such an important day.
What do you think accounts for Neighbours' enduring success?
Neighbours is such a part of the Australian television furniture; I can't really imagine life without it. When you think of the generations who have grown up watching life in Ramsay street and the ups and downs of the characters, the mind just boggles.
That said, I'm sure if I knew the real reason for the show's success, I'd have pinched the formula for myself and be a wealthy lady sunning myself in Kauai.
What other Australian television or film projects are you involved in at the moment?
I'm writing a bible for a teenage surf series called Grommets and a few eps of Always Greener. I've also developed my own adult series for Channel 7 which, if I do enough voodoo rituals and hold the powers that be at gunpoint, should be going into pre-production in December. I also do a weekly radio show on Melbourne community radio Three Triple R and adoringly follow my husband around wherever he may roam.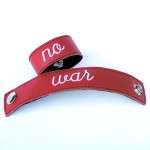 Finally, can you tell us about your venture into fashion - your left-wing label "Polichicks"?
My word, yes. Polichicks basically began as a way of channelling my frustration at Australian and world politics. I was a bit jack of marching the same protest march and shouting at the telly...feeling very much out of the loop. So I hooked up with my uber fashionable designer friend Sara-Jane Chase and we started devising ideas for left-wing clothing items...undies that say 'Vote Liberal? My Arse!', 'Sorry' necklaces, Gough Whitlam handbags, etc. We launched on June 2nd and have had a huge response. I've been trying to juggle it as a part-time hobby along with work, but it's proving to be rather difficult...
Visit the Polichicks website at www.polichicks.org
Interview by Aaron. Added on 6th September 2003