.


Interviews
> Stephen Hunt
Last seen on Neighbours in 2002, Matt Hancock was one of a number of former characters to make a special appearance in Annalise's documentary which was screened on BBC One this week. We caught up with Stephen Hunt, who plays Matt, to find out about the filming of the momentous episode and what else he's been up to of late...
We last spoke to you in May 2003. What have you been up to since then?
Just got out of hospital after getting coral in my hand. Had two operations and was in for 5 days or so. Other than that, I've been working hard on the premiere of A Closer Walk here in Sydney which is being organised by the charity I am a director of - www.yeah.org.au. Apart from that, I'm working full-time for the government and enjoying everything except the lack of time to swim and surf. Will start auditioning again soon, I think, so I look forward to getting back into the acting later this year or early next year. The music is going great guns too but you won't hear any more about that till next year (apart from a few gigs coming up).
We've just seen you make a brief cameo appearance in the 20th Anniversary episode of Neighbours. What did you think of Matt's reincarnation as a business executive?
I like it. The character needed to get some depth and balls. I think he would be great as a more confident, perhaps slightly dodgy businessman. He always wanted respect and money and now it seems he commands both. LOOK OUT!!!!
Where and when did you film your scenes for the anniversary episode?
It was at Grundy in North Sydney. We used one of the board rooms. It was great to work with Ric Pellizzeri as I'd only heard of him but never met him. He directed the scene and gave some great support and advice. Linda Walker was co-ordinating everything as usual and it was great to catch up with her. It was so nice to have the luxury of time on our side as usually a scene is shot in 20 minutes or sometimes one take and here we had around an hour to do it.
Would you consider making another return to the show if the opportunity arose?
As I said before, I am opening myself up to acting again for the first time in Australia since I left the show. I'd like to see Matt progress in his character and having learnt so much about acting from my experiences in the UK and US I'd love to see where I could take him. I had always wanted to run one of my charity projects through the show such as Matt swimming from North to South Island of New Zealand to raise money for Harold to build a homeless shelter or something.
Have you seen the finished anniversary scenes?
I still haven't seen it. I was in Spain doing the Europe to Africa swim when it was screened and no one taped it for me so your guess is as good as mine, but I heard it was pretty cool. It was great fun re-visiting the role when I shot it.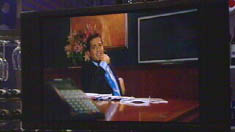 When we last spoke, you'd just completed your first charity swim of the English Channel. Can you tell us more about your more recent charity swim from Spain to Morocco?
I finished it on the 30th of July this year in 3 hours 47 minutes (new Australian record by 14 minutes). Dan MacPherson (Joel), Jono Dutton (Tad) and Blair Mac (Stuart) were all there as well as Bec Ritters (Hannah) to cheer me on. Had a crew of 25 people who wished they'd been on the last swim and made sure they came (my parents included this time). I had to rush to New York shortly after to give a closing address at the United Nations and then rush back to perform at the Marquee Club in London with the band. We sold the gig out, Blair and Jono got up for a tune each. It was a great night.
What are your plans for the future? Any more swims lined up?
Having a rest for a bit. Have a lot on my plate with uni, work (organising Australia Day for the Government), running Y.E.A.H and keeping the band going. Try to fit in the odd audition too. I'm looking into a few different swims (Bass Strait in Oz, the New Zealand North to South Islands, North Sea, Scotland to Ireland) and even mountain climbs (Mt Aconcagua - tallest in the America's 2nd tallest outside Himalayas) for the distant future, but imagine it'll be another few years before I save up enough money and find a big enough gap in the other things to give it a go.
Interview by Moe. Added on 22nd October 2005